Officials from Chattanooga's rape crisis center are calling for more education and awareness amid an increase in teenage sexual assault victims seeking forensic exams through the center.
Carmen Hutson, director of victim support services at the center, said during a Hamilton County Regional Health Council meeting Monday that the center has already conducted more exams for 13- to 17-year-olds in the current fiscal year -- which began July 1 -- than the entire prior year.
Of the 221 forensic exams conducted at the center since July 1, 2021, 40 have been on victims between the ages of 13 and 17, Hutson said. Twenty-one of those exams on 13- 17-year-olds have occurred since July 1, 2022, she said.
Out of those 40 exams, 18 were for white teens, 13 were for Black teens, seven were for Hispanic teens, one was for an Asian, and one was for a teenager of another race.
(READ MORE: Reports of most crimes down in Chattanooga in 2022, but not all)
Photo Gallery
Hamilton County Regional Health Council meeting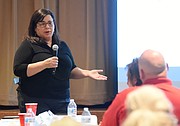 The increase in teenage sexual assault forensic exams does not necessarily mean that more people are being assaulted -- just that more victims are coming in for exams.
"It's good that they're coming, because they know that we exist and that we provide the services," Hutson said. "But it's one of those things -- what can we do more? How can we get the word out there? How can we prevent this from happening?"
Many of the teenage sexual assaults are connected to school but occurring before or after school, not during or at school itself, she said. Most if not all the victims knew their attackers prior to the assault, Hutson said.
"It's really hard to determine what the reasons are. But definitely, I think, some prevention education is needed in the schools and out in the community and talking to the parents," she said.
Steve Doremus, communications officer for Hamilton County Schools, said in an email that he cannot comment specifically on the data released Monday because he hasn't seen it. However, student safety and well-being are the schools' highest priorities, he said.
"As part of our commitment to that priority, our schools have made it a focus to personalize the educational experience for every student," Doremus said. "Our school staffs get to know the children in their buildings to reinforce their sense of belonging and being valued.
"We work to intentionally provide every child with a safe and welcoming environment so they will feel comfortable sharing information with adults around them in times of crisis. When that happens, Hamilton County Schools takes appropriate steps to connect students with the supports and resources they need," he said.
Forensic exams in Hamilton County are provided by specially trained sexual assault nurse examiners at the rape crisis center that's part of the Partnership for Families, Children and Adults -- which also offers support services to domestic violence and sexual assault survivors.
(READ MORE: Chattanooga center examining how to better address domestic violence after Jasmine Pace killing)
Sexual assault victims are usually connected to the center by calling its 24/7 crisis hotline at 423-755-2700. They're also referred there by law enforcement or medical providers.
"We will provide the forensic exam on site at the rape crisis center, and the advocates will provide the emotional support and will work with the individual after the exam," Hutson said.
Local inmates who are victims of sexual assault are also able to call the hotline to have a forensic exam conducted at a local hospital.
Forensic medical exams can be conducted up to five days after an attack. Beyond that time period, victims can still access other support services through the partnership, Hutson said.
For victims who aren't experiencing a medical emergency, Hutson said it's better to contact the crisis hotline directly and bypass the hospital to avoid waiting in the emergency department only to be referred to the center.
"I don't have the answers, but I want people to know that this is happening," she said, "and that we need to work together in order to prevent it from happening or provide them the support that they need."
Contact Elizabeth Fite at efite@timesfreepress.com or 423-757-6673.