In the second-highest residential sale ever in the Chattanooga area, an Arizona couple has purchased a waterfront home in Ooltewah for $6.35 million in the latest instance of out-of-state residents buying into Chattanooga.
Richie L. and Barbara W. Malone, retired executives from Edward Jones & Co. who are relocating to Tennessee from Arizona, purchased the 11,156-square-foot, 6-bedroom home on Wolftever Creek just two years after the house was completed. The home on 8012 Badia Lane sits on 1.9 acres in the gated Hampton on the Lake community.
Barbara Malone said the couple is attracted to Tennessee by its scenery, low cost of living and lack of any income tax.
"Great people, perfect location geographically, welcoming communities, tax advantages -- just a great place overall," Barbara Malone said Tuesday in a telephone interview as she was packing up and preparing to move from her current home in Paradise Valley, Arizona. "We found the perfect home in the perfect location."
Preston Putnam of the Don Ledford Group of Keller Williams Realty, which sold the house, said the property features "exceptional quality of the building materials throughout" and "resort-inspired outdoor amenities.
Photo Gallery
Ooltewah home sells for $6.34 million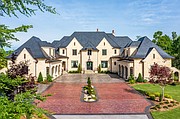 "Homes at this price point often are uncomfortably formal, but this seller showcased her wonderful sense of style and taste in art that created a luxurious property with an atmosphere of not taking itself too seriously," Putnam said in an emailed statement about the sale. "Marketing and showcasing these qualities attracted potential buyers from across the country. All of whom were chiefly interested in the house, but were also interested in seeing firsthand the reputation the Chattanooga area has gained as being an exceptional place to live and work."
The waterfront home is a bit smaller than the 15,453-square-foot home the Malones previously owned in Paradise Valley's Metes and Bounds community, "so we're preparing to downsize some," Barbara Malone said.
Richie Malone was born in Tennessee, although he spent most of his life living outside the South.
"We wanted to get back to our roots in the South and find a place that wasn't so hot in the summer or getting crowded by all of the growth we're seeing out here," Barbara Malone said. "We looked at houses in Nashville, Butler, Knoxville and Chattanooga, and something about Chattanooga kept pulling us there."
Chattanooga ranked as top draw
It's an attraction many relocating residents are finding. Chattanooga is one of the top markets for attracting new residents, according to a study by the online search company moveBuddha, which tracks relocation activity around the United States.
For every person moving out of Chattanooga, 2.7 people moved into the metro area in 2022, up nearly 34% from the previous year, according to moveBuddah data.
Among all U.S. cities, Chattanooga ranked No. 5 last year in the share of inbound residents moving into the area, behind only the Villages in Florida; Portland, Maine; Ocala, Florida; and Asheville, North Carolina.
Another study by Realtor.com projects Chattanooga will be among the top 10 fastest growing real estate markets for sales and prices in 2023.
Out-of-state buyers are bidding up Chattanooga home prices. The three biggest residential property sales ever in Hamilton County have come in the past year and involved buyers from Texas, Wyoming and Arizona.
The biggest home sale in Hamilton County came last fall when a Wyoming buyer bought a Lookout Valley mansion on the Tennessee River for $8.7 million. In September, a Houston family bought an Elder Mountain home for $4.9 million in what was previously the highest price paid for a home in Chattanooga.
A California investor offered $17 million to buy a Harrison home on the Chickamauga Lake last December, but he withdrew his offer last month.
Tax and climate appeal
Ron Hart, an investor and writer who worked at Goldman Sachs for most of his career and now has homes in Chattanooga and Florida, said in a phone interview Chattanooga is attracting those fleeing high-tax states and cities as well as "half backs" who may have initially retired in Florida and now are moving "half back" to their earlier homes in the Northeast or Midwest.
Hart said Chattanooga is seen as a less congested alternative to Nashville, which has been a major draw for many California businesses, artists and investors lured by the lack of a state income tax.
"Nashville is going nuts with California people moving there even without the infrastructure sometimes to accommodate all that growth," he said.
In the movie "Field of Dreams," Kevin Costner is told, "if you build it, they will come."
"Nashville didn't build it, but they still came," Hart quipped.
Is Chattanooga overvalued?
The influx of out-of-state residents from higher cost-of-living areas is pushing up real estate values as out-of-state buyers see Chattanooga as an attractive alternative to higher-priced housing markets in California and major cities. That has bid up Chattanooga prices by more than 42% above what would have been expected from the market's long-term price history and made the local market overvalued, according to a recent study by economists at Florida Atlantic University.
The number of homes sold in the Chattanooga market priced above $1 million has nearly tripled in the past couple of years, rising to a record high of 249 homes sold in 2022 with six-figure price tags, according to the Greater Chattanooga Association of Realtors.
Although median home prices in Chattanooga rose another 15.1% in 2022 to a record high of $305,000, Chattanooga's median home price was still 19.5% below the U.S. median home price last year, according to the Greater Chattanooga Realtors association.
Gov. Bill Lee said Tennessee continues to attract new residents from other states, which helped propel the state's economy to the fastest growth pace of any state in 2021 and the second-fastest rate of all states in 2022, according to estimates by the U.S. Bureau of Economic Analysis.
"As governor, I have the privilege of traveling across the state and meeting Tennesseans from all walks of life," Lee said in his State of the State speech to the Tennessee General Assembly last week. "Last fall, I met a man in Crossville who had just moved his family all the way from New York. He said to me, "When I moved to Tennessee, I felt like I moved back to America."
Growth in million-dollar home sales
The number of homes sold that were priced at $1 million has grown steadily in the Chattanooga market over the past eight years.
2022: 249
2021: 175
2020: 95
2019: 49
2018: 47
2017: 42
2016: 22
2015: 19
2014:16
2013: 18
2012: 18
Source: Multiple listing services, Greater Chattanooga Realtors. Numbers reflect sales of single-family homes, townhomes and residential condominiums.
Contact Dave Flessner at dflessner@timesfreepress.com or 423-757-6340.