A new study of downtown Chattanooga shows there's a significant unmet demand for more rental and for-sale housing, but there's also a lot of under-utilized office space.
The study for the Chattanooga nonprofit redevelopment group River City Co. also found a need for more downtown neighborhood-type services such as grocers, pharmacies, fitness centers and other businesses.
Emily Mack, River City's president and chief executive, said Wednesday in a phone interview that the study by national real estate consulting group RCL Co. will help her group and private companies understand conditions and meet future needs.
Mack said, for example, that remaking some of the empty office space into housing or other uses is an opportunity.
With a number of companies letting more employees work from home since the pandemic, a lot of office space is leased but not occupied, she said.
Through renovation or subdividing offices, the space could be targeted for housing or small offices, Mack said.
Photo Gallery
New study of downtown Chattanooga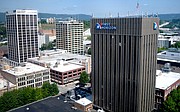 "There is a demand for smaller office space," Mack said. "Some of this is thinking about how people want to work today."
The study says renters earning less than $35,000 are under-served in downtown. But, the study also found options for renters earning $100,000 or more are relatively scarce as well.
Chattanooga real estate developer Adam Kinsey said by phone that high-earning renters are taking up lower-end inventory because there's not enough product.
Kinsey, who reviewed the study with some others at a meeting Tuesday, said the results are encouraging for the building of the more expensive rental product, given existing higher land and construction costs with no end in sight.
He also cited the idea of reusing office space coming out of the pandemic.
"The report hopefully gives us good direction and shows some things we're not thinking of," Kinsey said.
The study, funded by the Benwood Foundation, says proposed new office space such as at The Bend development on Riverfront Parkway is both a threat and an opportunity.
Mack said many tenants will choose to go into "a nice, bright, shiny building" rather than rent a building that hasn't been substantially renovated.
"It gives downtown property managers an opportunity to think about their buildings differently," she said.
When it comes to hotels downtown, the study shows weekend occupancy has recovered from the pandemic, but travel during the week has yet to rebound. While average daily rates have risen to fill the gap, efforts to increase weekday travel should be an area of focus.
Mack said securing additional conventions is one key step.
"That's an incredible way to meet that weekday demand," she said.
Concerning wooing more retail, Mack said the new Food City under construction at Broad and 13th streets should help with providing access to groceries.
But she said a concentration of residential will help grow the overall retail scene.
"Retail follows rooftops," Mack said.
Food City Chief Executive Steve Smith cited the growth in the central city and the chance to meet the needs of urban residents and shoppers when he helped break ground on the grocer's 53,000-square-foot store along with townhouses and other commercial space on the site.
"We go where people live," Smith said.
The study also touches on public transit, noting that it's a means of alleviating traffic and connecting areas.
Mack said the study is encouraging well-designed transit routes from CARTA as it modernizes its fleet.
Contact Mike Pare at mpare@timesfreepress.com or 423-757-6318.