The man who reportedly told a witness "the devil made me do it" after allegedly stabbing a woman to death twice violated a restraining order, a judge said at a preliminary hearing Wednesday.
Hamilton County General Sessions Court Judge Lila Statom said Sean Ryan Little, 38, not only violated the order of protection by not staying away from Sara Ferguson but also "by murdering her."
Little was charged with one count of criminal homicide, three counts of aggravated assault and one count of violation of an order of protection in the Dec. 7 stabbing death of Ferguson, 44. Little appeared in court Wednesday wearing an orange corrections jumpsuit and showed no visible emotion during witness testimony from Ferguson's son.
Ferguson's son, Ralphy Santiago, 21, testified.
Photo Gallery
Sean Little hearing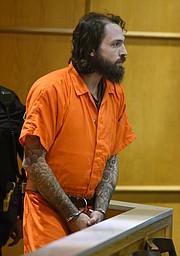 "There was blood everywhere," Santiago said, holding back tears while describing how he found his mother in her bedroom at the home they shared with Little and his two young brothers.
(READ MORE: Judge orders Chattanooga shooting suspect be removed from court after laughing during testimony)
Santiago testified that Little and Ferguson were arguing hours before the incident but things had calmed down and they were "play fighting."
"I was in the living room with my 7-year-old brother when we heard a noise," Santiago said. "I can't describe the noise -- I've never heard it before. I just heard the noise and went upstairs."
Santiago, who was on the lower level of the house, said he went to the second floor and found Little "positioned over (Ferguson) with a knife in his hand."
"Sean ran after me and my brother down the stairs," he said, adding that he grabbed his 7-year-old brother and ran out the front door.
Santiago, 21, said that after he saw Little run out the back door into a wooded area behind the house, he went back inside the house to check on his mother.
"I saw my youngest brother sitting next to my mom, crying, asking for her to wake up," Santiago said of the 3-year-old.
Shortly before 5 p.m. on Dec. 7, Hamilton County Sheriff's Office deputies arrived at the home in the 7000 block of Safari Drive and met with the victim's minor son and a neighbor.
"The victim was found (face up) it appeared the victim had been stabbed with a knife," an arrest affidavit said. "There was a knife observed near the body."
Paramedics pronounced Ferguson dead at the scene.
Little was found in a wooded area behind the residence, according to the affidavit.
(READ MORE: Chattanooga-area families who lost loved ones to alleged lack of medical care while incarcerated express frustrations)
During his testimony, Santiago said that on several occasions Little had threatened him and Ferguson and he was afraid something bad would happen if he moved out.
The judge commended Santiago for giving clear testimony.
"I think his testimony was clear, and it was probably the best testimony I've heard in the 34 years I've been a judge," Statom said, "despite his mother being killed."
Statom, who granted Ferguson a restraining order against Little in April, increased Little's $1 million bond to $250 million and bound the case over to the grand jury.
Contact La Shawn Pagán at lpagan@timesfreepress.com or 423-757-6476.