Women in the 16 states with the most restrictive abortion laws, including Tennessee, are more than three times more likely to die during pregnancy, childbirth or soon after giving birth, a recent report found.
The State of Reproductive Health in the United States report released last week analyzed state-level data on reproductive and sexual health in the years leading up to the U.S. Supreme Court's decision in June to overturn the 1973 Roe v. Wade ruling that provided a right to an abortion in most instances -- placing abortion policy in the hands of the states.
Tennessee's abortion law went into effect in August and deems any action to terminate a pregnancy a felony punishable by up to 15 years in prison. There are no exceptions, but the law allows a physician to present an affirmative criminal defense -- meaning the burden of proof is on the clinician -- in cases in which an abortion was necessary in order to prevent death or irreparable harm to the mother.
(READ MORE: Legislative battle shaping up in Tennessee over state's abortion ban)
"Our objective in this inaugural report is to establish a baseline for future assessments of the effects of abortion bans on women's health and well-being in the coming years," the authors said in their report, which was conducted by the nonpartisan Gender Equity Policy Institute.
The report classified states into three groups -- supportive, restrictive and banned -- based on whether state law allows abortion, restricts the procedure or bans it, respectively, and then compared data trends in maternal mortality, teen births and infant deaths.
Photo Gallery
Tennessee Reproductive Medicine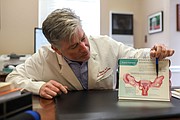 "On nearly every measure, people in banned and restrictive states have worse outcomes than their counterparts in supportive states. Moreover, these states are less likely to enact policies, like paid parental leave, which have been shown to improve outcomes for new parents and babies," the report states, also noting, "there are alarming and significant racial and ethnic disparities in U.S. maternal mortality rates, with Black and Native American mothers having a greater likelihood of dying during pregnancy and childbirth than those in other racial/ethnic groups."
(READ MORE: What the data says about abortion in the Chattanooga region)
Before the Supreme Court's decision, maternal mortality in the U.S. was more than three times higher than other high-income countries, with women in the U.S. significantly more likely to report skipping or delaying medical care due to cost, according to the Commonwealth Fund.
The State of Reproductive Health report notes that maternal mortality in the U.S. nearly doubled between 2018 and 2021, due in large part to the pandemic, but that mothers in states with pro-abortion laws were still more likely to survive pregnancy and childbirth.
In 2021, the maternal mortality rate in the 16 states with abortion bans was approximately 48 deaths per 100,000 live births compared to 36 deaths in restrictive states and 33 deaths for the U.S. as a whole. States that allow abortion had a maternal mortality rate of 21 deaths per 100,000 live births.
A Chattanooga Times Free Press analysis of the same U.S. Centers for Disease Control and Prevention maternal mortality data used in the report found that Tennessee had a maternal mortality rate of 62.4 deaths per 100,000 live births in 2021.
(READ MORE: Chattanooga doctor sent woman on 6-hour ambulance ride for abortion)
Gretchen Ely, a professor of social work who studies access to reproductive health care at the University of Tennessee in Knoxville, said in a phone interview that although correlation doesn't imply causation, the findings build upon prior research showing that maternal and child health outcomes are worse in states that restrict access to reproductive health services, such as abortion and contraception.
She pointed to Tennessee's decision not to expand Medicaid, which would have given health care coverage to a larger share of lower-income women. As it stands, Tennessee's Medicaid program, TennCare, covers low-income pregnant women during pregnancy and up to 12 months postpartum, but those benefits won't kick in until a woman knows she's pregnant and is able to apply for coverage.
Even for those who do have health insurance, Ely said large portions of Tennessee lack access to health care providers, particularly in rural areas and pockets of extreme poverty, such as Appalachia and the Mississippi Delta.
"People have difficulty seeing a specialist, and there's been a lot of closure of rural hospitals, it's difficult to get transportation," she said, adding that the opioid crisis combined with limited services across the state to help people curb addiction also negatively impact maternal and newborn health.
"When you've got people facing multiple disadvantages, they're less likely to access prenatal care in a timely manner," Ely said. "All of those things create a scenario where people just don't feel like they can access health care when they need to."
Other key findings from the report:
-- Six in 10 women live in states that ban abortion or restrict abortion.
-- Seven in 10 Black women live in states that ban or restrict abortion.
-- Babies born in states where abortion is now banned were 30% more likely to die in their first month of life.
-- Twice as many single mothers were uninsured in states where abortion is banned than states where it's allowed.
-- The teen birth rate was twice as high in banned states.
-- Black babies were more than twice as likely to die in their first month of life as white babies.
Contact Elizabeth Fite at efite@timesfreepress.com or 423-757-6673.