Two white, cube-shaped buildings sit on a vacant lot on East 10th Street. Windows poke out from the sides, and a door offers entry into the small living space inside.
In partnership with the city, a company called Branch Technology has developed two 3D-printed shelters that have been placed on property owned by Olivet Baptist Church. Officials hope the structures can act as a secure landing pad for homeless people as they transition into more permanent housing.
"Due to the lack of shelter in our area for emergency and crisis situations, these units can play a crucial role," Mike Smith, executive director of the Chattanooga Regional Homeless Coalition, said in a phone call Monday. "Branch Technology did something that was truly remarkable in the fact that they reached out to local service providers and people with lived experiences of homelessness when designing these. I thought that was a very positive sign from them."
Chattanooga recently saw a nearly 40% decline in unsheltered homelessness after the number spiked to about 1,000 in Hamilton County during the pandemic. However, the county still has approximately 600 unsheltered people living on the streets.
Photo Gallery
3D-printed shelters for Chattanooga homeless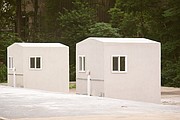 The small homes have power and are both fire-safe and temperature-controlled. Inside, there's a microwave, a refrigerator, a bed and storage space for belongings.
"It was very empowering to see a local business partner really being thoughtful about the design process," Smith said.
Casey Tinker, the manager of the city's office of homelessness and supportive housing, said in an interview that workers completed the structures about two months ago, and residents moved in last week. Officials will decide whether to expand the program after a 12-month pilot period, which started in April. The city used $19,000 from its innovation fund to help cover the construction cost.
Although circumstances will vary, people will ideally stay in the 3D-printed shelters for about 90 days, Tinker said, allowing new tenants to rotate into the spot. A case manager will check in with residents on a daily basis and help them take steps toward permanent housing, whether that be finishing paperwork or obtaining necessary documents.
The city uses referrals from the Chattanooga Regional Homeless Coalition to decide who stays in the 3D-printed shelters, Tinker said. Those tend to lean more toward people suffering from chronic homelessness.
Provided the program is a success, Tinker said, the city is receptive to exploring more 3D-printed shelters in other parts of Chattanooga.
The city has other resources that fill a similar role. Chattanooga recently extended its contract with Help Right Here, a local nonprofit, to operate a sanctioned homeless camp at the corner of 12th and Peeples streets.
Officials are also in the process of finalizing a location for a new homeless shelter with fewer rules, requirements and other barriers that sometimes block people from getting help.
Not everyone wants to stay in a shelter, Tinker noted, and offering a variety of temporary housing options allows people to choose their ideal living situation based on their comfort level.
"There's no way to build enough shelter beds in a low-barrier shelter," Smith added. "If we can have a mix of all of it while working to steadily house people, we'll have a continuum."
Branch Technology CEO Ryan Lusk spoke about the project in Chattanooga during a three-day conference on homelessness in June.
Along with being easier to assemble and disassemble, he would like to see future versions be more modular so they can be adjusted to fit more people as needed. That design would also allow the company to easily replace damaged walls, doors or windows. In an interview, he estimated the current versions offer about 64 square feet of space.
"Around 70% of people experiencing homelessness are individuals, but there's certainly a variety of families," he said. "That's a key thing to consider as we iterate on this solution."
Another consideration is the price. Shelters like those can cost anywhere from $8,000 to $20,000, Lusk estimated. With the end goal being the placement of people into more permanent living situations, the company is also creating a product designed to become obsolete, he noted.
Consequently, Branch Technology is looking at a leasing model where the shelters could be rented out temporarily and then reused. The structures could also conceivably be used as temporary housing for people finding their footing after a natural disaster or escaping a war zone.
Smith said he would like to see more of the temporary shelters pop up around the city — and more participation from the faith-based community.
"They would have the land, they could help buy some more of those units and then offer money through the flexible housing fund to house people out of those units," Smith said, referring to a pot of money managed by the homeless coalition for permanent housing.
Contact David Floyd at dfloyd@timesfreepress.com or 423-757-6249.