Chattanooga Electric Bike Co. owners John Mathna and Diana Davies are working to improve the bikeability of Chattanooga and promote micromobility, which involves the use of small, lightweight transportation devices such as electric bikes and scooters that typically travel at speeds less than 25 mph.
Some of their suggestions are fairly simple, such as adding more bike racks around town.
"We'll go places, and we have to tie our bikes up to a tree because there aren't any bike racks," Davies says.
Other ideas are a bit more complicated, involving changes in streetscapes and how people interact with their surroundings.
They recently met with Chattanooga Mayor Tim Kelly, along with the city's Director of Parks Scott Martin and Deputy Chief Operating Officer Julia Bursch, about installing more bike lanes on cross streets to help complete a bikeable grid within the city.
They also met with officials from CARTA who are interested in having electric bikes at bus stops to help get riders to destinations not on the bus route, Davies says.
Mathna says they hope to form an advisory committee focused on micromobility, which they see as key to providing convenient and affordable alternatives to taking multiple short car trips around the city to commute to work, shop for groceries and socialize.
Unlike electric cars, micromobility devices such as e-bikes cut down on the need for parking infrastructure and lessen car traffic and dependency, Mathna says. E-bikes offer riders power assistance that makes them easy to use for most people, even for older adults tackling the hilly landscape of North Chattanooga.
Mathna and Davies moved to Chattanooga from the Washington, D.C., area about seven years ago when Mathna was working with Volkswagen, she says. In the past Mathna raced motorcycles and ran motorcycle shops. When the pandemic hit, he decided to open an e-bike shop.
"It's getting people back out exercising, maybe making it their form of transportation," Davies says of electric bikes, which saw a surge in popularity during the pandemic.
Among the goals of Mayor Kelly's Climate Action Plan is for the city to achieve net zero carbon emissions, and increasing the city's bikeability is a key strategy in achieving that goal, city spokeswoman Kirsten Yates says. Improving multimodal transportation options, including cycling, is also a component of the Chattanooga-Hamilton County/North Georgia Transportation Planning Organization's 2050 Regional Transportation Plan.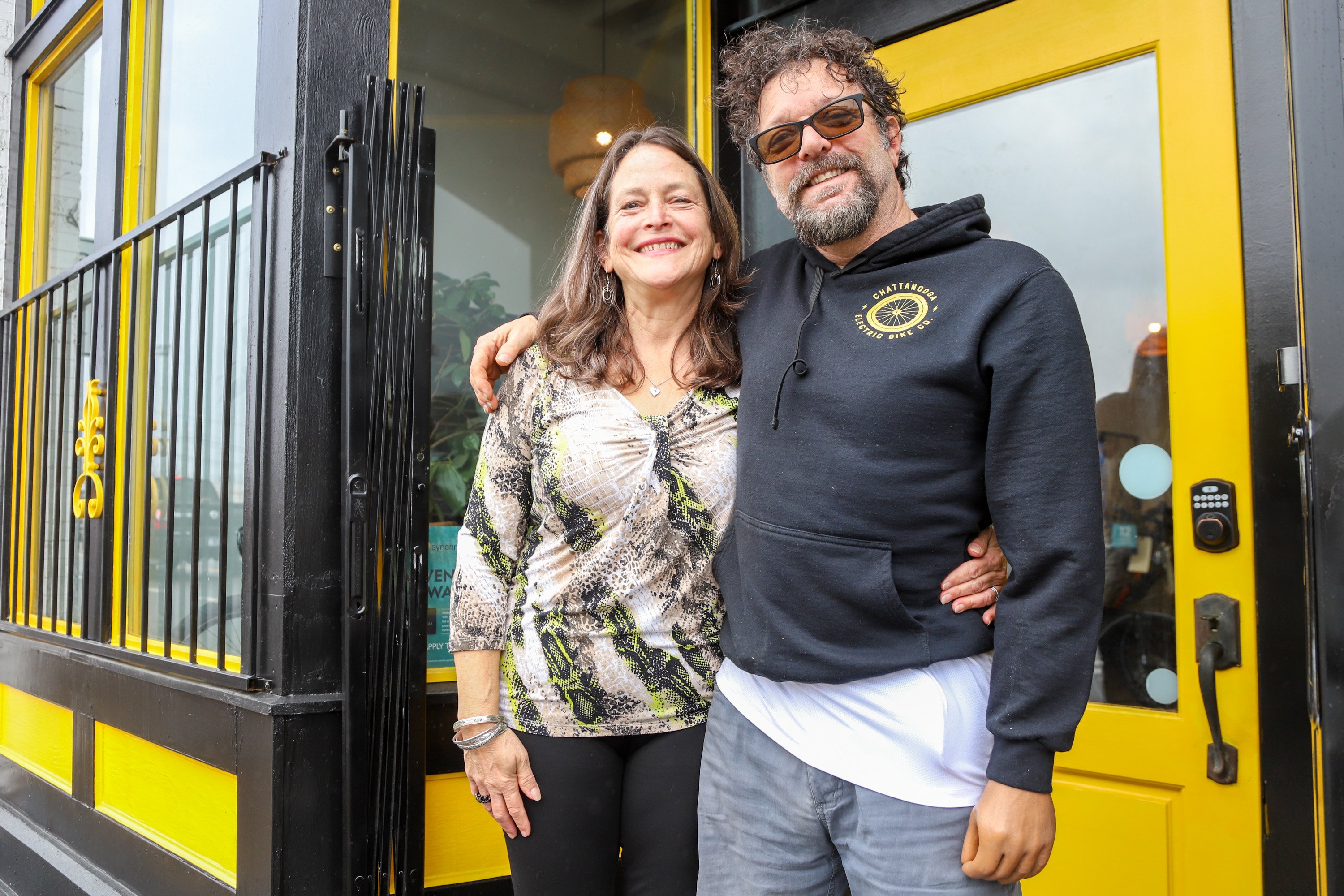 Staff photo by Olivia Ross / Diana Davies and John Mathna pose for a photo outside Chattanooga Electric Bike Co. on Thursday, February 9, 2023.

The city is starting construction in the coming year on two bike facility projects, Yates says. One adds bike lanes to South Willow Street and Orchard Knob Avenue, and the other is a multi-use path along Manufacturers and Hamm roads, she says.
Several long-term projects are also in the works, including the development of the Alton Park Connector linking the Alton Park community to the riverwalk, the incorporation of bike lanes and paths into the new South Broad master plan and the Reimagine Broad Street planning initiative, Yates says.
Although people seem to be more open to multimodal transportation facilities such as bike lanes than they were a decade ago, some people — particularly business owners — have yet to warm to the idea. In 2016, city officials scrapped their plans to add bike lanes to Frazier Avenue when boutique owners, restaurateurs and merchants voiced concerns that restricting motor traffic in the area would affect their business.
So while the new Broad Street plan includes cycling infrastructure, the various options provided to the public during the Reimagine Broad Street planning process did not include a car-free option because area business owners were strongly against the idea, Mathna says.
"If that had been one of the choices, I bet you people would have voted for that one overwhelmingly," he says. "I understand that they have businesses they feel would be hurt if it doesn't go according to plan, but I'm sure it would. I'm sure that they would have more business, and it would be a calmer area."
Making streets more bike-friendly also means slowing down car traffic, and better speed limit enforcement would help accomplish that goal, he says.
"I know the police chief has her hands full with so many other things, but that would go a long way to giving people the confidence to ride bicycles in the city," Mathna says.
Some people say they are against promoting cycling in the city because they fear more cyclists on the road would increase their chances of hitting a cyclist while driving, and Mathna says that also can be addressed through better enforcement of traffic laws — for both drivers and cyclists. Better traffic flow could be achieved by improving the traffic lighting system with dedicated lights for cyclists, and prohibiting cars from making right turns on red lights at intersections would decrease the likelihood of collisions as well, he says.
Along with looking for ways to improve the city's bikeability, Chattanooga Electric Bike Co. is also working with Greg Hembree at Gig City Customs on building a Chattanooga-specific e-bike.
"It's going to be something rugged and capable, just like the good people of Chatt," Mathna says. "It will be off-road oriented while still being plenty flexible to ride on the streets to Wanderlinger or Hutton and Smith to meet up with old friends and make new ones."
Mathna says they are working with other area e-bike shops to promote e-bikes in the city, such as organizing overnight e-bike camping trips to Reflection Riding Arboretum and Nature Center and Prentice Cooper State Park.
"We're interested in anything that creates a bigger biking community and gets people outside," he says.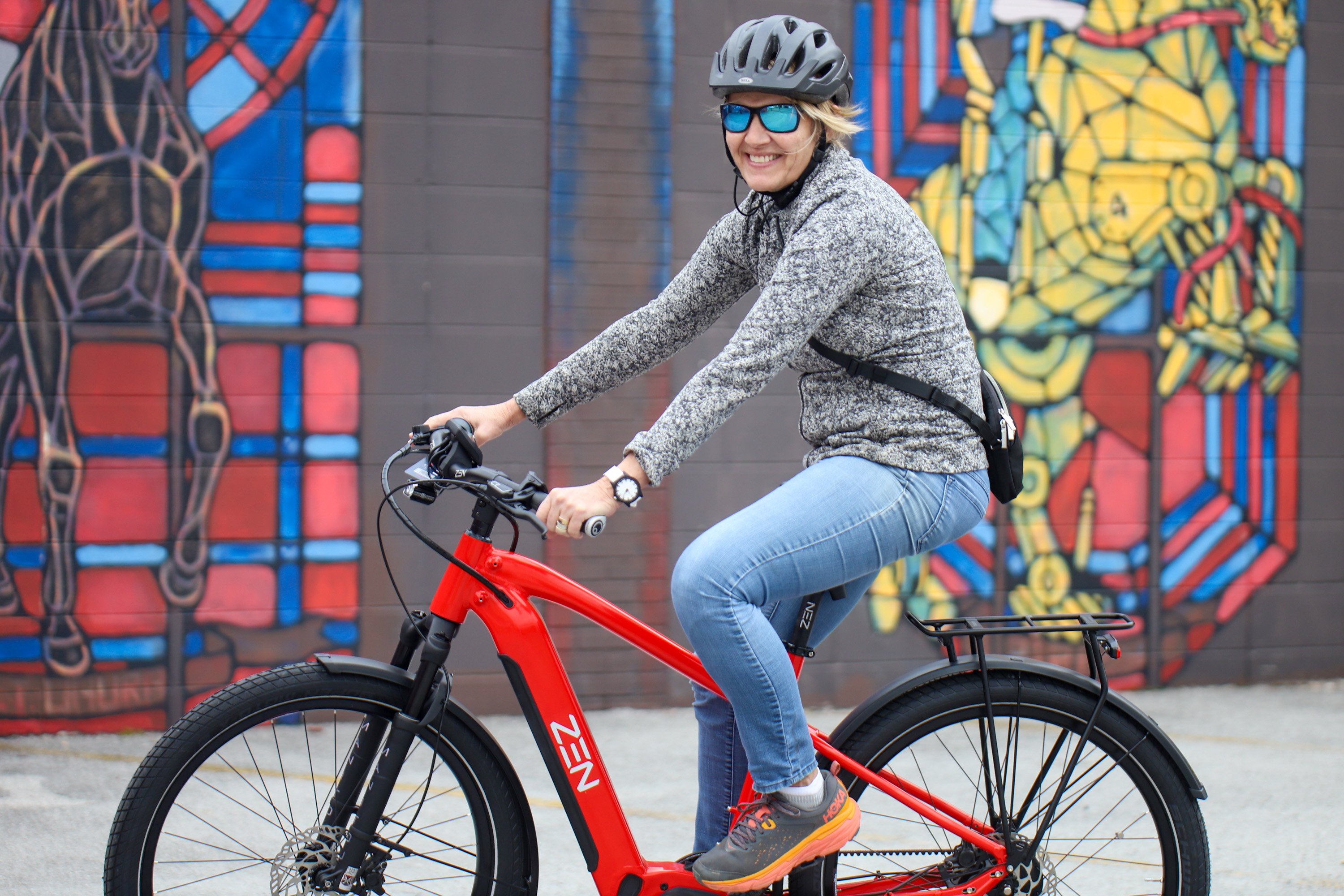 Staff photo by Olivia Ross / Karen Taber rides a Zen bike outside Chattanooga Electric Bike Co. on Thursday, February 9, 2023.