Demolition crews are toppling one of the oldest buildings on East Main Street this month after multiple owners of the three-story structure were unable to repair previous storm damage to the 123-year-old building.
Attempts to salvage the vacant brick structure proved unsuccessful, and the city wanted the building demolished, said Kevin Boehm, the Chattanooga developer who bought the building at 100 E. Main St. in 2020 for $1.2 million.
"We had some problems with homeless people getting in and out of the building, and the city finally mandated that the building should be torn down," Boehm said. "Despite preservation efforts over the years to keep and repair the building, there really was no way to do that."
Boehm said he remains committed to developing a boutique hotel on the corner lot at Main and Mitchell Avenue across the street from the Common House, which opened two years ago on the site of the former Southside YMCA.
"This is the trendiest market in town right now, and we feel like a hotel at this site would be a great fit for this neighborhood," Boehm said.
Photo Gallery
Main Street building to be demolished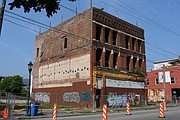 A storm damaged the back half of the building more than a decade ago, and Boehm and former owners of the structure were unable to preserve the building, he said.
"I'm excited to do something with the property, but it's unfortunate that this facility was just too far gone to try to save this building," he said. "We hope to start construction on a new hotel, potentially by the fourth quarter of this year."
Clint Ball, the project supervisor for Tower Construction Co., which is performing the building demolition, said work began Monday, and the building should be toppled and the site cleared by July.
The 17,160-square-foot building was erected in 1900 and once housed a grocery store and later the Levin Brothers furniture store, according to the Hamilton County Assessor's Office. But Boehm said the building has been largely vacant for most of the past half century.
Todd Morgan, who became executive director of Preserve Chattanooga in November 2021, said his organization's predecessor, Cornerstones, worked with numerous prospective developers to save the structure. In 2003, Cornerstones committed to a $50,000 loan to assist with redevelopment, and in 2006, Cornerstones prepared documentation for the property to receive historic tax credits. Cornerstones also paid for a structural engineering study in 2011 to verify the building's stability after a spring storm partially demolished the south wall.
"Our small nonprofit has invested a great deal of time and money in trying to save an important historic structure for Main Street," Morgan said in an emailed statement. "We see this unfortunate situation repeating itself throughout Chattanooga and other cities. Buildings are owned by irresponsible parties that refuse to do basic maintenance resulting in demolition by neglect. By the time a potential developer finally acquires the property, so much damage has been done that it is irreversible."
Preserve Chattanooga would like the city to establish an ordinance that would identify what actions or inaction qualify as "demolition by neglect" and require owners to maintain their properties to a defined standard, Morgan said.
Contact Dave Flessner at dflessner@timesfreepress.com or 423-757-6340.