When Juan Hernandez walks off the field Saturday night at Finley Stadium in his 127th and final match for the home team, the Chattanooga Football Club legend expects the emotions to be overwhelming.
The day will be one of celebration and possibly tears for the 33-year-old Spaniard, who will wear his No. 10 jersey for both Chattanooga and Pumas FC Premier, his former club in Paducah, Kentucky, for the final time. Kickoff will be at 7:30 p.m.
It will be the first-ever testimonial match — a soccer tradition honoring a player for years of service to a club — for CFC, which began competing in 2009 as an amateur club and joined the professional ranks in 2020 as part of the National Independent Soccer Association. Hernandez has been part of the club since 2015, more than half of its existence.
"The people here will be what I soak in and embrace the most when I am out there," Hernandez said. "There are a lot of friends and family that will be here to support me. It is going to be an emotional and special day. As the game gets closer, the emotions start growing. This is one of those days you never want to come, but you know it is going to happen at some point. I am just happy and blessed to have been able to play for so long."
Photo Gallery
Chattanooga FC midfielder Juan Hernandez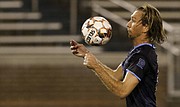 Earlier this year, Hernandez announced his retirement from playing to take on a coaching and development role with CFC, also working with the women's team that includes his wife Summer. He is beloved by his teammates and has long been a fan favorite, and on Saturday, bobbleheads of the Madrid native will be given to the first 15 fans who purchase a personalized Hernandez jersey inside the stadium, while 500 cooling fans on a stick with the words #JuanFan will also be passed out.
The star midfielder who accounted for 43 combined goals and assists in his eight-year CFC career also convinced the club to donate $1,000 for every 500 tickets sold to Saturday's match to the Juan Hernandez Scholarship Fund for the CFC Academy for youth players. Hernandez will remain on the field afterward for autographs and photos, and he'll also visit with fans in a postgame gathering at Chattanooga Brewing Company.
CFC captain Richard Dixon is among those forever grateful to Hernandez.
"I met Juan in 2016, and he played a big role in my decision to come to Chattanooga," Dixon said. "He sold the city to me. I actually stayed with him one offseason when I use to play in the USL, and he convinced me to come live and play here. The friendship goes way back before we were even teammates. He means a lot to me.
"It's bigger than football for me. To see everything he has done for the club is amazing. Just who he is as a person sets him apart. Not to mention, he is a brilliant footballer, a great leader and tremendous representative for the club."
After an undefeated 7-0-2 start to its NISA schedule, first-place CFC takes a break from league play but is excited to turn its attention to honoring Hernandez, who will put on a red captain's sleeve one last time.
Hernandez will play for both CFC and Pumas FC in the match. He played and coached for Pumas for three seasons before arriving in Chattanooga, where he helped the club reach and host the NPSL national championship game in his first season.
"When a player has been part of building something, you want to celebrate those players," CFC coach Rod Underwood said. "To have the opportunity to give back to someone that has put so much into this club is special. Juan has not only helped contribute to building this club but helping the club continue to move forward. All of our guys really enjoy him as a person and as a player. Saturday will be a day of celebration."
The personality and charisma that Hernandez brought as an athlete are already serving the club in other ways. He is a performance coach for the men's team, an assistant for the women's team and senior director for CFC Academy's teams in the U13-U18 range.
But for one more night, he will play the sport that has meant so much to him for so long.
"My passion for the game will always remain with me," said Hernandez, whose 24 career assists with CFC are the club record. "Pumas FC fully supported my move here, and some of the kids I coached while there are now playing for them. The goal is always to get players to the next level. I never dreamed a day like this would come, but I am forever grateful."
Contact Patrick MacCoon at pmaccoon@timesfreepress.com.