LE PECQ, France (AP) — The attacker slashed at the 24-year-old Catholic pilgrim with the knife that he used to savagely stab one young child after another. But rather than run, Henri held his ground — using a weighty backpack he was carrying to swing at the assailant and fend off his blade.
French media hailed Henri as "the hero with a backpack" Friday after he was shown in a video grappling with the assailant and charging after him during the knife attack that critically wounded four children between the ages of 22 months and 3 years old, and also injured two adults.
Henri, who is on a nine-month walking and hitchhiking tour of France's cathedrals and happened to be in the Alpine town of Annecy when the attacker rampaged Thursday though its lakeside park, also got personal words of gratitude Friday from President Emmanuel Macron. The French leader toured hospitals to meet victims and their families and thanked medical workers, police, firefighters, civilians — including Henri — and others whose first aid and swift actions helped save lives.
"You experienced very hard moments, traumatizing," Macron said. "I am very proud of you."
Henri asked Macron to be invited to the reopening of Notre Dame in Paris next year, following repairs to the cathedral damaged in a fire in 2019.
"I'll take care of it personally," the French leader replied.
The president had reassuring news about the victims, expressing hope after speaking to doctors about their injuries that "normally things will continue to improve." The most critically injured children, two cousins, were stabilized and "doctors were very confident," Macron said.
A wounded British girl "is awake, she's watching television," Macron added, speaking to first responders. A wounded Dutch girl also has improved and a critically injured adult — who was both knifed and wounded by a shot that police fired as they detained the suspected attacker — is regaining consciousness, Macron said. The second injured adult was discharged from a hospital and was among dozens of people that Macron met and thanked, his left elbow still bandaged.
"The first thing doctors told me ... is that these children were saved by the swiftness of the collective intervention," Macron said. "Thank you immeasurably for your courage."
Henri had a heavy backpack and was holding another in his hand when the attacker slashed at him. But despite the blade and the attacker's chilling aggression, Henri continued to harass him, pursuing the man inside a playground — where he repeatedly stabbed a child in a stroller — and then out of the park again, carrying his backpacks all the while. Henri appeared to hurl one at the assailant at one point and then pick it up again to take another swing.
Photo Gallery
France hails 'hero with a backpack'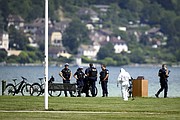 Henri said he was powered by his Catholic faith.
"When you know that you're loved by God and that he saved our lives, you can act without thinking too much about your own (life) to try and save those of the children," he told French broadcaster BFMTV.
Henri's father, François, said he believed that his son's doggedness helped dissuade the attacker from stabbing more victims before police wrestled him to the ground.
"He took a lot of risks – when he wasn't armed, with just his backpacks," the father told The Associated Press. "He didn't stop running after him for many minutes, to stop him from coming back and massacring the kids even more. I think he prevented carnage by scaring him off. Really very courageous."
François asked that their last name not be published, expressing concerns about their family being thrust suddenly and inadvertently into the public eye at a time of shock and outrage in France provoked by the attack's viciousness and the helplessness of its young victims.
The profile of the suspected attacker, a 31-year-old Syrian political refugee, also fueled renewed political debate about French migration policies. Critics on the right and far-right of French politics quickly dusted off arguments that migration controls are too lax.
For his part, Henri rejected the "hero" label. He said he "tried to act as all French people should act, or would act."
"In that moment, you unplug your brain and react a bit like an animal by instinct," he said.
"I am far from alone in having reacted," he added. "Many other people around started, like me, to run after him to try to scare him, push him away. And other people immediately went over to the children to take care of the injured."
Motives for the attack in and around a children's playground remained unexplained. The suspect, who has refugee status in Sweden, remains in custody. Psychiatrists were evaluating him, government spokesman Olivier Veran said.
Henri's father said his son "told me that the Syrian was incoherent, saying lots of strange things in different languages, invoking his father, his mother, all the Gods."
"In short, he was possessed by who knows what, but possessed by folly, that's certain," the father told the AP.
Henri, who is documenting his pilgrimage around France on social media, said he'd been setting off to hitchhike to another abbey when the horror unfolded in front of him.
After the assailant's arrest, and having seen that first responders were treating victims, Henri said: "I had just one reflex – which was to start to pray."
The 3-year-old British girl and two French cousins — a girl and a boy, both 2 years old — were rushed to a hospital in the French Alpine city of Grenoble. That was the first stop for Macron and his wife on Friday morning.
The Annecy prosecutor's office identified the fourth child as a 22-month-old Dutch girl. She was treated in Geneva, in neighboring Switzerland.
The seriously injured adult was treated in Annecy. Portugal's foreign ministry said he is Portuguese and "now out of danger." He was wounded "trying to stop the attacker from fleeing from the police," it said.
"For this act of courage and bravery, we thank him profoundly," the ministry added.
French authorities said the suspect had recently been refused asylum in France, because Sweden had already granted him permanent residency and refugee status a decade ago.
Lead prosecutor Line Bonnet-Mathis said the man's motives were unknown, but didn't appear to be terrorism-related. He was armed with a folding knife, she said.
___
Jennifer O'Mahony in Madrid, Armando Franca in Lisbon, Portugal, and Nicolas Vaux-Montagny in Lyon, France, contributed to this report.