Events celebrating reptiles, summer vibes and food trucks are on the weekend agenda in the Chattanooga area. Here's a chronology.
ARTS
> Ancestral Roots Sculpture Garden Celebration is an event taking place from 1-3 p.m. Saturday at Rise Chattanooga's Creative Community Hub, 2901 Taylor St. The celebration will showcase newly installed outdoor sculptures by Black artists Rondell Crier, Isaac Duncan III and Rontherin Ratliff. There will be a reception for the artists, a brief Q&A, refreshments and musical performance by Zowie & the Vanguards. Admission is free. Learn more on Rise Chattanooga's social media pages.
LIFESTYLE
> The Chattery, 1800 Rossville Ave., Suite 108, will host a sound bath meditation class from 1-2 p.m. Sunday. A certified sound therapist and yoga instructor will guide the class on a sound journey using healing instruments and sound therapy techniques. Tickets cost $30. Learn more at thechattery.org
MUSIC
> Last Call at The Office will last from 5 p.m. to 3 a.m. Thursday through Sunday at The Office at City Cafe, 901 Carter St. Revel in the final days of The Office before City Cafe closes its doors at its longstanding downtown location. Come out for drink specials and stay for the music and celebrate the good times of the past. Learn more on eventbrite.com
> Nightfall, a weekly summer music series, continues at 7 p.m. Friday at Miller Plaza, 850 Market St., with opener Red Pawn and headliner Ping Rose, a Memphis musician playing a mix of blues, alternative rock and jazz. Shop the Nightfall Art Market in Miller Park and along Market Street starting at 6 p.m. and dine at the food trucks starting at 6:30 p.m. The event is rain or shine, and admission is free. Learn more at nightfallchattanooga.com
> Barking Legs Theater, 1307 Dodds Ave., will feature Aaron Irwin's Wobegon Trio from 7:30-10 p.m. Friday. The band will perform an evening of modern jazz. Advance tickets cost $15, while day of show tickets cost $20. Learn more at barkinglegs.org
> The Breakfast Club performs at 9 p.m. Friday at Barrelhouse Ballroom, 1501 Long St. This '80s tribute band will perform the look and sound of the era. $15 for advance tickets, $20 for day of show tickets. This is a 21 and older show. Learn more at barrelhouseballroom.com
> Songbirds, 35 Station St., will host a performance by The Secret Sisters, the musical duo of Laura and Lydia Rogers. They deal with themes of love and loss on their latest album, "Saturn Return." Doors open at 6 p.m., and the show begins at 7 p.m. Saturday. Advanced tickets cost $25, day of show tickets cost $28. Learn more at songbirdsfoundation.org
> Pools & Pints Patio Party brings the summer backyard party vibes from 3-7 p.m. Saturday at Naked River Brewing & BBQ, 1791 Reggie White Blvd. With the purchase of a $100 ticket for a group of four to six people, attendees can party to the music of a live DJ, chill in an inflatable pool and drink some beers. This is a 21 and older event, and no pets are allowed. Learn more on Naked River's social media pages.
> Subfest 2023 from 3-10:30 p.m. Saturday at Stove Works, 1250 E. 13th St., is a free, open to the public, all-ages outdoor music festival. Six local and regional music acts will perform at the festival. Food will be available while supplies last, and attendees can bring their own food and snacks. Learn more at stoveworks.org
> The Velvet Chair Experience from 6-9 p.m. Sunday at the Bessie Smith Cultural Center, 200 E. M.L. King Blvd., will feature an elegant evening of jazz and uptown soul music from singer Karen Collins accompanied by live musicians. The night will also feature performances by Dexter Bell & Friends and other surprise musical guests and entertainers. Food and drinks will be available for purchase. General admission is $40. Learn more at bit.ly/TVCEJN25
OUT & ABOUT
> Floating through the Forest takes visitors on a canoe trip on Lookout Creek guided by Taylor Berry, naturalist and director of avian conservation at Reflection Riding, 400 Garden Road. Enjoy the serenity of nature as Berry discusses the native plants and animals found along the creek. Member admission is $25, nonmember admission is $30. This event takes place from 9:30-11:30 a.m. Saturday Learn more at reflectionriding.org/events
> Chattanooga River Market will set up from 10 a.m. to 5 p.m. Saturday at the Tennessee Aquarium Plaza, 1 Broad St. Shop dozens of local and regional vendors selling handmade crafts, jewelry, soaps and more. There will be live music and food. Learn more at chattanoogamarket.com
> Experiential EV Ride and Drive is a free admission event taking place from 11 a.m. to 2 p.m. Saturday at The Bend Motorcar Track, 1067 Riverfront Parkway. Attendees will have the chance to drive multiple electric vehicles and e-bikes to experience all they have to offer. There will also be food trucks, music and vendors at the event. Learn more at eventbrite.com
> Chattanooga Food Truck & Craft Beer Festival will take place from noon to 6 p.m. Saturday at Coolidge Park, 150 River St. The festival will feature some of the area's most popular food trucks serving up a variety of foods to satisfy any and all cravings. Also featured are a diverse bunch of regional and national beer brews and local artisans selling handcrafted goods. The event is rain or shine and pet and family friendly. General admission is $10, while food and drink specialty tickets range in price from $20 to $50. Learn more at foodtruckfestivalsofamerica.com/chattanooga
> Summerween on Patten Square, 818 Georgia Ave., will take place from 6-10 p.m. Saturday. Celebrate Halloween in the summer with live music, fire dancers, magicians and an eclectic bunch of vendors. There will be a watermelon carving contest (watermelons must be pre-carved) and costume contests for children and adults. The event is free and open to the public. Food and beverages will be available for purchase. Learn more at rivercitycompany.com/events/summerween-1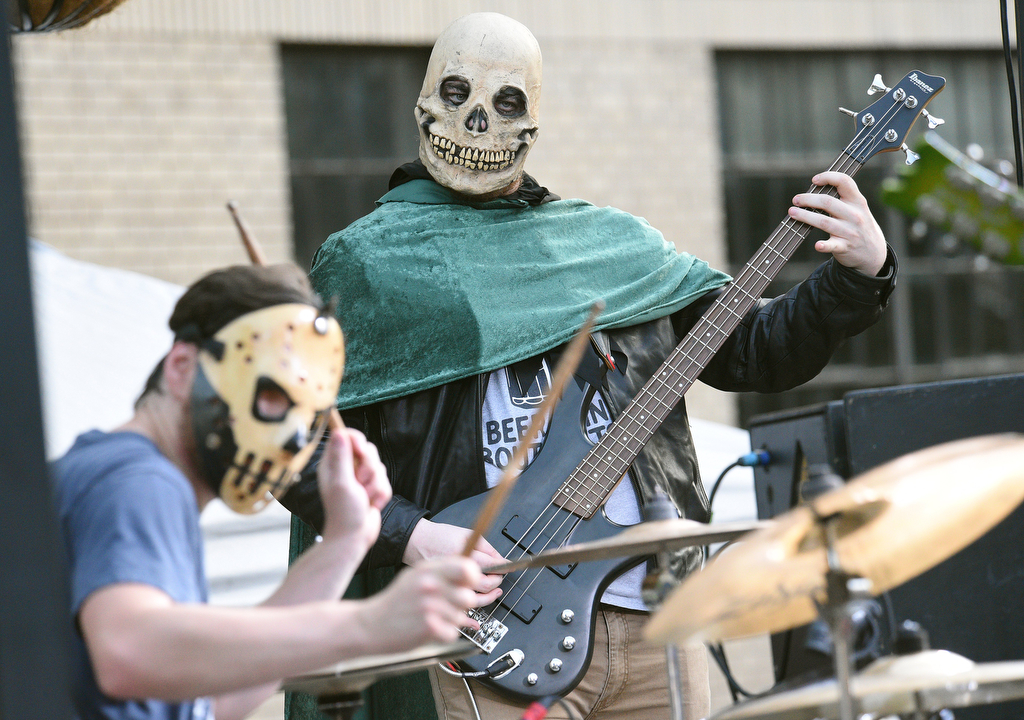 Staff photo by Matt Hamilton / Chris Campbell plays drums, and Austin Hall plays guitar with Atlanta-based band Genki Genki Panic on July 16 during Summerween in Patten Square in Chattanooga. The band plays '60's-style monster surf music. The event featured Halloween-themed events, but in the summer, such as watermelon carving, musicians, a fire performance, costume contests and more.

> Close Cut Comedy at Scout's Barbershop, 1705 Market St., will feature a pop-up comedy show with performances by comedians from Atlanta; Huntsville, Ala.; Knoxville; and Chattanooga from 8-9:30 p.m. Saturday. Tickets cost $20, which includes $10 off a future haircut. Learn more at the show's eventbrite page
> Lula Lake Land Trust's Open Gate Days will be from 9 a.m. to 5 p.m. Saturday and Sunday at the Trust's Core Preserve, 5000 Lula Lake Road, Lookout Mountain, Ga. Hike the trails of the core preserve and take in the natural scenery of the land and waterfall. With multiple trails offering various difficulties, there is plenty to do for anyone looking to get out over the weekend. Spots and arrival times are limited. Admission is $16. Learn more at lulalake.org
> Chattanooga Reptile Expo takes place from 10 a.m. to 3:30 p.m. Saturday and Sunday at the East Ridge Community Center, 1517 Tombras Ave. General admission is $10, children 12 and under get in free, and military personnel and first responders get half off admission. Shop a plethora of vendors selling everything anyone could need to care for a reptile. Enjoy and learn from new experiences, and maybe even take home a new family member. Learn more at showmesnakes.com
> Master Gardeners' 36th Annual Garden Tour will showcase five unique private home gardens and one public garden in the Brainerd and East Brainerd area. The tour is self-guided, and the gardens can be visited in any order. The tour is scheduled for 10 a.m. to 5 p.m. Saturday and 11 a.m. to 5 p.m. Sunday. Admission is $20 and covers both days. All the gardens feature an abundance of beautiful plant life that also encourages and supports pollinators and other wildlife. Learn more at mghc.org/garden-tour/
> Sunday Funday at the Chattanooga Market will take place from 11 a.m. to 4 p.m. Sunday at the First Horizon Pavilion, 1801 Reggie White Blvd. Shop from local vendors selling fresh produce, handmade crafts and more. Enjoy live music and food trucks during the day. Learn more at chattanoogamarket.com
> Stable 41 Farmers Market will host a Chef Demo Market from 1-4 p.m. Sunday at the Stable 41 Pavilion, 214 First St., Fort Oglethorpe, Ga. At the market, a local chef will demonstrate how to use fresh, local and in-season ingredients to create a delicious meal. Learn more at stable41market.com
SPORTS
> Scenic City Summer Showcase will bring around 500 out-of-town softball teams to the Chattanooga area to play for recruiters and the chance to win the title of Scenic City 2023 Champion. The teams will play at softball complexes around the area from Wednesday through Sunday. A new addition to the event is professional softball games at Frost Stadium, where the Florida Vibe team will play Team East All Stars. The professional games are free admission for all. Game one will be at 7 p.m. Thursday, and game two will be at 7 p.m. Friday. Learn more at connectsportsevents.com
> The Tennessee Association of Vintage Base Ball will host a game between the Mountain City Club of Chattanooga and the Lightfoot Club of Chattanooga at 1 p.m. Saturday at the 6th Cavalry Museum, 6 Barnhardt Circle, Fort Oglethorpe, Ga. Admission is free. Learn more at tennesseevintagebaseball.com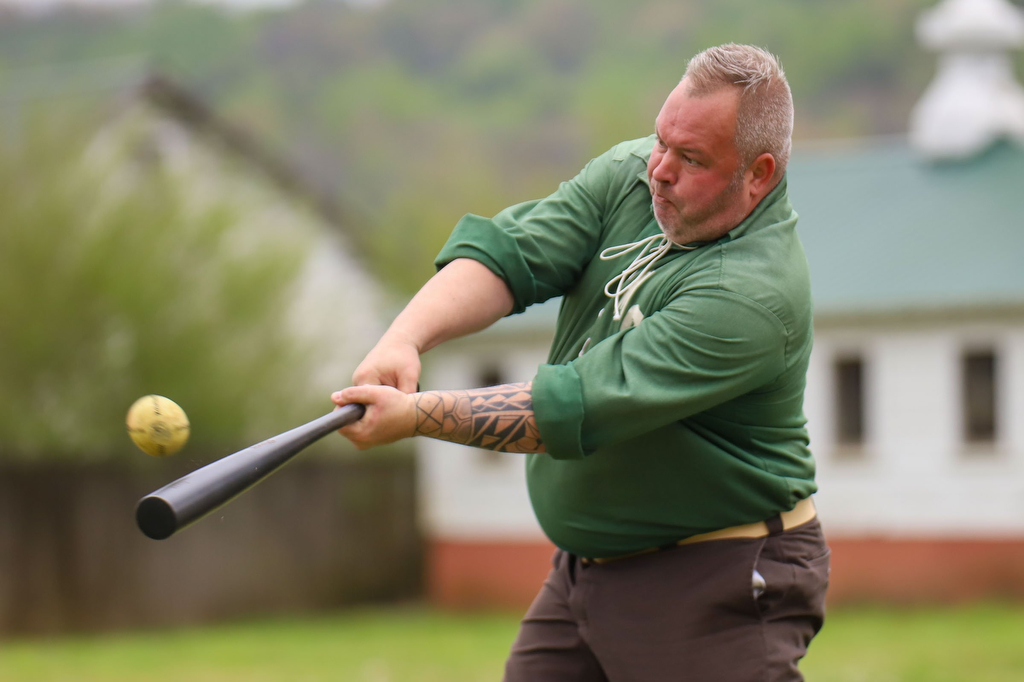 Staff Photo by Olivia Ross / Shane "Sugar" Wise of the Tennessee Association of Vintage Base Ball's Mountain City team gets a hit at Swing Into Spring at McDonald Farm in 2022. The event, complete with a petting zoo, games, music and vintage baseball, was the first to be held at the farm since the county government's purchase of the property.

> Chattanooga Football Club will field its men's team against the Club de Lyon at 7:30 p.m. Saturday at Finley Stadium, 1826 Reggie White Blvd. General admission tickets are $11 for children and $16 for adults. Learn more at chattanoogafc.com
> Publix Chattanooga Waterfront Triathlon will host its 41st event from 6:45-10:45 a.m. Sunday. Competitors will swim in the Tennessee River, bike along Amnicola Highway and run the Tennessee Riverwalk. Sign up costs are $79 to $239 based on the type of event. Learn more at the event's page on trisignup.com
THEATER
> Chattanooga Theatre Centre, 400 River St., will conclude its production of August Wilson's Pulitzer Prize-winning "The Piano Lesson" this weekend. The play focuses on two siblings' arguments over selling or keeping a piano that has belonged to their family for generations and has the faces of their enslaved ancestors carved into it. One sibling wants to keep the piano because of the piano's carvings and history, while the other wants to sell it to buy the land where their ancestors were enslaved. Performances start at 7 p.m. Thursday, 8 p.m. Friday and Saturday and 2:30 p.m. Sunday. Tickets are $20 for students and $25 for adults. Learn more at theatrecentre.com
> Tennessee Valley Theatre, 184 W. Jackson Ave., Spring City, Tenn., is performing "Robin Hood," about the heroic outlaw and his adventures, this weekend. Performances will be at 7:30 p.m. Friday and Saturday and at 2 p.m. Sunday. General admission tickets are $14, student, senior (age 55 and older) and veteran tickets are $12. Learn more at tennesseevalleytheatre.com
> Athens Community Theatre will host playwright Norman McMillan and author Julia Walker for a table read of the play "Fireball," based on the memoir of local Hazel Lindsey. The play is a one-woman show about the life of Lindsey whose memoir detailed her experiences with poverty and abuse. The table read will take place at 6 p.m. Monday at The Arts Center, 320 N. White St., Athens, Tenn. Learn more at athensartscouncil.org
Find more events, and add your own, at timesfreepress.com/cnevents.
Contact Sam Still at sstill@timesfreepress.com.