A new outpatient surgery center will have the capacity to serve patients in Chattanooga, Cleveland, Tennessee, and North Georgia, officials said at the facility's grand opening Thursday.
The $18.5 million Center for Sports Medicine and Orthopaedics facility on Tyner Road will offer a host of services, including joint, knee, hip and shoulder replacements as well as spine surgery and other procedures by a team of in-house surgeons and physicians, CEO Becky Farmer said in an interview.
"We try to offer complete, comprehensive orthopedic care within Center for Sports Medicine, and this ASC is just adding to that," she said.
ASC is short for Ambulatory Surgery Center.
(READ MORE: Center for Sports Medicine to build $18.7 million surgery center in Tyner)
Photo Gallery
New Chattanooga outpatient surgery center opens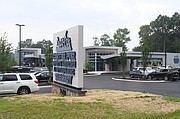 Recent advancements in health care technology enable surgeries traditionally performed in hospitals to be conducted in cost-effective outpatient settings like the center's new location.
The new 37,500-square-foot surgery center will better accommodate the heightened demand for orthopedic services in the area amid the recent population growth in Chattanooga, Farmer said.
"People can stay in Chattanooga and go to a state-of-the-art outpatient facility to have their surgery done in town," Farmer said.
Hospital groups have argued that surgery centers take surgical patients away from their facilities and jeopardize less profitable but essential service lines, such as trauma and pediatrics. Hospitals rely on the revenue generated from surgical procedures to offset care costs for patients without health insurance or the funding to cover medical bills.
(READ MORE: New surgery for sleep apnea now available in Chattanooga)
The Center for Sports Medicine and Orthopaedics has been open since 1979 and has 11 clinics throughout the region that will continue to provide nonsurgical orthopedic services like physical therapy.
Its former surgery center had five operating rooms. The new center will have eight operating rooms and two procedure rooms in addition to 40 suites for patients either waiting for a procedure or coming out of one. Every patient at the facility is able to go home the day of their procedure, removing the cost of what a hospital stay would be for surgical patients, Farmer said.
The new facility will be the only outpatient surgery center in the area that has robotic surgical technology such as theStryker Mako and DePuy Velys robots with the latest upgrades, Farmer said. Both robotic devices are used for total hip and total knee replacements, she said. In addition to the $18.5 million it cost the organization to build the new surgery center, an additional $6 million to $8 million went into the new equipment, Farmer said.
(READ MORE: New Chattanooga surgery center underway on Riverfront Parkway)
The former center did not have the capacity for all the surgeons to work in-house, Farmer said. Staff surgeons typically had to work at hospitals and other off-site facilities to take their cases -- particularly those servicing patients in Cleveland, who she said the center had not been able to accommodate.
With the opening of the new facility, the center will be able to provide its services at a higher volume with its full team of surgeons able to take their cases on the property, Farmer said.
The former surgery center on Holtzclaw Avenue completed its last cases Friday, officially closing once the final patient left the facility.
"It's an unbelievable investment in this community and a show of our commitment that we will be moving over the holiday weekend," Farmer said.
At the grand opening, Chattanooga Mayor Tim Kelly called the city's future bright.
"I appreciate the confidence that this demonstrates in Chattanooga and the great economic trajectory that we're on," Kelly said.
The new facility on Tyner Road will be up and running by Wednesday of next week.
Contact Sarah Dolgin at sdolgin@timesfreepress.com or 423-757-6556.