Chattanooga residents spoke during a downtown rally Wednesday against bills that would ban public drag performances and transgender-affirming health care for minors.
The bills have had wide support in the Republican-dominated legislature and are making their way to Gov. Bill Lee's desk. Lee has supported the bills and said he plans to sign both.
Roughly 350 demonstrators and speakers in Miller Park on Wednesday evening called on Lee to veto the bills, though most said they didn't have much hope the governor would do so.
"Gov. Lee, I'm not sure he understands how serious this is," Lilah Moyal said.
CARE BAN
One bill would bar those under 18 from receiving health care treatments related to gender transition, including surgery, puberty blockers and hormone therapy. It would be enforceable starting in July and would give minors already receiving gender-affirming health care until the end of March 2024 to stop.
(READ MORE: Tennessee bill banning transgender youth surgeries, procedures headed to Gov. Lee's desk)
Moyal said she struggled with depression since hitting puberty and only started feeling better after beginning hormone therapy in September. She's 17 and would be able to continue treatment as an adult within the year but she said she worries about 15- and 16-year-olds in her position.
"I tried different medication, therapy, nothing worked," Moyal said, "until I figured out who I am."
Supporters of the bill, including Lee, say they're concerned children aren't mature enough to make potentially irreversible decisions about their health.
Rep. Yusuf Hakeem of Chattanooga was one of three Democrats to vote in favor of barring minors from receiving gender-affirming care. Hakeem told the Chattanooga Times Free Press by phone last week that he worried certain gender-affirming treatments are too permanent to perform on young people.
Parents at the rally said they felt the decision to undergo treatment should be made between a child, their parents and a doctor.
"Our rights as parents are being censored," said Angela Favaloro, a member of the Hamilton County group Moms for Social Justice, by phone ahead of the rally. "We know our children best, and we, along with medical providers, should be able to offer the care we deem is appropriate for each individual child."
Photo Gallery
Pride rally in downtown Chattanooga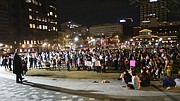 DRAG BAN
The bill pertaining to drag performances would make it a criminal offense to hold "adult-oriented performances," including drag shows, in public or in private spaces where children could see them. With Lee's signature, it would go into effect April 1.
Elizabeth Haley, owner of Chattanooga's Seed Theater, said at the rally the theater would be forced to make its drag shows adults-only once the bill becomes law. Right now, roughly 1 in 10 people at an average show at the Seed are under 18, Haley said.
"They can see adults expressing their gender in different ways than they're going to see at church or school or wherever," Haley said. "Even just having one person, one adult who supports you in the community decreases suicidal ideation."
Haley's child, Casper, also spoke at Wednesday's rally, recounting a November all-ages drag brunch at the theater that drew roughly 30 protesters, including some who appeared to be affiliated with white supremacist group Patriot Front.
"The drag community in Chattanooga is the one place I've never been hurt, never been manipulated or felt unsafe," Casper said, "The only time I've ever felt unsafe is when the men shouted across the street, they rallied, they posted my face all over the internet, and they harassed me for weeks. Not when the drag queens threw glitter."
(READ MORE: Tennessee Gov. Lee deflects question about high school photo of himself in drag attire)
Two counter-demonstrators were present at the park during the rally, one using a bullhorn to tell demonstrators gathering that they should repent and that they were supporting pedophilia. The pair, street evangelists Daniel and Mary Rusk, also protested a January show at the Seed Theater. Police asked the Rusks to turn down the volume on their bullhorn and move to the opposite side of the park.
Members of Chattanooga Pride, Moms for Social Justice, Semillas and the Seed Theater spoke at the rally, along with other activists and pastor Anna Golladay, who was fired from her job with the United Methodist Church in 2018 after officiating a same-sex wedding.
(READ MORE: Could Tennessee's drag bill repel Broadway shows and other Chattanooga area events?)
Speakers and demonstrators said they worried banning gender-affirming care and drag performances for people under 18 would increase suicide rates among transgender youth. A 2022 survey from The Trevor Project found that 1 in 4 transgender and nonbinary minors in Tennessee had attempted suicide that year.
'SO BE IT'
In addition to the counter-protesters at the rally, Hamilton County has many residents who are supportive of the actions in the General Assembly.
"We absolutely support protecting kids from chemical castrations and genital mutilation," Tonya Dodd, chairwoman of the Hamilton County chapter of Moms for Liberty, said in an email. "If an adult wants to be transgender, so be it.
"If they want to do a show for adults, so be it -- but let's keep it away from our kids," she said.
Ashley Kaye Cox, a Chattanooga resident who posts on social media under the name "Unsilent Patriot," is a vocal opponent of children attending drag shows. Cox traveled to Nashville to attend hearings on both bills, according to her Instagram page.
In response to an inquiry from the Chattanooga Times Free Press, Cox referred a reporter to a social media post saying she was looking forward to the bills being signed into law.
"So grateful for the anti-obscenity and anti-mutilation bills that passed the TN House and Senate," Cox tweeted Wednesday. "The demonic lunatics will no longer be able to sexually exploit or mutilate children in the state of TN."
The University of Tennessee at Chattanooga and the city itself feel more accepting than the rest of the state, A. Bean, community liaison for the queer collective group Spectrum UTC, said in a phone interview prior to the event. But Favaloro, of Moms for Social justice, said she feels like attitudes towards queer people in Hamilton County have become more hostile in the past several years.
Several demonstrators said that, though they felt the rally wasn't going to stop the bills from becoming law, they felt encouraged by the size of the crowd and motivated to action.
"The ideal outcome is to establish a better support system within Chattanooga, so that these kids know that they're not alone," Bean said. "The next year is going to be brutal if it passes because they have to detransition within a year."
Several speakers at the rally said they hope Hamilton County officials, including county Mayor Weston Wamp and Chattanooga Mayor Tim Kelly, would enact "nondiscrimination and welcoming" policies and direct law enforcement not to enforce bans on drag or gender-affirming care.
Contact Ellen Gerst at egerst@timesfreepress.com or 423-757-6319.