The infrastructure law Congress passed in 2021 made billions of dollars available for the development of passenger rail, and Amtrak is pushing for a massive expansion nationwide. This week Chattanooga took an early step toward getting a route of its own.
In partnership with Atlanta, Nashville and Memphis, the city of Chattanooga applied through a federal program for funding to study potential routes between the cities.
In the half-century since the last commercial passenger train left downtown Chattanooga, the area's train advocates have seen plan after plan and study after study fail to deliver.
Drawing a contrast from those past efforts, Chattanooga Mayor Tim Kelly's administration points to the scale of federal investment in trains today and the relatively modest nature of its preliminary vision, which emphasizes the use of existing tracks between the cities owned and used by freight companies.
"I think everybody involved in this process is excited about it," Chattanooga Director of Special Projects Ellis Smith said by phone Monday. "But we're also excited about doing it in a way where we're being good stewards of taxpayer money and we're making wise investments."
The cities' application, which seeks entry into the Federal Railroad Administration's new Corridor I.D. program, notes that previous studies of potential routes have often emphasized high-speed rail service -- which would generally require the construction of new tracks through what is, in the Chattanooga area, frequently hilly country.
The current effort seeks to lower the barriers to quickly getting passenger rail back online. The cities' thesis, Smith said, is that there is a demand for passenger rail and it is doable with minimal investment.
With the application, the group of cities seeks $500,000 from the federal government to test this thesis and scope out a plan. The study would look at the feasibility of new passenger rail service and what it would entail -- identifying, for example, where additional side tracks would be required so freight and passenger trains could coexist, or where potential stations might be located.
Federal leaders have expressed interest in Tennessee passenger rail, and earlier this year, Amtrak assessed a similar potential route between Atlanta and Nashville on pre-existing tracks used by freight company CSX.
Amtrak estimated that, with $1.4 billion in infrastructure investment, the Atlanta-Chattanooga route would take just over three hours, while traveling from Atlanta to Nashville would take about six and a half hours, according to the application.
Photo Gallery
Passenger train potential for Chattanooga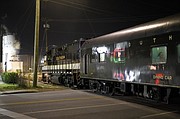 With minimal traffic on the interstate highways -- a rarer condition as road congestion worsens -- a driver can typically get from Chattanooga to Nashville or Atlanta in just over two hours.
Studies of more ambitious plans, involving the construction new high-speed track, foretell far faster travel times, but at a far higher cost.
For example, a 2012 Georgia study of a potential Atlanta-Chattanooga-Nashville-Louisville route looked at several different options, including a high-speed rail route that would travel between the cities about twice as fast as a car would, but at an initial cost of tens of billions of dollars.
Given existing freight traffic and the old age of the region's track system, some doubt passenger rail, short of such a massive investment, could become an effective travel alternative.
But Smith said that perspective undersells the possibilities of the infrastructure already in place and that running passenger rail even on existing tracks would still take pressure off highways and promote economic development.
It remains unclear when, if the rail plan continues to develop, Chattanoogans could realistically expect to hop aboard an inter-city train.
"I will be out of office by the time anything happens," Kelly told WUTC in February, "but I feel like I need to do my part to push, push, push to make it happen."
In a January phone interview with the Chattanooga Times Free Press, state Rep. Yusuf Hakeem, D-Chattanooga, who has long sought passenger rail expansion, said he thinks Chattanoogans could be boarding trains by 2026.
(READ MORE: Why can't I take a train from Chattanooga to Nashville? Lawmakers are talking, but challenges run deep)
Once a major passenger rail hub with connections to Birmingham, Nashville, Knoxville, Atlanta, Cincinnati and beyond, Chattanooga has not had commercial passenger rail for decades.
With the advent of plane travel and the development of the interstate highway system, train ridership dwindled. Its ultimate demise in Chattanooga coincided with the establishment of Amtrak, which took over the passenger-carrying responsibilities of freight carriers in exchange for priority access to their tracks. Today, Amtrak argues freight companies often ignore the law and cause delays by running their slow freight trains in front of passenger trains.
The tension is one reason negotiations on route expansions have often been touchy -- though not intractable. In November, Amtrak, CSX and Norfolk Southern announced that they settled a yearslong dispute over proposed passenger rail on the Gulf Coast, thus allowing the project to move forward.
The Southeast cities' application was accompanied by several letters of support, including from Chattanooga-area groups such as the Greater Dalton Metropolitan Planning Organization, as well as U.S. Rep. Chuck Fleischmann, R-Ooltewah; U.S. Sen. Raphael Warnock, D-Ga., and the Tennessee Department of Transportation, which awaits a state-commissioned study on the potential of passenger rail set to come out around July.
Contact Andrew Schwartz at aschwartz@timesfreepress.com or 423-757-6431.