Two Chattanooga parks will draw extra visitors this weekend as Shakespearean actors and ballet dancers gather for performances. Other events highlight Cinco de Mayo, the Kentucky Derby and Armed Forces Day. Here's a chronology.
ARTS
— Signal Centers' Hart Gallery, 110 E. Main St., has opened an exhibition of classical art for people who are blind or visually impaired. The tactile exhibit, which runs through May 20, features works in 3D imagery with descriptions available in touch-activated audio. The collection delves into the history and evolution of seven critical art movements, beginning in the 16th century, and includes such artists as Leonardo da Vinci, Johannes Vermeer and Vincent van Gogh. Admission is free. HartGallery.org.
— First-Centenary United Methodist Church, 419 McCallie Ave., is winding down its auction of works by the late John McLean. Bidding on 11o of the local artist's watercolor works continues 24/7 virtually and at select hours in person: 4-7 p.m. Wednesday, 11 a.m.-2 p.m. Saturday, and noon-2 p.m. Sunday. Register attendance for a chance to win one of the large paintings. firstcentenary.com/johnmcleanartshow
— Hunter Museum of American Art, 10 Bluff View, will host its monthly Throwback Thursday, offering free admission to the permanent collection, 4-8 p.m. Thursday. STEM School Chattanooga students will be featured 6-7:30 p.m. with museum-related projects they've created. huntermuseum.org
— ClearStory Arts, 1673 S. Holtzclaw Ave., will hold a reception for the new exhibit "In Frame: A Chattanooga Photography Expo," 6-8 pm. Friday, coinciding with a monthly open house that includes open studios, a mini market and live demonstrations,. "In Frame" will be on view through May 27. clearstoryarts.com
— Northside Gallery, 923 Mississippi Ave. inside Northside Presbyterian Church, has opened a four-month exhibition of works by 14 artists, including several members of the Civic Arts League of Chattanooga. A reception is scheduled 5-7 p.m. Friday. 423-266-1766
— In-Town Gallery, 26A Frazier Ave., will host an opening reception for May's "All-Member Show" 5-8 p.m. Friday. The monthlong exhibition at the cooperative gallery also serves as an introduction of the newest member, Anh Bao Tran-Le, a travel, wildlife, landscape and portrait photographer. intowngallery.com
— Incline Art Crawl, 201 Old Mountain Road near the Incline Railway tracks in St. Elmo, will offer a market by artists, makers and curated collectors 4-7 p.m. Friday and 10 a.m.-5 p.m. Saturday. Puppet theater, local musicians and authors also will be included Saturday. Parking is at the Incline or Food City. funkyjunction.co
— Southern Adventist University, 4881 Taylor Circle, Collegedale, will host the School of Visual Art and Design's End of Year Design Show 7-9 p.m. Thursday. Works by film and animation students will be showcased in Ackerman Auditorium in Mabel Wood Hall. Pieces by fine art and graphic design students will be in Brock Hall's John C. Williams Art Gallery. southern.edu/artgallery
Photo Gallery
Chattanooga-area weekend events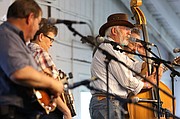 DANCE PERFORMANCE
— Ballet in the Park, a celebration of dance by Chattanooga Ballet, starts at 3 p.m. Saturday in Coolidge Park, 150 River St. The first activity is a public ballet class in which attendees of all ages and skill levels are asked to take a place at the barre. The day also will include children's crafts and activities, food trucks and performances by the professional company, the School Ensemble and the Making Moves program. Admission is free. facebook.com/chattanoogaballet
— Dancing Dialogues, duets that explore what happens when dancers from different places meet for the first time to share experiences and create a dance that reflects their conversation, will take place 7-9 p.m. Tuesday at Barking Legs Theater, 1307 Dodds Ave. Chattanooga's Collaborative Roots dancers will be paired with New York's Carolyn Dorfman Dance performers. The performance is part of the Legacy Project, whose sponsors include the Tennessee Holocaust Commission and the Jewish Federation of Greater Chattanooga. Suggested donation is $20 per person. barkinglegs.org
MUSIC
— MacDowell Music Club will meet at 11 a.m. Wednesday at First Cumberland Presbyterian Church, 1505 N. Moore Road. Visitors are welcome to sit in for free performances by seven area pianists. facebook.com/macdowellchatt
— Barking Legs Theater, 1307 Dodds Ave., has several shows this week, beginning with Jazz in the Lounge with the Alan Wyatt Quartet at 7 p.m. Wednesday with a $5 cover. Thursday is a Swing Into Spring dance party at 7:30 p.m. with the Triple L Trio, otherwise known as local musicians Lon Eldridge and Lou & Lynn Wamp. Tickets are $12-$15. Friday at 8 p.m. marks the return of The Floor Is Yours, an open mic for experimental art. The theme is "Decolonized." Tickets are $10. Saturday brings another dance party, this one with local party band The Beaters, at 7:30 p.m. Tickets are $15-$20. barkinglegs.org
— Premier Jazz Orchestra will perform a "Latin Fire" concert at 7 p.m. Thursday at The Granfalloon, 400 E. Main St. The evening includes dancing, tacos and margaritas. Tickets are $20. premierjazzorchestra.com
— Choral Arts of Chattanooga will perform at 7:30 p.m. Thursday in Second Presbyterian Church, 700 Pine St. The choral ensemble's featured music will be Bach's Cantata BWV 147 and excerpts from Mendelssohn's oratorio "St. Paul." Tickets are $10-$15. choralartsofchattanooga.org
— Boxcar Pinion Memorial Bluegrass Festival is this weekend at Mountain Cove Farms, 994 Dougherty Gap Road, Chickamauga, Ga. Sixteen bands, from nationally known acts to local favorites, will perform. The festival kicks off 6-9 p.m. Thursday. On Friday, music will start 1 p.m. with The Grascals headlining at 9 p.m. Russell Moore & IIIrd Tyme Out will close out the festival Saturday, with music scheduled noon-10 p.m. Tickets are $15 Thursday, $25 Friday, $30 Saturday, $72 for the weekend. Prices will be higher at the gate. foreverbluegrass.com
— The Signal, 21 Choo Choo Ave., has two shows this weekend. Hip-hop acts CuhDeeJah, Sean2 Miles and Paschan will stop on the Southern Hospitality Tour at 8 p.m. Thursday. Tickets are $40-$150. A Bad Bunny dance party, featuring hits by the Puerto Rican rapper, starts at 8 p.m. Saturday. Tickets are $15-$35. thesignaltn.com
— The Caverns, 555 Charlie Roberts Road, Pelham, Tenn., has Paul Thorn, a blues, country and rock artist, at 8 p.m. CDT Friday. Chicago Farmer will open. Tickets are $59-$407. Saturday's show by roots rocker John Butler and Sunday's Pink Floyd Laser Spectacular are sold out. thecaverns.com
— Barrelhouse Ballroom, 1501 Long St., has two shows this weekend, including one Friday by hometown favorite Mitch Rossell, who attended Silverdale Baptist Academy and the University of Tennessee at Chattanooga before heading to Nashville to pursue a career in country music. Connor McCutcheon will open the show at 8 p.m. Tickets are $20-$23. Saturday brings in two singer-songwriters originally from Knoxville. An Evening With Erick Baker, at 7 p.m., features support from Emily Wyrick. Tickets are $25. barrelhouseballroom.com
— Campfire Concert Series at Reflection Riding, 400 Garden Road, continues 6:30-10 p.m. Saturday with Brother & The Hayes, a sibling duo. Admission is $30-$35, which includes two drink tickets for Hutton & Smith beer, s'mores and entertainment. Add a catered dinner from Tremont Tavern for another $15 and overnight field camping for $5 per person. Admission is free for children 10 and younger. Prices are higher on the event date. reflectionriding.org
— Road to Nightfall finals will take place at 7 p.m. Saturday at The Granfalloon, 400 E. Main St. Battles of the bands in April produced five nightly winners — In the Company of Wolves, Jason Lee Wilson & James County, The Jacob Harshman Project, Interval and Daizy Skies — who'll compete for a headlining slot at the Nightfall summer concert series. Tickets are $10. granfalloonchattanooga.com
(READ MORE: Kaleta & Super Yamba Band will kick off Nightfall's 36th season)
— Songbirds, 35 Station St., has two shows with three notable blues guitarists Saturday. Ana Popovic gets the first spotlight at 7 p.m. Tickets are $40. Sunny War & Buffalo Nichols follow at 9:45 p.m. Tickets are $15-$20. songbirdsfoundation.org
— Chattanooga Symphony & Opera will present its season finale, the Pops concert "Cirque de la Symphonie," at 7:30 p.m. Saturday in Memorial Auditorium, 399 McCallie Ave. The circus portion of the show features aerial flyers, acrobats, contortionists, dancers, jugglers, balancers and strongmen. The music will include selections from "Carmen," "Peer Gynt," "Swan Lake" and the movie "Hook." Tickets are $10-$90. The CSO Youth Orchestras' spring concert is scheduled at 7 p.m. Monday, also at Memorial Auditorium. Tickets are $5-$10. A Sunday family concert of "Peter and the Wolf" is sold out. chattanoogasymphony.org
— Gem Theatre, 114 N. Wall St., Calhoun, Ga., will present Southern Raised, an award-winning family quartet of classically trained bluegrass musicians, at 7:30 p.m. Saturday. Tickets $30-$35. calhoungemtheatre.org
— Scenic City Chorale, a community ensemble, will present a spring concert at 3 p.m. Sunday at Brainerd United Methodist Church, 4315 Brainerd Road. Admission is free. facebook.com/sceniccitychorale
— Jericho Brass, a British-style brass band, will play at "Battle of Jericho" concert at 4 p.m. Sunday at the Collegedale Commons, 4750 Swinyar Drive. Admission is free. jerichobrassband.org
— Walker Theatre, 399 McCallie Ave., will welcome indie band The Brook & The Bluff at 8 p.m. Sunday. Savannah Conley supports. Tickets are $20-$22. tivolichattanooga.com
OUT & ABOUT
— Walker County Farmers Market, exclusive to vendors within 25 miles, plans two opening days as it expands to a second location. Hours are 2-5 p.m. Wednesday for the 19th season at the Walker County Agricultural Center, 10052 N. Highway 27 in Rock Spring, Ga., and 9 am.-1 p.m. Saturday at the new Market on the Square, 100 E. Villanow St., LaFayette, Ga. facebook.com/DDALaFayetteGA
(READ MORE: New farmers market coming to downtown LaFayette as seasonal markets begin across Northwest Georgia)
— The Comedy Catch, 29 Station St., starts the weekend with Open Mic Night at 7:30 p.m. Wednesday. Tickets are $7. Thursday is a Nurse's Night Out performance starring Greg G. Williams, a nurse turned comedian. Tickets are $20-$25. The weekend headliner is Mike Paramore, known for injecting humor into mundane situations. Shows start at 7:30 and 9:45 p.m. Friday and Saturday. Tickets are $19-$22. thecomedycatch.com
— An Afternoon of Inspiration with Leigh Anne Tuohy, a fundraiser for the teen development nonprofit On Point, is 11:30 a.m.-1 p.m. Thursday at the Chattanooga Convention Center. Tuohy's story inspired the Sandra Bullock movie "The Blind Side." A VIP meet and greet will precede the luncheon at 10:30 a.m. Tickets are $150 general, $175 VIP. liveonpoint.org/events
— National Day of Prayer service is set for 7-8:15 p.m. Thursday at The Crossing Church, 7501 Standifer Gap Road. Chattanooga House of Prayer is partnering with 25 local churches and ministries to pray for the city, state and nation. chatthop.org
— Scooter's Coffee will provide a free medium brewed coffee to nurses and other health care workers Friday in honor of Nurse and Healthcare Worker Appreciation Day. The freebie is limited to one per person with employment ID (not valid in mobile app). Chattanooga-area locations are at 7318 Shallowford Road, 4631 Highway 58, 9395 Apison Pike in Ooltewah and 2825 Keith St. NW in Cleveland. scooterscoffee.com
— Armed Forces Day Parade, the city's 74th annual salute to active-duty and reserve military personnel, starts at 10:30 a.m. Friday along Market Street in downtown Chattanooga. The Chattanooga Area Veterans Council coordinates the event, which this year pays tribute to the U.S. Air Force with the theme "Aim High: Fly, Fight, Win." chattareaveterans.com
— Reflection Riding Arboretum & Nature Center, 400 Garden Road, has three new programs this weekend. Nature After Dark, an overnight campout to see the resident animals' nocturnal behavior, lasts from 8 p.m. Friday (with s'mores) until 8 a.m. Saturday (with breakfast). Cost is $50-$60. Chickamauga and Chattanooga National Military Park historian Jim Ogden will lead a hike 9-11:30 a.m. Saturday that explores the Civil War events that occurred on the property. He'll be back for an evening outing in June. Cost is $15-$20. The Awesome Opossum, a weekly animal program, will debut 11 a.m.-noon Saturday. Cost is $5-$10. Registration is required. reflectionriding.org/events
— A Day of Barbecue is set for 8 a.m.-4 p.m. Saturday at Owl's Nest BBQ Supply, 9043 Lee Highway, Ooltewah. Seminars will be led by champion pitmaster David Bouska and his crew, and Bouska will have his line of products for sale. Free barbecue will be served 11 a.m.-noon. facebook.com/owlsnestbbq
— Lookout Mountain Conservancy will have a plant sale 9 a.m.-3 p.m. Saturday at the greenhouse at 1952 Old Wauhatchie Pike. Multiple varieties of organic herbs, flowers, fruits and vegetables will be available. facebook.com/lookoutmountainconservancy
— Hixson Farmers Market will open for the season Saturday at St. Alban's Episcopal Church, 7514 Hixson Pike. The market, featuring local farmers, gardeners and artists, adds live music on first Saturdays, a free pancake breakfast on third Saturdays. Hours are 9:30 a.m.-12:30 p.m. stalbansmarket@gmail.com
— Mother's Day Gala, a vendor market with a changing theme each month, is 10 a.m.-4 p.m. Saturday at Mountain Arts Community Center, 809 Kentucky Ave., Signal Mountain. This month's event will include flowers, chocolate, jewelry and a specialty cocktail. shopthemarketat.com
— Running of the Chihuahuas, a Cinco de Mayo-inspired series of racing heats for this Mexican dog breed, is Saturday at First Horizon Pavilion, 1826 Reggie White Blvd. Gates open at noon for the 14th annual races, and music by DJ Mixx of the "Kidd Kraddick Morning Show" and rising pop stars Olivia Lunny and Senses will start at 1 p.m. A kids zone, photo booth, food truck, appearances by Magic Lamp Entertainment characters, and photos with Chattanooga Red Wolves players and mascot are also planned. Admission is free. hits96.com/rotc-xiv
— Chickamauga and Chattanooga National Military Park will present a history program at 2 p.m. Saturday at Ross's Landing, 201 Riverfront Parkway. In "Milledgeville's Elite: Movers and Shakers in the Scenic City," a park ranger will explain how money from the Georgia city helped spearhead Chattanooga's settlement and development. Admission is free. nps.gov/chch
— Seersucker Saturday, a Kentucky Derby watch party, is set for 3:30-7:30 p.m. Saturday in the Bar & Billiards Room at the Read House, 107 W. M.L. King Blvd. Live entertainment and food and drink specials are included. A best-dressed competition includes gift baskets, an overnight stay and a Bridgeman's Chophouse gift card among the prizes. thereadhousehotel.com/seersucker-saturday
— Derby Nooga, a Kentucky Derby-themed party, is 5:30-9:30 p.m. Saturday at Coker Museum, 1309 Chestnut St. The evening includes DJ music, casino games, food and prizes awarded for the best-dressed partygoer and women's best hat. The event is presented by the Psi Lambda Educational Foundation with the support of the Alpha Phi Alpha fraternity, to raise funds for the foundation's scholarship. Tickets are $75. eventbrite.com
— Chattanooga Market will present its annual Strawberry Festival 11 a.m.-4 p.m. Sunday at First Horizon Pavilion, 1801 Reggie White Blvd. The weekly open-air market includes farm produce, artisan foods, flowers, arts, crafts, live music and food trucks. Sunday's musicians are jazz ensembles from nine Hamilton County middle and high schools. Admission is free. chattanoogamarket.com
— SNKR BST, a pop-up featuring thousands of new and used sneakers, plus streetwear, vintage clothing and collectibles, is scheduled noon-5 p.m. Sunday at the Chattanooga Convention Center, 1 Carter Plaza. Admission is $25 for early entry at 10 a.m., $15 at noon. eventbrite.com
— Stable 41 Farmers Market will include a Cajun cook-off as part of its gathering of vendors 1-4 p.m. Sunday at 214 First St., Fort Oglethorpe, Ga. stable41market.com
SPECTATOR SPORTS
— Chattanooga Lookouts, Double A affiliate of the Cincinnati Reds, have begun a home series against the Birmingham Barons at AT&T Field, 201 Power Alley. Promotions include a Chick-fil-A giveaway delivered via app Wednesday; Star Wars Night and drink specials Thursday, post-game fireworks Friday and a used-car giveaway and Princess Knight (Night), with characters from Chattanooga Princess Parties, on Saturday. Games start at 7:15 p.m. Sunday's game starts at 2:15 p.m. Donate a canned good to the Chattanooga Aread Food Bank to receive a free general-admission ticket. Tickets are $7-$12. lookouts.com
(READ MORE: Star Wars Night highlights Chattanooga Lookouts home series this week)
— Chattanooga Red Wolves, a USL League One men's professional team, will take on South Georgia Tormenta Football Club at 7:30 p.m. Friday at CHI Memorial Stadium, 1 Stadium Way. Tickets are $13-$30. chattanoogaredwolves-sc.com
— Chattanooga Football Club, a National Independent Soccer Association men's professional team, will play the Savannah Clovers at 3 p.m. Saturday at Finley Stadium, 1826 Reggie White Blvd. Tickets are $11-$45 ($5 more on game day). chattanoogafc.com
— Chattanooga Roller Derby, a women's flat-track skating league, opens its home season Saturday at Camp Jordan Arena, 323 Camp Jordan Parkway, East Ridge. The three bouts pit Chattanooga's Ruby Regulators vs. Atlanta Jr. Roller Derby at 3 p.m., All-Stars vs. Atlanta Dirty South Roller Derby at 5 p.m. and the B-Railers vs. Atlanta Rumble B's at 7 p.m. Tickets are $6-$12. Proceeds benefit Girls Inc. of Chattanooga. chattanoogarollerderby.com
THEATER
— Memorial Auditorium, 399 McCallie Ave., will welcome the star of TLC's "Long Island Medium" in Theresa Caputo Live: The Experience at 7:30 p.m. Thursday. Tickets are $44-$94. tivolichattanooga.com
— Chattanooga Theatre Centre, 400 River St., concludes its run of "The Cake" this weekend. Performances start at 7 p.m. Thursday, 8 p.m. Friday and Saturday, 2:30 p.m. Sunday. Tickets are $20-$25. theatrecentre.com
— Oak Street Playhouse, 418 Oak St. (behind First-Centenary Methodist Church), will offer a final weekend of George Bernard Shaw's "Pygmalion" at 7:30 p.m. Thursday through Saturday, 2 p.m. Sunday. Tickets are $12-$17 and may be purchased at the door or brownpapertickets.com.
— Southwest Whitfield High School, 1954 Riverbend Road, Dalton, Ga., is in the final weekend of the theater department's spring musical, "Frozen Jr." Remaining shows start at 7 p.m. Friday and Saturday. Tickets are $10. 706-226-2753
— Tennessee Valley Theatre, 184 W. Jackson Ave., Spring City, Tenn., will offer the final weekend of "Senior Follies," at 7:30 p.m. Friday and Saturday, 2 p.m. Sunday. Tickets are $12-$14. tennesseevalleytheatre.com
— Shakespeare in the Park, a production of the pastoral comedy "As You Like It" by Scenic City Shakespeare, opens this weekend at Greenway Farms, 4960 Gann Store Road. Performances start at 7:30 p.m. Friday and Saturday, as well as May 12-13 and 26-27. An improvised adaptation of the play, called Shakespeare From a Hat, is planned May 19-20. Admission is free; donations are requested. Paid VIP options are available. sceniccityshakespeare.org
Find more events, and add your own, at timesfreepress.com/cnevents.
Contact Lisa Denton at ldenton@timesfreepress.com or 423-757-6281.