Stuart Bickley was walking through Lookout Mountain Presbyterian Church, a leaky stone complex where walls were ripped out, power tools cranked, scaffolding was everywhere and partially boarded-up windows left key interior spaces in shadow.
"This is a major operation," said Bickley, a general contractor of 25 years on Lookout Mountain who's managing the project for the church. "This is open heart surgery. And frankly, while we were opening up the chest, we found a lot of blocked arteries."
The $10 million-plus renovation project began in earnest in late 2022. For decades, Bickley said, the church has been applying Band-Aids, even some tourniquets to keep water outside its building complex, parts of which are nearly a century old. Where these improvised defenses, usually a dash of caulk, failed or came too late, the invading liquid froze and thawed and froze and thawed, damaging the rock and the mortar that binds it, inviting yet more water inside.
The exterior restoration project, proceeding in sections, is set to last two years. In the meantime, the church is carrying on services and events.
During a visit earlier this month by the Chattanooga Times Free Press, there was a wedding coming up, and Bickley stopped to ask Chris Hamm, who was helping oversee the project for the contracting company, if it would be possible to reinstall the prominent circular rose window beforehand.
Hamm, who wore a neon shirt, a white helmet and sunglasses, said he was personally attending to the area around the window frame. He was about to fly home for the weekend but assured Bickley upon his return he would finish the interior work necessary to reinstall the glass in time.
(READ MORE: Local history: Chattanooga's historic Methodist churches rise after Civil War)
Hamm's company, the Ohio-based Tradesmen Group, specializes in historic building restoration.
Initially, the church planned to hire local contractors, Bickley said.
"When it became apparent that we were in need of expertise that may or may not be local, the budget changed," he said.
Photo Gallery
Lookout renovation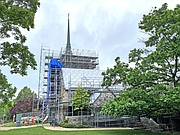 The congregation is known to be affluent. But Bickley, who was married in the church — his wife's family has been attending for generations — said it has long prioritized sending money outbound, onto the mountain, to the city, abroad.
"It's like pulling teeth to get a budget to fix and keep water out," he said."It's just not the focus. Now, it's become critical. It's become structural."
Just above, workers were chipping out the old mortar, or installing flashing. The exterior project focused on the stone facade and the roof, along with some areas that were damaged where the building's protective skin had failed. In one conference room, Bickley pointed out an exposed wall, warped and colored by water.
Bickley returned outside again and looked up at the steeple. A loose rock was found during a recent inspection, he said. It could have fallen down on a lower portion of the structure.
That's the kind of thing that would never be found without scaffolding, he said.
"It would have literally required a crane to just go up there and look," Bickley said.
He said poor construction often afflicts the residential buildings he restores in his own business. But the workers who built the church in the 1920s — and made additions in subsequent decades — didn't cut corners, he said. The wood inside the spire still looked great, he said. He and a foreman surveyed how many stones actually need to be completely replaced. They found just 60 out of maybe 6,000, he said.
Bickley made his way up the scaffolding. In one small section, workers had exposed the interior rubble mixture that, on many of the older parts of the complex, filled the space between the exterior stone facades. Bickley admired the facade, pointing out how the stones fit together like jigsaw puzzle pieces.
"I mean, that's artwork," he said. "Those mortar joints are relatively small, and those are random stones."
Still, close inspection showed cracks and gashes. The structure was still stable, Bickley said. But it would have gotten worse — perhaps unusable, the church has suggested — with time.
"For all the homeowners out there, turning a blind eye to that water is coming through? It's not gonna get better," Bickley said. "It's not like wine."
Contact Andrew Schwartz at aschwartz@timesfreepress.com or 423-757-6431.