Customers feel at home when they walk in the door at Merv's, an iconic bar-turned-restaurant in Red Bank. Down the road and around the corner from Komotsu, Merv's sits in a non-descript red building with a cartoon-faced sign — an establishment you just might miss if you haven't met the family or tried their burger. Picture a rural diner with darts and billiards toward the back, lit neon signs, menu posters, smooth plastic booths and friendly Southern staff. Reviewed by many regional hamburger enthusiasts, the Merv Burger still holds its reputation.
However, there's much more to Merv's than a tasty burger. Its new owners, vivacious twins Alexis and Laiken Williams, bring energy and business acumen as they continue their family legacy. Since 1977, Merv's has been family-owned and -operated, established by the girls' grandfather, who also worked for TVA. His wife didn't even know about the bar for the first four years because she wouldn't have approved, Laiken reminsces. Next in line came their mother, Stacy Morris, "who changed the atmosphere to kid-friendly in 2013, when it was renovated after the flood," recalls Tina, a Merv's waitress and long-time family friend.
Returning customers see how the twins imitate their mother's friendly, outgoing personality and her strong work ethic. Laiken shares, "We used to sit up late at night, logging receipts and revenue by hand like Mom did. So when we delegated our books to an accountant — who is also a customer — he told us, 'Those are the best books I have ever seen!'"
Their brother, Todd, says Laiken and Alexis have grown up at Merv's since they were babies. Laiken remembers curling up with a blanket on a pool table when their mother had to work late. Alexis remembers being perched on a tall barstool, chatting it up with customers, while the business swirled around them. Laiken says, "We learned to roll hamburger meat really young — I can just hold it and know its weight." How the lines of personal and professional life blur. "When someone calls in [sick], we argue until we decide who's gonna do it," Laiken says with a laugh.
At Merv's, there's something for everyone. Whether you enjoy Kids' Nite or karaoke, order a $1.75 beer or fresh-cut potatoes, pause for the billiards league or join the new darts league — you will find authentic food and authentic people there.
The picture wall near the pool tables illustrates Merv's community atmosphere. Snapshots chronicle some of their customers and their stories. Phil suffered with cancer, so they created a fundraiser to help him with his medical expenses, then named a beer after him when he passed. Other regulars get a phone call if they don't show up. One day, the twins hired a homeless man to power-wash outside and paid him well, understanding that both parties needed the work.
The longevity of the staff in an industry with high employee turnover speaks volumes about Merv's. Gabby, a cook, has worked for Merv's for five years. Sheryl, a server for nine years, complimented the twins since they have taken over the restaurant. "They had to learn a lot fast," she says.
Photo Gallery
Merv's restaurant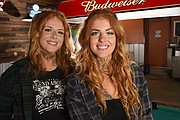 The twins recount numerous anecdotes of assistance from the city, their customers and nearby shopkeepers, their staff and family. "We want to thank the community for standing by us; so many people have helped us."
Poised to continue its family tradition for another generation, Merv's is excited to expand its staff and its menu to include breakfast. "Come work with us," Alexis says, "and join our community." To their customers, she adds, "We want to keep the fun going! We want to make the time you're here the best part of your day, and you won't be hungry when you leave."
The best burger in Tennessee, the sign claims, and people just keep coming back. Say hello to Alexis and Laiken when you stop in at Merv's the next time.
Merv's is located at 713 Mountain Creek Rd. in Chattanooga. mervstn.com.