When Bassam Issa bought more than 53 acres at the southwest corner of East Brainerd and Ooltewah Ringgold roads in 2014, the Chattanooga developer said he knew the site would be ideal for a supermarket like Publix.
"This is the fastest growing part of Hamilton County, with more upper-income households and fewer retail options," Issa, the founder of the ANT Group, said in a telephone interview Friday. "There are a lot of rooftops in this area, and this site is within 2 miles of five different schools that collectively have more than 4,500 students."
It took Issa years of pitching the property to Publix to convince the grocery chain to locate on the site, which is less than 3 miles from another Publix store at Hurricane Creek in East Brained and right across the street from a Food City superstore.
But last Saturday, after Issa successfully convinced Publix two years ago to build on his property, the grocery chain opened a 48,000-square-foot grocery store to anchor The Enclave shopping center.
The new Publix is the ninth Publix grocery outlet in the Chattanooga market and comes nearly 14 years after Publix entered the market with its first supermarket in Ooltewah at Snow Hill and Mountain View roads. The new Publix includes a pharmacy, bakery and deli serving both packaged and takeout meals.
Photo Gallery
Publix opens new store in Ooltewah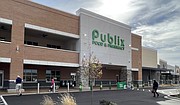 Based in Lakeland, Florida, Publix is employee-owned and operates nearly 1,394 stores in eight states across the South.
(READ MORE: Publix adds stores in Chattanooga)
The Enclave also now includes Enclave Dental, a Carden Eye Care outlet, a Great Clips salon and a Zen Nail Bar as well as four smaller storefronts for other future tenants. Issa said Starbucks plans to start construction next month on a storefront to be built on one of the outparcels, "and we're negotiating now for a possible bank branch" on another outparcel at the site.
In a later phase of The Enclave, Issa said he wants to bring a mixture of restaurants, medical offices, a day care facility, a fitness center and other commercial businesses to the site.
Next door to The Enclave, Issa previously sold more than 20 acres for the Morning Pointe at East Hamilton. After initially considering building 72 single-family homes on the back half of his Ooltewah property, Issa decided six years ago to sell part of the property instead for the Morning Pointe assisted living center.
For his development at The Enclave, Issa said the complex is expected to eventually include about 180,000 square feet of retail, office and restaurant buildings. Issa said he has committed to preserve at least 18% of the site for green space, which is triple the number of most such centers. The shopping center is a square-like concept with green space.
"It will be a good addition to this area — more of a village theme," Issa said.
Issa installed a traffic light at one of the entrances opposite the Food City store on Ooltewah Ringgold Road, and the new complex includes a roundabout between the phases planned in the overall development.
(READ MORE: East Brainerd Road being widened)
Across East Brainerd Road, a new Monster Self Storage facility and a car wash are being built, and just a block away, another dental office is also preparing to soon open.
To help serve the growing area, the state plans to begin widening both East Brainerd and Ooltewah Ringgold roads over the next three to four years, according to plans by the Tennessee Department of Transportation.
Contact Dave Flessner at dflessner@timesfreepress.com or 423-757-6340.