Maybe you wait until the kids are asleep to try out that one craft idea you saved to your Pinterest board ages ago. Perhaps it's tinkering with the engine of the old fixer-upper in your garage that is so close to running again. Or maybe ... you just can't wrap your head around what sparks the inspiration for a good ol' hobby.
For us Chattanoogans, there exists a plethora of unique hobbies in which we can partake. Sunny Montgomery plays the accordion to her chickens. Mindy Kelly loses herself in the world of whimsical miniatures. Keren Self Barbina finds joy in foraging for the wild food our local landscape has to offer. And our own Kate Brennan Tew recently took up pet embroidery at The Chattery.
Hobbies come in all shapes, sizes and settings, and they can emerge at any age. Check out these activities that our neighborhood hobbyists enjoy in their free time.
(READ MORE: Google search trends reveal Chattanooga's unique interests in 2022)
Chicken Feed with a Side of French Folk Music
It all started 10 years ago with a pawnshop accordion.
Sunny Montgomery had just moved to Chattanooga, and a friend brought her an unorthodox housewarming gift: a piano accordion. To avoid becoming that neighbor, Montgomery's accordion spent most of its days as home decor, going nearly a decade without a single bellow.
Once Montgomery moved to a cabin in Ocoee in 2019, she decided to have chickens on the property. When coyotes became an issue, Montgomery decided to ward them off and protect her squawking friends with the accordion.
Since childhood, Montgomery dabbled in piano, trumpet and ukulele, making it easier for her to add piano accordion to her repertoire. Her right hand plays the melody on the accordion's keyboard, while her left hand plays chords using the bass buttons and keeps the rhythm.
Reflecting back on her first time picking up the instrument, she said it felt impossible. Montgomery set 15-minute timers on her phone to commit to practicing for short bits of time.
"You can suck at this for 15 minutes," she said that she'd thought to herself back then. Now, she's worked up to 45-minute sessions and said that she can work out the most challenging parts of a song in that time period.
In order to stay consistent with her accordion-practicing over the last year and a half, Montgomery continues serenading her chickens while they free-range in the evening, working out new notes as she waits for her tea water to boil and poring over YouTube tutorials to learn new tips and tunes.
"I will just become obsessed with learning a song, playing it over and over again," she said. "I will just commit to that song, so it takes months — often months and months."
Montgomery's recent obsession was "Le Jour d'Avant" by French composer Yann Tierson, which took her six months to fully figure out.
"Eastern European-type of traditional folk music, Klezmer-style, I love," Montgomery said.
The first song she learned was "Hava Nagila," a traditional Jewish folk song often played at weddings. She thinks it may be her Polish heritage that draws her to this genre.
Montgomery said that she is still pretty new to the accordion, but that the ultimate goal would be to get to a point where she can "sit around the campfire and just jam with other people."
She said she loves when muscle memory sets in for a song she has practiced ad nauseum.
"There are so few moments when you can really get into that out-of-body flow state, and I think music has always been one of them. The accordion has been one of them for me," she said.
While she loves her old piano accordion, Montgomery hopes to find a smaller accordion that she can travel with. She said she has scoured all the nearby music stores and has yet to find that rare instrument in Chattanooga.
It may be worth mentioning, Montgomery said, that she has not lost a single chicken since she started playing.
Note: Sunny Montgomery is the former editor of Chatter and Get Out magazines.
(READ MORE: Most Interesting People: 10 Chattanoogans that prove the many ways to make the most of life)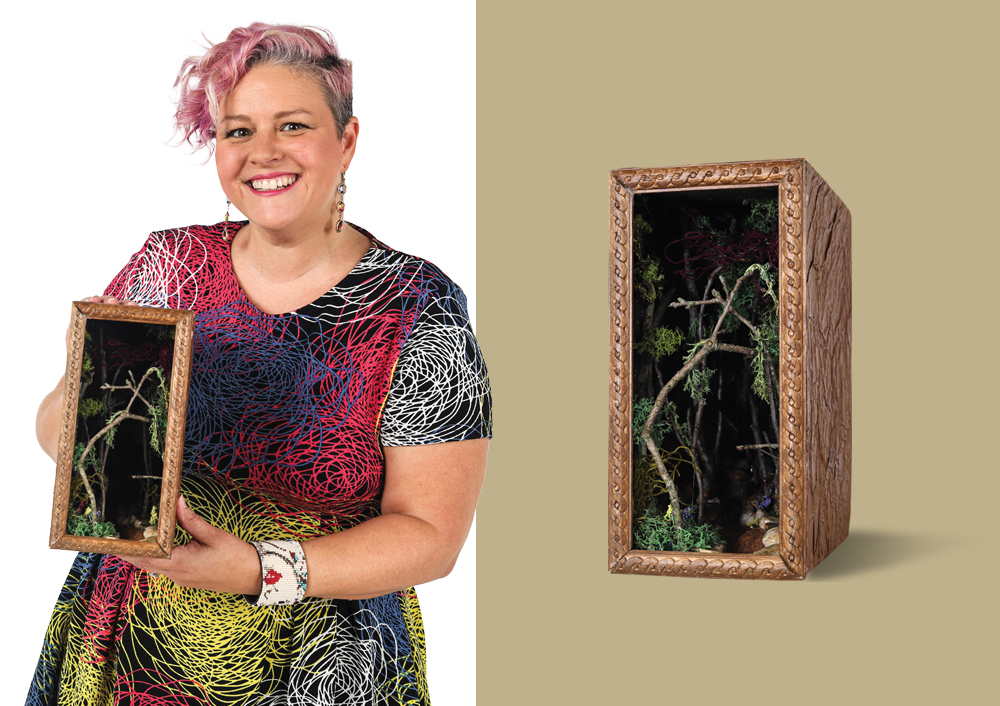 Staff photo by Olivia Ross / Mindy Kelly poses for a photo with her book nook.

Whimsical Woodland Book Nooks
When professional artist Mindy Kelly began struggling with arthritis and fibromyalgia four years ago, she was unable to keep up with the constant creation of work and the intensity of putting on the art shows that she was accustomed to.
She said she stopped creating entirely after 2021 and struggled with her mental health as a result of her chronic illnesses and inability to do what she loved.
After taking a woodburning gourd class on a whim, she said that it reignited her creativity.
"I started looking for new outlets to be creative that wasn't fine art and was just silly and made me smile," Kelly said.
Kelly was on a trip in Mexico with her husband when she saw a store selling miniatures. After going down a YouTube rabbit hole, she was determined to make her own miniature kit from scratch. A miniature world can have any kind of theme, but Kelly was most interested in building woodland-themed miniatures.
After putting branches she found to use and other craft materials she had at home, Kelly mastered the "miniature book nook diorama world" and sold out a class teaching others how to make the dioramas at The Chattery in July.
"I wanted to do the class because it was such a great entry point, and it's a three-hour project which I think is brilliant," Kelly said. "It's not three weeks or even three days, so you get this great finished result. And that's what I look for because I don't have a ton of time when I feel well enough to create."
Those who took Kelly's class made the book nooks out of foam boards from Dollar Tree, and for her personal creations, she substitutes wood instead. This equalizes access to the craft, Kelly explained, as those who do not have wood or woodworking tools can make their nooks out of foam boards and use baseline tools like X-Acto knives to cut the material. For the forest-like aesthetic, Kelly gathered garden rocks that are often used for flower arrangements, felt, garden moss and ground cinnamon as the dirt path.
Delving into the world of miniatures challenged Kelly to think about items differently and learn to repurpose things she already had.
"Look at things you might already own and rethink what they are," she said. "Maybe that's a tiny desk, or that's a little bucket for a witch's den."
In October, Kelly will continue sharing her passion for miniatures by teaching a witch's house version of her woodland book nook class at The Chattery.
"It's part of my mission to make people aware of invisible chronic illness," Kelly said. "You have to adapt and create new things because of that, and that's what I'm learning in life."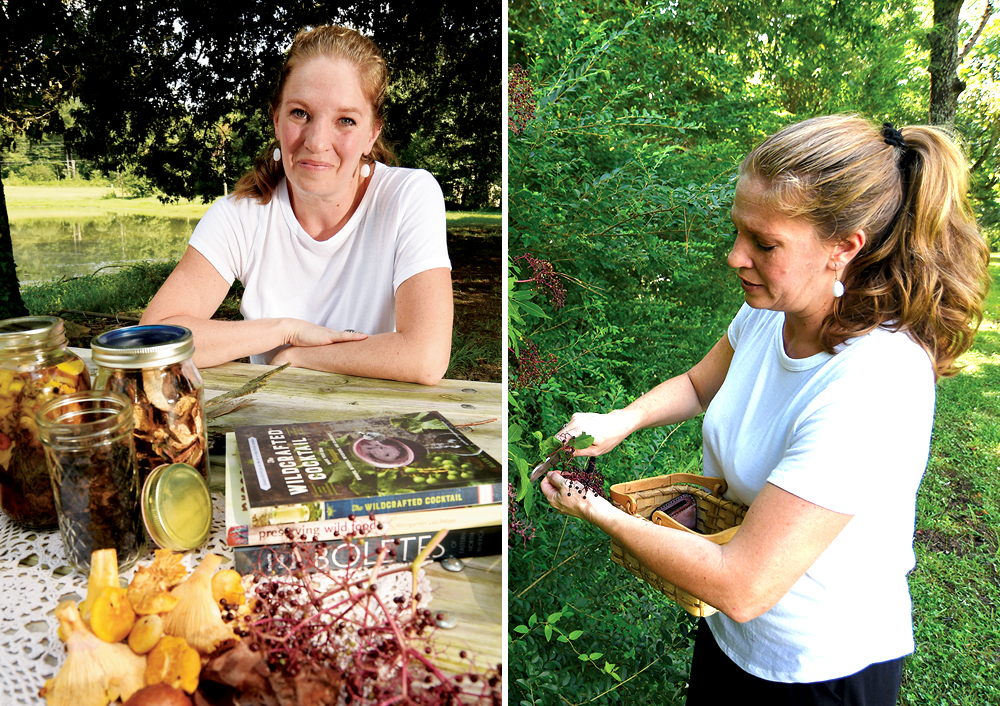 Staff photos by Matt Hamilton / Keren Barbina displays mushrooms and other items foraged at her home in Ringgold.

Food-Foraging in the Wild
When the greater Chattanooga area has a bout of rain, Keren Self Barbina knows that a foraging excursion will yield natural treasures.
Barbina's interest in finding food outdoors evolved when she visited her family in Pennsylvania growing up. She would gather berries in the woods and learn about what she was picking.
Barbina moved from her family home in Michigan to Tennessee at age 17, and as she got older, she continued to develop her curiosity for hunting wild produce.
After years of researching and going out on foraging excursions in her adult life, Barbina is now the administrator of various local foraging-related and poison-identification Facebook groups. She has become passionate about educating the community when it comes to finding and eating food outdoors.
"I always want to encourage people who think that they may have an interest in it to get into it," Barbina said. "It's great exercise, it's an opportunity to learn new things and if you want to learn it, there are plenty of people out there who will happily share what they know."
One of Barbina's favorite foods to forage is chanterelle mushrooms, and she's found lion's mane mushrooms while on a foraging adventure with her family. She also said that wild blackberries can be found in the region and are easily identified, as they have no poisonous look-alikes like many mushrooms do.
She said that if someone is looking for a specific kind of food, they have to research when that food is in season and the conditions in which it best grows, in order to have a successful trip.
Local foragers are eager to help newbies to the scene and will help identify Chattanooga's diverse foraging finds if people send photos to the Facebook groups, Barbina added.
"Foraged food can be delicious, and in most cases, it's free," she said.
While only a small percentage of Barbina's food source is foraged, she hopes to increase it once her children are older. In a house of four young boys, she said that it can be hard to find time to get out. Although her kids do not entirely share her passion for foraging, the older ones do enjoy it because they know that she does.
"My fiancé and our boys were just messing around in the woods and came across some perfect lion's mane mushrooms just out there growing on a tree," Barbina said. "They have spent enough time with me and us in the woods that they knew exactly what they were, so they cut them off and brought them home. We ate them, and they were delicious."
Before she was busy raising a family, Barbina's foraging time was mainly spent solo as a way to recharge. Now, she said that her favorite part is watching her kids partake in her beloved activity and take an interest in finding and identifying wild foods.
"A lot of times, it's just a 'hey, we are just going to go out and see what we can find today' because sometimes, things will surprise you," she said. "You never know what you're gonna find out there."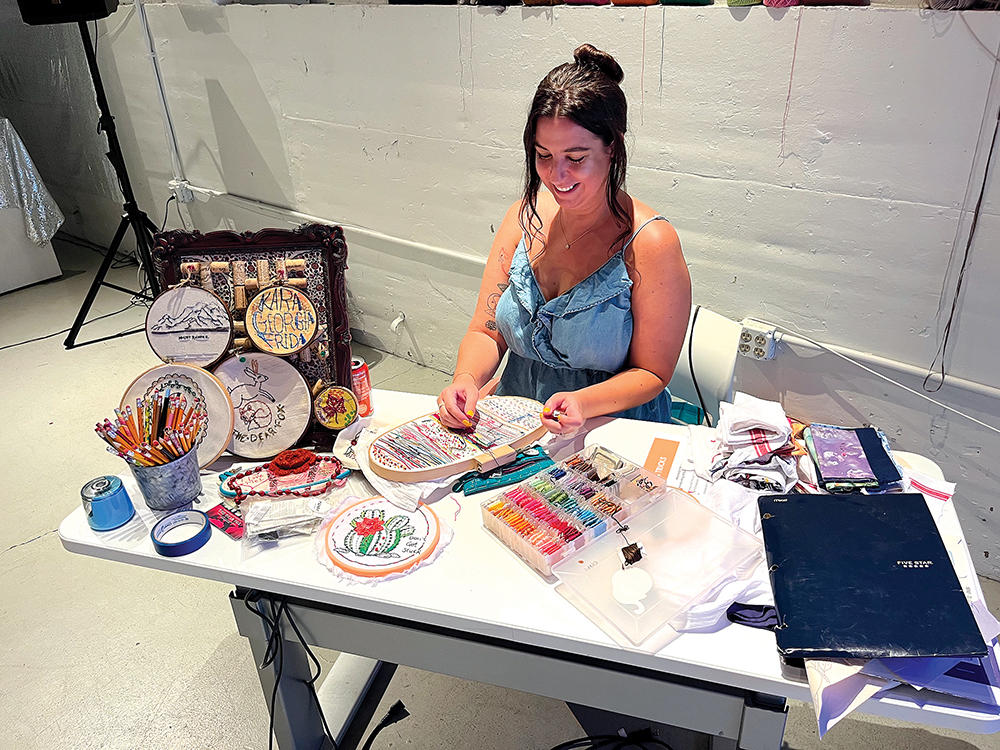 Photo by Kate Brennan Tew / Pet embroidery class instructor Sarah Olivo

Stitch This: How Pet Embroidery Became My New Favorite Hobby
By Kate Brennan Tew
Picking up a new hobby in 2023 that doesn't involve a screen requires being intentional. Whether you're reading on a tablet or attempting to exercise your brain with a word-game app, the blue-light abyss seems nearly inescapable. For this reason, I jumped at the chance to take a pet embroidery class at The Chattery, combining two of my favorite things: getting crafty and fawning over my two dogs.
Located on Rossville Avenue on the bustling Southside, The Chattery is a women-founded, Black-led nonprofit offering affordable, in-person and virtual learning and art experiences for adults. The space is welcoming and cheerful with the exciting, intangible feeling that countless others have learned something new within its walls, inspiring creativity the moment you cross the threshold.
Led by Sarah Olivo, an expert embroiderist with more than 16 years' experience in the museum and nonprofit space, the class began with a quick overview of Olivo's background and how to get started. After picking out our thread colors and lightly tracing an outline of our pet on white cloth from a favorite picture, we were instructed how to secure the fabric in the embroidery ring and thread the needle using a smaller metal threading tool.
Olivo then showed us our first basic stitch styles, running and back, and we were off to the races. After a few failed attempts using the threading tool, I began the outline of my beloved supermutt Baxter.
From the very first stitch, I was hooked. As someone who constantly runs on a relatively high degree of generalized anxiety, I'm not exaggerating when I say that I immediately felt a wave of calm wash over me at the simple act of creating something by hand. My first few stitches came naturally, making me look like "I knew what I was doing," at least according to my table mate. My bubble burst shortly thereafter when I began to get my thread knotted, but, as Olivo reminded us, embroidery is a forgiving art form. I simply cut and knotted my thread and began where I'd left off.
Before I knew it, the outline of Baxter's pointed ears, tilted head and crossed paws had taken form on the cloth. I filled in his muzzle, eyes and paws with black thread, and I could suddenly see my favorite buddy looking back at me.
As the two hours of allotted class time began winding down, Olivo demonstrated a couple slightly more advanced stitches to add texture: the chain and the French knot. I didn't come close to mastering either before heading home, but I left with the confidence that I can — and will — at some point.
Armed with basic supplies, extra thread and a printout of tips and tricks, I headed home with my mind buzzing on how much more I'll add to his figure, what I'll do for the background and which picture of my dachshund Sadie I'll use when it's her turn. If embroidering my pets on every open piece of fabric in my house keeps me off my phone and my anxiety at bay, sign me up for the long haul.