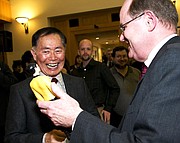 Follow @SportsChatt
PHOTO IDSAcceptable forms of photo ID* Tennessee driver's license with photo* U.S. Passport* Department of Safety photo ID card* Photo ID issued by federal or state government* Employee ID from U.S. Department of Energy* U.S. Military photo ID* State-issued handgun carry permit with your photoUnacceptable ID* College-issued student ID* Photo not issued by the federal or state governmentSource: Hamilton County Election Commission
NASHVILLE - The widely publicized case of 96-year-old Dorothy Cooper, of Chattanooga, who ran into problems seeking a free photo ID to vote under a new Tennessee law, has taught officials an invaluable lesson, state Safety Commissioner Bill Gibbons said Wednesday.
"In terms of other individuals who may be in that situation again, we're encouraging our employees to use some common-sense discretion in deciding whether or not that person is presenting documentation that is legitimate and issue the photo ID accordingly," Gibbons said.
He said the department has contacted Cooper and told her she would be issued the photo ID if she returns to a driver service center.
Cooper initially said after being turned away from the service center on Cherokee Boulevard that she intended to vote absentee, a process in which one mails his or her vote to authorities and does not require a photo ID.
Gibbons' comments came during a news conference in which he, Secretary of State Tré Hargett and the Tennessee AARP outlined additional steps aimed at smoothing over difficulties some would-be voters are experiencing.
Today, Gibbons will join Hamilton County Clerk Bill Knowles at the Hamilton County Courthouse for a news conference about the additional services.
Cooper, who is black, began voting during the South's Jim Crow days when many blacks were denied access to the ballot. She presented her birth certificate at the driver service center to establish her citizenship and also had her voter registration card.
But the worker turned down her application for a free state-issued photo ID because her maiden name, Dorothy Alexander, did not match her married name. The incident, first reported by the Chattanooga Times Free Press, drew national attention.
Other steps announced Wednesday include:
* Beginning in November, the state will open driver service centers in 15 counties on the first day of the month to make it easier for an estimated 126,000 Tennesseans with nonphoto driver's licenses to add a photo to their licenses. The centers, including both in Hamilton County, will handle only photo-license conversions and will be open from 8:30 a.m. to 5 p.m., Gibbons said.
Rep. JoAnne Favors, D-Chattanooga, has lobbied for the move.
* An agreement has been reached with 30 of Tennessee's 95 county clerks to issue photo driver's licenses at no charge to registered voters who currently have nonphoto driver licenses. Knowles recently said he was happy to participate in the program.
Twenty-one clerks are in counties without driver service centers, bringing the total number of places to obtain a free photo ID to 83 locations in 61 counties.
* Hargett emphasized that expired forms of state- and federal-government-issued photo IDs will be accepted, including driver's licenses, military ID, TVA ID and other documentation.
Republicans pushed the new requirements through the General Assembly in the most recent session, saying they were concerned about voter fraud and the sanctity of the ballot box. But they have cited only one case in which someone has been convicted of impersonating another voter when casting a ballot.
Democrats have charged the move was intended to disenfranchise minority, poor and elderly voters who tend to vote for Democrats, a charge GOP lawmakers vehemently deny.