Photo Gallery
'Nightmare for our city'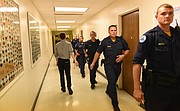 NASHVILLE -- Adj. Gen. Max Haston told state lawmakers Monday he won't be moving Tennessee National Guard recruiters in Chattanooga back to their storefront operations until new security protections are in place to deter future attacks such as the one on July 16.
"I'm not going to put our guys back until I get Mylar put up and some bollards at our facilities," Haston said, referring to the Mylar coating used to protect plateglass windows from shattering from gunfire and the metal posts or planters used to prevent vehicle assaults on buildings.
Haston appeared before a specially called House State Government Committee hearing to discuss steps the Military Department has taken in the wake of last month's bloody shooting rampage that left five U.S.