Voters in Jackson County, Ala., on Tuesday sent county leaders back to the drawing board when roughly 60 percent opposed a proposed one-cent sales tax hike.
Officials say they'll be going to the cutting board instead.
"To me, people voted 'no' for taxes yesterday," said County Commission Chairman Matthew Hodges. He said he was "incredibly disappointed" by the vote.
"We could go through the exact same process and lose a property-tax vote. There's no need to waste time or money going through a new tax proposal right now," he said. "The voters have spoken, and we need to administer the type of government they said they want."
That means cuts, he said.
The vote was 3,947 against the hike, versus 2,622 in favor, according to election officials. Board of Registrars Chairman Larry Hancock said turnout was weak, with only around 6 percent of the county's 36,000 registered voters turning out. Normally turnout is at least 10 percent, even for special elections.
Photo Gallery
Jackson voters smack down sales tax hike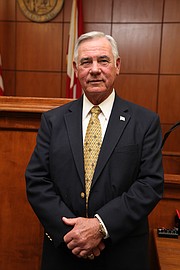 The proposed hike would have generated an estimated $3.3 million a year to counter a budget deficit that stands between $1 million and $2 million. It was expected to generate enough extra revenue to plan for the future. Hodges and the county's four commissioners - three Democrats and two Republicans - maintained through months of campaigning for the sales-tax hike that the alternative would be deep cuts to county services and possible job cuts.
"We are committed to passing a balanced budget this year, so we will make all the necessary cuts," Hodges said. "It's going to be my recommendation that all appropriations - every appropriation - be cut.
"Beyond that, the only place we have to cut is our people, whether that be through hours or through jobs," he said. "We need to cut from $700,000 to $900,000."
Commissioner Jason Venable said he was disappointed at what he called misinformation was floating around as elected officials made their tour of community meetings.
Venable's estimate for cuts was lower than Hodges' - between $600,000 and $650,000 - but he said Hodges' figures provided more realistic breathing room.
Items that could fall to the budget ax, Venable said, include the senior center, county school 4-H teachers and road-paving projects.
The commission will hold a budget session Monday after the regular commission meeting to begin discussions of cuts.
Hodges said the commission will pass a balanced budget one way or another by Oct. 1.
Contact staff writer Ben Benton at bbenton@timesfree press.com or twitter.com/ BenBenton or www.facebook.com/ben.benton1 or 423-757-6569.