Photo Gallery
Don't put away your umbrella, more rain is on the way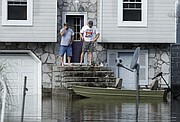 Read more:
* More rain is on the way * Rainfall doubles region's prior record* TVA opens floodgates, halts barge traffic as water rises
GARLAND, Texas (AP) - Residents surveyed the destruction from deadly tornadoes in North Texas as the same storm system brought winter woes to the Midwest on Monday, amplified flooding that's blamed for more than a dozen deaths and prompted hundreds of flight cancellations.
At least 11 people died and dozens were injured in the tornadoes that swept through the Dallas area on Saturday and caused substantial damage. That, plus flooding in Missouri and Illinois, were the latest in a succession of severe weather events across the country in the last week that led to at least 43 deaths.
A range of precipitation was forecast Monday for the country's midsection, including heavy snow, ice and blustery winds in parts of 11 states and heavy rain in already-waterlogged parts of Missouri and Arkansas.
The system caused nearly 900 flights to be canceled - more than a third of which were at Chicago's two main airports - and 500 to be delayed, according to flight-tracking service FlightAware. A typical day sees about 150 cancelations and 4,000 delays.
In North Texas, local officials estimated as many as 1,450 homes were damaged or destroyed by at least nine tornadoes.
"This is a huge impact on our community and we're all suffering," Garland Police Lt. Pedro Barineau said of the suburb about 20 miles northeast of Dallas, where eight people died, 15 were injured and about 600 structures, mostly single-family homes, were damaged.
The weather service said an EF-4 tornado, which is the second-most powerful with winds up to more than 200 mph, hit the community at about 6:45 p.m. Saturday.
In nearby Rowlett, City Manager Brian Funderburk said Sunday that 23 people were injured, but that there were no deaths and no reports of missing people. The weather service said damage indicated it was an EF-3 tornado, which has winds up to 165 mph.
Dallas County Judge Clay Jenkins said Sunday night that as many as 600 homes were damaged in Rowlett.
Three people died in Collin County, about 45 miles northeast of Dallas, according to sheriff's deputy Chris Havey, although the circumstances were not immediately clear.
Texas Gov. Greg Abbott made disaster declarations Sunday for four counties - Dallas, Collin, Rockwall and Ellis - and warned that the number of victims could rise.
Many roads across West Texas and the Panhandle were still closed, with long delays in travel expected across the area.
Interstate 40, the main east-west highway across the Panhandle, had reopened as of Monday morning. Traffic was at a standstill for hours in West Texas where Interstate 10 splits into Interstate 20, before it began slowly moving Monday. Officials said traffic had become snarled Sunday night and was backed up for about 13 miles.
Vito Randazzo of California sat on I-10 for about 13 hours. "Everybody's just sleeping in their cars," said Randazzo, who added that the roadway was snow-packed and icy. "I can't believe the road was left in this condition." Around 9 a.m. Monday he was able to see where he could drive across a median and get onto a service road.
Oklahoma Gov. Mary Fallin declared a state of emergency after blizzard conditions affecting the western and central parts of the state and up to a foot of rain fell in the southern and eastern parts of the state. The National Weather Service has said "disastrous" flooding will happen in eastern Oklahoma.
Oklahoma emergency officials say more than 50 people have been injured and about 175,000 are without power.
To the northeast, several inches of rain caused flooding in Illinois and Missouri, where Gov. Jay Nixon also declared a state of emergency. More than 180 roads in Missouri were closed Monday morning due to flooding.
Over the weekend, six people died when two separate vehicles drove into flooded roadways in south-central Missouri, Pulaski County Sheriff Ronald Long said; four of them were international soldiers who were temporarily stationed at an Army base. And Greene County authorities said two fatalities there were associated with the flooding.
Residents in and around the small St. Louis-area town of West Alton are evacuating as the Mississippi River nears a potential record crest. An unusual amount of late-fall rain had the river already high before torrential downpours that began Saturday. Some parts of eastern Missouri have received 6 inches of rain or more over the past three days.
In southern Illinois, authorities said three adults and two children drowned Saturday when the vehicle they were riding in was swept away and sank in a rain-swollen creek.