Photo Gallery
Asian Festival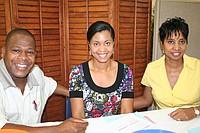 The day-long event was held at Mosaic Church building and featured booths, traditional ethnic foods and entertainment and door prizes.
We estimate we've helped avert $130 million of flood damage just in Chattanooga, and with more rain on the way, that value could go up.
Also read
* Cold, dry weather in store for Chattanooga after another bout of rain * Sohn: This crazy weather is not just crazy * Flood watches and warnings in effect for area * State of emergency declared for Gordon County; two deaths reported * Alabama hit with more rain as storms push through state* Stay out of flooded areas, don't drink well water, officials warn* TVA shuts down barge traffic, opens flood gates as water rises* TVA says its dams are saving Chattanooga $130 million in flood damages * Twisters, floods, snow and ice have killed dozens across the South * Don't put away your umbrella, more rain is on the way * 4.14 inches of rainfall doubles prior record; region begins to dry out, assess damage * Thunderstorms, torrential rains pummel metro area* Warmer weather means cheaper winter for most Chattanoogans
Forecast
› Tuesday: High near 60 degrees, low of 49 degrees, 80 percent chance of rain› Wednesday: High near 58 degrees, low of 43 degrees, 100 percent chance of rain› Thursday: High near 51 degrees, low of 35 degrees, no rain predicted› Friday: High near 45 degrees, low of 30 degrees, no rain predicted› Saturday: High near 46 degrees, low of 30 degrees, no rain predictedSource: The National Weather Service
Photo Gallery
Cold, dry weather on the way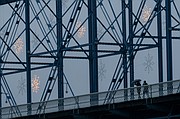 A deluge of up to a foot of rain in parts of the Tennessee Valley over the past five days raised water levels in the Tennessee River up to 7 feet in Chattanooga, shutting down local barge traffic and turning TVA's nine mainstream dams into mini waterfalls.
But without those dams and their reservoirs built by the Tennessee Valley Authority in the 1930s and 1940s, the river would have risen at least 14 feet higher and caused widespread flooding damage across downtown and riverfront areas in Chattanooga, TVA officials said Monday.
If TVA was not controlling the river flow, TVA projects the Tennessee River would have risen to 38 feet at the Walnut Street Bridge in downtown Chattanooga, or 14 feet above the 24-foot level reached Monday after five days. The higher river level without the TVA dams would be 7 feet above flood stage.
"We're storing as much water as we can in our tributary reservoirs and managing the flow of the river to limit the flooding that occurs when we get these types of unusually heavy rains," James Everett, manager of operations support for TVA's river forecast center in Knoxville, said Monday. "We estimate we've helped avert $130 million of flood damage just in Chattanooga, and with more rain on the way, that value could go up."
The Tennessee River basin drains more than 20,000 square miles of watershed through the Tennessee River in Chattanooga, where billions of gallons of water must pass each day through the often turbulent river basin between Signal and Elder mountains, where Suck Creek also flows into the river.
Although controlled, the flow of the Tennessee River has still shut down barge traffic in Chattanooga with more than 800,000 gallons of water a second flowing down the river on Monday. River barges have been able to operate on most of the Tennessee and Ohio Rivers but had to stop operations Sunday due to the heightened flow of the river.
"Hopefully this is a temporary shut down and we'll be back to normal by next week," said Peter Serodino, president of Serodino Inc., in Chattanooga. "Barge traffic has slowed down for the past couple of weeks with the above-normal rainfall this month. And now the river is closed altogether, which has definitely limited our operations. We do have some barges that made it to Chattanooga before the shutdown we are currently unloading at our shipyard."
Cline Jones, executive director for the Tennessee River Valley Association, said a dock in Mississippi on the Tennessee-Tombigbee was inaccessible and Chattanooga remained off limits for barge traffic Sunday and Monday. "But most of the Tennessee and Ohio River are operating, albeit in a more challenging environment," he said.
Even after more than 5 inches of rain since last Wednesday across the entire seven-state TVA region, TVA predicts another half inch to inch of rain should return on Wednesday.
More than 10 inches of rain fell on Christmas in scattered parts of North Alabama, causing some localized flooding around the Tennessee River in the Guntersville Reservoir. In Whitesburg, Ala., 11.6 inches of rain fell during a two-day period last week.
Fontana Lake in western North Carolina, which drops as much as 60 feet between its summer and winter pool, is expected to rise about 40 feet from the rains of the past week - or two-thirds of the higher summertime pools.
"It will take us a month or more to draw that back down to normal wintertime levels once we start drawing that reservoir down later this week when these rains end," Everett said.
Rainfall in the Tennessee Valley this year is about 15 percent above normal. Typically, the seven-state region gets about 52 inches of rain a year. But through Sunday the Tennessee Valley had already gotten 57.7 inches of rain "and we're expecting even more rain through this week," Everett said.
In 2013, the valley got a record high 64 inches of rain in the region above Chattanooga on the Tennessee River.
The final three months of this year, normally one of the drier periods in the region, already have received more than 15 inches of rain and could end up being one of the wettest fourth quarters in the 127 years of rain records in Tennessee, Everett said
Contact staff writer Dave Flessner at dflessner@timesfreepress.com or 423-757-6340.
Photo Gallery
Don't put away your umbrella, more rain is on the way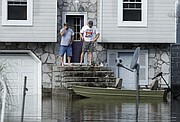 Photo Gallery
Thunderstorms, torrential rains pummel metro area