Photo Gallery
Haunted House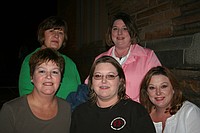 The annual EMOBA Haunted House is busy scaring people for 2 weeks out of the year...
Lance Cpl. Christopher Gilliam was shuffling standard paperwork on what seemed like a standard day last week when he saw a silver Mustang, then a gun.
On the morning of July 16, sitting at a cubicle in the U.S. Marine Corps recruitment center on Lee Highway, Gilliam looked out the tinted front window and saw Mohammad Youssef Abdulazeez.
Gilliam,