Photo Gallery
A day of tribute, remembrance for the fallen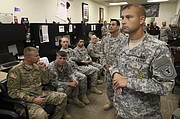 Staff Sgt. David Wyatt was buried Friday as thousands here and countless others across the country paused.
As the days pass, our collective grief softens. It's natural, as tragic stories from around the country and world undoubtedly will fill our TV screens and Twitter feeds with the next round of heartbreak.
But we will never forget the acts of a mass murderer here in our city. We can't.
We have heard from global celebrities such as Peyton Manning, who is raising funds for the families. We have heard of countless of individuals doing what they can and sharing whatever they can to help honor our fallen.
But