MURFREESBORO, Tenn. -- It took six innings, but nationally ranked Farragut found the crack in Cinderella's slipper.
The Admirals, a Top 25 team, scored in the sixth on a controversial call at second base and a misjudged fly ball that fell in for a double, and that gave them a 2-0 Class AAA state-tournament baseball win over East Hamilton.
"There are a whole lot of teams that would love to be called anything just to be here," said East Hamilton coach Steve Garland, whose team caught fire just in time to win the District 5-AAA tournament. "It hurts because we weren't here looking for a moral victory."
The Hurricanes, who got in the state eight with an eighth-inning rally against touted Columbia Central in a Saturday sectional, stood toe-to-toe with one of Tennessee's baseball giants.
Senior pitcher Nick Fahler, bound for Carson-Newman, was matched against Mr. Baseball finalist Patrick Roby, a Vanderbilt signee, and he kept notching zeros for five innings against the Admirals.
"He matched him pitch for pitch," Garland said. "A lot of people have heard of Roby, and a lot of people should know about Nick."
Although both runs were earned, Fahler finished with a seven-hitter, then shouldered the blame.
"I felt good but I probably could've done better in the sixth," he said after his third loss of the year. "I should've put those (hitters) away and I didn't execute. I'll learn from it."
The controversial play at second came when a Farragut runner was ruled safe after stretching a single. Most of those in the stands thought the Hurricanes had caught him inches before his headfirst slide took him into the bag.
The play immediately brought Garland bounding from the dugout to question the call. Later, though, the often outspoken coach diplomatically refused to criticize or even question it.
"He told me (the runner's) hand was already on the bag before we made the tag," Garland related.
East Hamilton will play again today, meeting Ravenwood (25-7) at 11 a.m.
Contact Ward Gossett at wgossett@timesfreepress.com or 423-886-4765. Follow him at Twitter.com/wardgossett.
Photo Gallery
Concert for "Safe Places"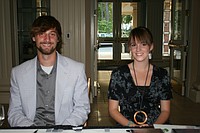 a concert to benefit "Safe Places" was held at the Governor's Mansion Grand Hall Tuesday night.