Photo Gallery
Haslam says Trump, Clinton talk little about education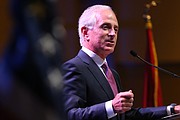 Tennessee Gov. Bill Haslam said Wednesday that the presidential candidates aren't talking enough about education, despite the issue being what he termed "the biggest national challenge."
"There's very little conversation about education" by Republican nominee Donald Trump and Democrat hopeful Hillary Clinton, said Haslam at the Chattanooga Area Chamber of Commerce's annual meeting.
The Republican governor called education "a really hard problem." But, he said, that's not an excuse to "back up" on the issue.
"We won't fix poverty issues until we address education issues," said Haslam, who was introduced by former Chattanooga mayor and current U.S. Sen. Bob Corker, R-Tenn.
In the 25 or more presidential debates so far by both the political parties, there has been "a minute and a half of conversation about education," Haslam said.
Trump has talked about doing away with Common Core standards and removing federal intervention from local schools, Haslam said. But, he said, U.S. Sen. Lamar Alexander, R-Tenn., led efforts to make it unlawful for such intervention in the schools.
"There's no such thing as Common Core to worry about anymore," Haslam said. "That's a boogeyman that has gone."
Meanwhile, Clinton has taken a step backward on what Haslam said was a bold move by President Barack Obama to make sure teacher evaluations are tied to student assessments, contrary to teacher unions.
"Clinton has basically said 'I don't believe that,"' the governor said. He said the Democrat nominee has indicated she's not sure about end-of-the-year assessment.
"Both national parties are not focusing on one of the key issues," Haslam said.
He noted that FedEx founder and CEO Fred Smith spoke at the Chamber's meeting last year and was critical of the nation's education system. Smith had cited the "poor results" of the public education system, saying it's not turning out the kind of workers that companies need.
"If you know Fred, that doesn't surprise you. He really believes that and thinks that," Haslam said. "Everything Fred said, I agree with. But what do we do about it?"
Haslam said Tennessee is using student assessment to evaluate teachers, though there's too much testing and the amount is being cut. But, he said, the answer isn't to disassociate how teachers are evaluated from student progress.
If that's not done, Haslam said, "we'll continue to see huge gaps between minority students and non-minority students."
The governor said the state under his administration has put in the largest increase in public education in Tennessee history without a tax increase, including over $100 million in teacher salaries.
"We made record investment in the capital structure of state," such as in higher education. "We want to do the same thing again next year. The key to that is keeping business growing."
He said Tennessee Promise, which offers two years of free community college or technical school, has been "remarkably successful."
Corker said Tennessee is the fastest improving state for education results over the last four years. He said 330,000 jobs have been created during Haslam's tenure, and Brookings Institution recently named Tennessee the No. 1 state in advanced industry job growth since 2013.
Bill Kilbride, the Chattanooga Chamber's chief executive, said that about 1,200 jobs and $241 million in new capital investment were announced locally in the past year.
Also, more than 300 new Chamber members were added over the year, he said.
Kilbride also recognized outgoing EPB CEO Harold DePriest, calling him the "father of the Gig" who brought economic growth to the city and Hamilton County.
Mike Sarvis, CEO at Cohutta Banking Co. and incoming Chamber board chairman, said plans for the business group are to continue to focus on economic development, workforce development and education.
"We want to make sure we're preparing and providing the workforce the community needs," he said.
Sarvis succeeds Roy Vaughn, a senior vice president for BlueCross BlueShield of Tennessee.
Contact Mike Pare at mpare@timesfreepress.com or 423-757-6318.