Photo Gallery
Great Smoky Mountains wildfires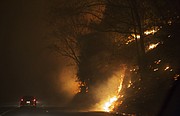 The teenagers charged with setting the fire in the Great Smoky Mountains National Park that ultimately spread to torch thousands of homes and businesses and kill 14 people were horsing around with matches, sources say.
The boys, ages 17 and 15, were charged this week in Sevier County Juvenile Court with aggravated arson in the Nov. 28 wildfires that shut down the city of Gatlinburg at the height of its winter tourism season and damaged or destroyed more than 2,400 homes and businesses. The death toll included two children and a woman who died fleeing the flames
Fourth Judicial District Attorney General Jimmy Dunn, whose jurisdiction includes Sevier County, and Tennessee Bureau of Investigation Director Mark Gwyn announced the teens' arrests Wednesday but refused to reveal any details. State law shields from the public most documents and information on juvenile defendants in all but the most serious cases, such as murder and rape. Aggravated arson is not on the list of the most serious charges.
Read more at our news partner's website, knoxnews.com.