The first time the Marines went back to work at the place where the attack happened, they paused and listened.
Focused and solemn, the Mike Battery Marines walked through the entire U.S. Naval and Marine Reserve Center. Then Maj. Chris Cotton explained how the attack unfolded weeks earlier on July 16, 2015, when a gunman stormed into the facility, mortally wounded a U.S. Navy sailor and killed four Marines.
Some of the Marines escaped that day by jumping a fence, clearing civilians out of the Riverpark and then hiding in a maintenance building. Others hid in offices, crouching behind desks or bracing doors shut. Some ran to warn others of the attack. Some, on the brink of safety, turned back into the fray.
No one Marine saw it all.
And so when they first returned to the place where it all happened, the Marines took an hour, maybe two, and just listened.
"We were absorbing," Staff Sgt. Jeff Cantu said. He was one of the last Marines to go over the fence to safety during the attack. That walk-through helped him better understand the event.
"I felt like it was, 'This happened. This is where it happened. This is how it happened. We've acknowledged it, and now we can continue to push,'" he said. "It was another step up the hill, up the ladder. Another step on the climb."
In the year since the attack, the men and women who survived the gunfire have begun slowly to heal - and they're figuring out how to move on without forgetting the men who died.
"I do see the scar I have on my arm all the time, and that reminds me of it," said Staff Sgt. Winfield Thompson, who was cut while evacuating the recruiting center on Lee Highway when the gunman opened fire. "But besides that, I try, honestly, to move on. It's something I try to move past, but it also doesn't need to be forgotten."
Photo Gallery
Officers recall deadly July 16 attack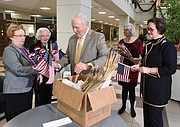 In the chaos after the shooter sprayed bullets at the recruiting center, Thompson heard police officers talking about a second shooting site, but he didn't realize how bad it was until he got home that afternoon and saw the details on the news.
"That was the hardest, knowing that good people got hurt and made that sacrifice," Thompson said.
Months later, when the families of the men who died accepted Purple Hearts during a ceremony in Chattanooga, Thompson thought about his own family.
"That could have just as easily been my mom or brother or wife up there," he said.
These days, Thompson pays closer attention to the people who approach the door of the recruiting center, he said. The door, usually unlocked before the attack, is now secured at all times.
Sgt. DeMonte Cheeley, who was shot in the leg at the recruiting center, said the office still receives a steady stream of well-wishers. Recruiting is carrying on as normal, he added.
Since the shooting in Chattanooga, the nation has seen several other mass shootings - 14 people killed in San Bernardino, Calif., 49 in Orlando, five in Dallas.
Cheeley said he thinks he reacts more intensely to such shootings now.
"It's a crazy, crazy world," Cheeley said. "I get angry; I guess anybody would. Me going through something like that, I do get angry."
But Cheeley, Thompson and Cantu all emphasized that they're carrying on, keeping on mission, remembering yet healing.
For Cantu, time, friendships and support from other Marines have helped him get through the last year.
"I mean, to be frank, it sucks," he said. "And then one day it sucks a little bit less and you don't think about it as much. It's still always going to be there. It's just every day, it's just every day you live a little more."
A few Saturdays ago, Cantu finally, for the first time in a while, had a slow day. Not much to do, nothing to stress about.
He mowed the lawn, put up a porch swing.
"I got to just be," he said. "And it was nice."
Contact staff writer Shelly Bradbury at 423-757-6525 or sbradbury@timesfreepress.com with tips or story ideas. Follow @ShellyBradbury.