Photo Gallery
Baylor's Parker, Signal Mountain's Ethridge 'Best' of the Best of Preps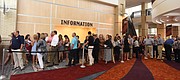 The tough stuff, the emotional stuff, the stuff that everyone in the Best of Preps crowd of 1,300 people knew they'd hear former Tennessee football star Eric Berry talk about was all on display Thursday night at the Chattanooga Convention Center.
Regarding his recovery from cancer to become last season's National Football League comeback player of the year, the four-time All-Pro defensive back of the Kansas City Chiefs said, "When you're healthy, it's easy to take for granted something as simple as getting out of bed or feeling the sun against your skin. But you shouldn't, because it can be taken from you in an instant."
He also spoke of the children's cancer ward he visited during his chemo treatments, and how "when you see kids with tubes and needles in them and they're not sad at all, it definitely inspires you."
He also recalled the moment he first found out he had Hodgkin's lymphoma, and how he "went home and went to sleep, hoping I'd wake up and it was all just a bad dream."
But it was a story he told of a former Tennessee assistant coach going to sleep in hopes his scary moment might become a bad dream that brought down the house with laughter.
Asked about the one-year (2009) coaching reign of Lane Kiffin, Berry recalled the night the current Alabama offensive coordinator left the Volunteers to become the head coach at Southern Cal, at least momentarily leaving behind his 70-year-old father Monte, who was Tennessee's defensive coordinator.
"When everybody found out Coach Kiffin was leaving, the campus became one big riot," recalled a grinning Berry, who played three seasons for the Vols (2007-09), twice being voted a unanimous first-team All-American.
"Everybody was burning mattresses and stuff. Monte was in the football complex and he was in a panic. He wasn't going to leave his office until the fires were out. And he didn't. I think he slept there all night. I finally had to tell him, 'Coach, they're not going to do anything to you. It's your son they're after.'"
Everyone in college football was after Berry during his prep career at Creekside High School just outside Atlanta. But with his father James having played for the Vols at the dawn of the 1980s, there wasn't much doubt that Eric would join the Big Orange.
"I'd actually known I was going there for a long time," he said. "We just didn't tell anybody."
What his father did tell his son was that Tennessee was different, that the athletes who played there felt differently about the place than many former players from other schools he'd met through the years.
"I told Eric that you're going to form a bond with other players and those guys are going to become your friends for life," James Berry said. "I look back on my times and teammates like Chris Bolton and Brian Ingram, and we've been best of friends for 30 years. I've talked to lots of former players at other schools, and it's not like that everywhere."
Perhaps that's why Eric's younger twin brothers Elliott and Evan - seven years his junior - now are Vols.
"College was everything my dad told me it would be," Eric said. "And most of my best friends are the guys I was teammates with at Tennessee. And a lot of those guys were right by my side during my cancer treatments, when I needed them the most."
Perhaps no former Vol has inspired Berry more than Inky Johnson, another Atlanta-area high school standout whose UT career prematurely ended the year before Berry arrived when what appeared to be a routine hit by Johnson against Air Force at Neyland Stadium resulted in his right arm being paralyzed.
When Berry, who wore No. 14 at Tennessee, went to the NFL, he began wearing No. 29 in honor of Johnson, who's made quite an impact as a motivational speaker since his football dreams ended.
"Inky was the road map I didn't have (to deal with cancer)," Berry said. "He was so helpful through all of that. He's always pushed me. Even my first year at UT, he'd leave me notes before games saying, 'Don't just be great, be legendary.'"
And so he has been, both as a collegian and in the NFL. In fact, if a single NFL defensive back could be a poster boy for the late boxing legend Muhammad Ali's idea to float like a butterfly, sting like a bee, it might be Berry, who just might deliver the hardest hits, pound for pound, in pro football.
Yet while he was quick to tell the audience, "I've gone from setting goals to setting objectives, and I set them high - the sky's the limit and you can actually shoot past the sky," he also spoke of embracing something his father taught him as a child.
"My dad always said, 'Know thyself and be true to that,'" Berry said. "If I can be myself, no one can be better at being me than me."
He quickly added that young people "should not let sports put you in a box. I love writing. I love music. I love art. Just find something you love and do it the best you can."
His words certainly resonated with the honored athletes.
Rising Meigs County junior Ashley Rogers - the softball player of the year who's already committed to UT - said of Berry's appearance, "It's crazy. I've watched him since I was a little kid. To get to hear him speak is amazing."
Added graduating Baylor School football and wrestling star Ryan Parker, the Best of Preps Male Athlete of the Year: "I grew up in Knoxville, and Eric Berry was my idol. I was impressed by everything he said, but I really liked the part about setting objectives rather than goals."
Before he approached the stage, Berry said the reason for his Best of Preps appearance was that "I might have an opportunity to reach at least one athlete among these 1,300 people, that there'd be at least one person I could help."
Judging from the words of Rogers and Parker, and the applause of all, he did at least twice as well as that. He might even have shot past the sky.
Contact Mark Wiedmer at mwiedmer@timesfreepress.com