Photo Gallery
UTC women win fourth straight SoCon basketball title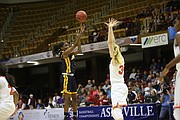 SoCon Championship
UTC 65, Mercer 57UTC (24-7)Joyner 5-11 2-6 12, Payne 2-5 6-8 12, Alford 6-14 3-6 17, K. Gilbert 3-4 0-0 8, Johnson 0-2 0-0 0. Totals 21-45 16-25 65.Mercer (24-8)Thompson 1-2 0-0 2, Selph 1-4 2-2 4, Means 7-15 1-2 15, Rosendal 0-3 0-0 0, Lawrence 3-12 2-2 8, Broadway 1-2 0-0 2, Kitchens 0-0 0-0 0, Williams 3-6 2-6 8, Potts 0-1 0-0 0, Calloway 7-13 0-2 18. Totals 23-58 7-14 57.Halftime—UTC, 33-24. 3-point goals—UTC 7-16 (Payne 2-4, Alford 2-7, A. Gilbert 2-2, K. Gilbert 1-1, Joyner 0-1, Johnson 0-1); Mercer 4-10 (Calloway 4-7, Rosendal 0-3). Rebounds—UTC 36 (Joyner 11); Mercer 30 (Williams 8). Assists—UTC 10 (Payne 5); Mercer 6 (Means 5). Turnovers—UTC 14 (Payne 3, Johnson 3). Blocks—UTC 2 (K. Gilbert, Johnson); Mercer 1 (Selph). Steals—UTC 8 (Payne 2, K. Gilbert 2). Mercer 6 (6 with 1). Total fouls—UTC 13, Mercer 20. Fouled out—none.
ASHEVILLE, N.C. - One by one, members of the University of Tennessee at Chattanooga women's basketball team took their turns climbing up the ladder and cutting a piece of the net at the U.S. Cellular Center.
The mission had been accomplished.
The Mocs used a 10-0 run midway through the fourth quarter to take control of the Southern Conference tournament championship game and went on to defeat Mercer 65-57 Sunday afternoon, claiming the program's fourth consecutive SoCon title and 17th overall.
With it comes a bid to the NCAA tournament. The selection show is a week from today, and the UTC athletic department will announce a date and time for a viewing party.
Queen Alford led the Mocs with 17 points and six rebounds, but she was followed closely by Keiana Gilbert, who had 16 points and seven rebounds. Alicia Payne added 12 points, five assists, four rebounds and a pair of steals, while Jasmine Joyner scored 12 points and had a team-high 11 rebounds.
The quartet of players were selected for the all-tournament team, with Payne named the most outstanding player.
"They're a very good team," UTC coach Jim Foster said of Mercer. "They're very well coached. They were going to make a run. Good teams do that; they don't quit. They threw a wrinkle at us and we were a little frazzled for a second, but once we got our heads about it, they were giving us opportunities.
"With what they were doing defensively, we just had to make a few extra passes. We were trying to make one pass and make something happen. When people do that to you, if you make three or four passes, you're going to get a quality shot. Once we figured that out, we took care of our business."
The Mocs (24-7) made four 3-pointers in the first quarter and two in the second to build a 33-24 halftime lead. The advantage was stretched to 11 after three quarters, but Mercer (24-8) started the final period on a 14-2 run, taking a 54-53 lead on Kahlia Lawrence's pull-up jumper with 4:07 to play.
UTC started the final period 1-for-4 from the floor with seven turnovers, but Lawrence's jumper seemed to make the Mocs focus. They scored on four straight possessions and held Mercer without a field goal for three minutes, 47 seconds to pull away.
"Mercer gave us a good fight, but our energy was the difference," Alford said. "We had a change of energy towards the end and decided we weren't going to lose. We had a lack of focus early in the fourth quarter. Sometimes we get content with what is going on.
"Now that we've won, we have to get our minds prepared for the next chapter."
Keke Calloway had 18 points to lead the Bears, while Sydni Means finished with 15 points, five rebounds and five assists.
Mercer's entire playing rotation was made of freshmen and sophomores.
"We're a disappointed locker room, but we also know that Chattanooga is a good basketball team and they'll represent us well in the NCAA tournament," Mercer coach Susie Gardner said. "We were down 13 and could have lost by 20, but we ended up getting the lead. We made it close, made it exciting, and I'm proud of the players and proud of the team."
Contact Gene Henley at ghenley@timesfreepress.com. Follow him at twitter.com/genehenleytfp.