Photo Gallery
Wildfires continue with no rain imminent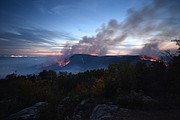 Photo Gallery
Arkansas Symphony Orchestra @ Robinson Center Music Hall — 09/22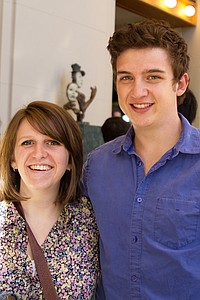 09/22 — The Arkansas Symphony Orchestra kicked off its 2013-14 season with Tchaikovsky & Rite of Spring, with Philip Mann conducting and Martina Filjak on piano.
Continuing coverage
* Wildfires continue across region with no rain imminent; some residents evacuated * Southern fires rage with 41.6 million now living in drought
Here's the latest update on the wildfires causing evacuations in Tennessee.
53 known fires are burning a total of 9,680 acres throughout the Cumberland and East Tennessee District, according to the Tennessee Department of Agriculture.
The districts make up the entire eastern half of the state.
FEMA is offering Tennessee financial aid, and additional teams from across the country have arrived in the region to help contain the growing fires.
ARSON ARREST
Details of an arson arrest will be revealed at this afternoon's wildfire briefing in Soddy-Daisy, officials say.
An email from the Tennessee Forestry Division of the Department of Agriculture gave no details on the arrest, but said more information will be provided at the 3 p.m. briefing.
The release said Tennessee Forestry officials will gather with leadership from the Florida Forest Service and Hamilton County Mayor Jim Coppinger across the street from Ivy Academy on Dayton Pike for updates on multiple fires burning in the Southeast.
Officials have said they believe several fires were set but this is the first arrest announced.
AIR QUALITY
An air quality alert returned Friday due to the smoke from area wildfires.
The Tennessee Department of Environment and Conservation is issuing a "code orange" alert for Friday.
Satellite imagery shows smoke plumes from these fires traveling southward, according to a TDEC release.
"These plumes are expected to shift southeastward tomorrow, impacting the metropolitan areas of Chattanooga," the release said.
A code orange alert means that while the general public is not likely to be affected, persons with heart and lung disease, older adults and children are at greater risk from the presence of particles in the air.
EVACUATION
Residents of Arnat Drive and Bonnelia Circle on Mowbray Mountain have been told they can return to their homes.
About 30 homes in the neighborhood were considered threatened by wildfire on Thursday.
Mowbray Mountain Volunteer Fire Department chief Chris Weddington made the call that it is safe for residents to return, according to a news release from Hamilton County Emergency Management.
FEMA
Tennessee will receive financial aid from the federal government to cover the costs of fighting a wildfire in the Flipper Bend area of Walden's Ridge that is threatening homes and causing evacuations.
The Federal Emergency Management Agency has authorized a 75 percent reimbursement of costs associated with managing, mitigating and controlling the fire, according to a FEMA news release.
"FEMA approved this request to ensure that Tennessee has the resources to combat this fire and protect lives, structures and property," FEMA regional administrator Gracia Szczech said in the release. "State responders will continue the hard work to fight the fire with the help of this funding."
The fire has burned more than 800 acres of state and private land since Saturday. More than 60 residents of Little Bend Road evacuated the area Wednesday night.
Tennessee requested the grant last night, citing 45 threatened homes in the area.
"Mandatory evacuations are taking place for approximately 15 to 20 homes and evacuations are expected to increase," the FEMA release said. "The fire is also threatening the Town of Mont Lake and the Mile Straight community."
More than 5,000 firefighters and support staff from around the nation have come to the Southeast as wildfires blaze across the region.
Regional aviation director Shardul Raval of the U.S. Forest Service says the effort includes about 40 aircraft, and that three large air tankers are flying out of Chattanooga, Tennessee.
Pets
People for the Ethical Treatment of Animals, PETA, released a guide about what Hamilton County residents with pets should do if they are evacuated.
The organization is warning residents not to leave pets behind and to have a plan ahead of time in case of evacuation.
Small pets should be placed in carriers while driving. PETA recommends residents take enough food to last at least one week.
Those who are not evacuated but are in areas impacted by smoke should keep pets indoors and avoid outdoor activities.
Be prepared
The American Red Cross is urging area residents to be prepared as wildfires continue to spread throughout Southeast Tennessee. * Post emergency phone numbers by every phone in your home. * Make sure driveway entrances and your house number or address are clearly marked. * Identify and maintain an adequate water source outside your home, such as a small pond, cistern, well or swimming pool. * Set aside household items that can be used as fire tools: a rake, ax, hand saw or chain saw, bucket and shovel. You may need to fight small fires before emergency responders arrive. * Select building materials and plants that resist fire. * Regularly clean roofs and gutters. * Plan and practice two ways out of your neighborhood in case your primary route is blocked. * Select a place for family members to meet outside your neighborhood in case you cannot get home or need to evacuate. * Identify someone who is out of the area to contact if local phone lines are not working.
GEORGIA
In Georgia, authorities say that one of the largest wildfires in the south - Georgia's "Rough Ridge fire" in the Cohutta Wilderness area - has grown rapidly in the past 24 hours as high winds spread flames through the forest.
The U.S. Forest Services said in a Thursday update that the fire has now consumed more than 10,000 acres of forest just south of the Georgia-Tennessee line.
The forest service said a total of nearly 300 firefighters and other personnel are now battling that fire.
Authorities said the fire is only 13 percent contained.
NORTH CAROLINA
North Carolina Gov. Pat McCrory has declared a state of emergency because of the wildfires in the western part of the state.
McCrory issued the declaration late Thursday morning to help the state's efforts in handling more than 20 wildfires.
McCrory pointed out that while eastern North Carolina grapples with recovery from the flooding from Hurricane Matthew, the western part of the state has been suffering drought conditions for weeks.
The state of emergency is in effect in 25 western counties. Outdoor burning has been banned in those counties. Some evacuations have been ordered in five counties.
A National Guard helicopter and technicians have been deployed to help with any rescues that might be needed.
McCrory says the fires are some of the worst in North Carolina in nearly 20 years.
KENTUCKY
The growing fire threat is prompting new restrictions on smoking, campfires and other potential fire hazards starting Friday morning at Land Between the Lakes National Recreation Area along the Kentucky-Tennessee border.
Fireworks will be prohibited, stoves, lanterns and heating devices limited, and campfires allowed only in designated campgrounds and picnic areas where grills and metal fire rings are provided.
Smoking will be permitted only in vehicles, buildings or in developed recreation sites or areas cleared at least three feet in diameter of all flammable material.
SOUTH CAROLINA
South Carolina's drought hasn't improved since its Drought Response Committee declared severe-drought status in three counties in the western part of the state.
But Hope Mizzell, state climatologist for the South Carolina Department of Natural Resources, doesn't need the committee to meet again to know nothing has improved, since there hasn't been normal rainfall since then.
Meanwhile, a wildfire that began Wednesday in Table Rock State Park on the North Carolina line had jumped to 250 acres by Thursday afternoon, said Darryl Jones, fire chief at the South Carolina Forestry Commission.
South Carolina has imposed a ban on outdoor burning in five counties.
MISSISSIPPI AND LOUISIANA
The numbers are in from Mississippi: Since September 1, the state Forestry Commission has responded to 884 wildfires that burned 7,798 acres and damaged or destroyed 43 structures. But a total of 1,324 other structures were saved by firefighters.
The drought continues to make for an extremely high fire risk across most of Mississippi, where outdoor burning is banned in 76 of 82 counties. Forestry Commission spokeswoman Brighton Forester said Thursday that no active fires were being suppressed.
Neither are there active fires in Louisiana, where 59 of 64 parishes remain under a burn ban.
The Louisiana Department of Agriculture and Forestry's commissioner, Mike Strain, says that since drought conditions began in the state on Oct. 11, wildland fire crews have responded to 140 wildfires burning nearly 619 acres.