UPDATE: Firefighters use hand tools to fight Chattanooga-area wildfires with no rain in sight
Photo Gallery
Wildfires continue with no rain imminent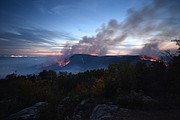 Continuing coverage
* Wildfires continue across region with no rain imminent; some residents evacuated * Southern fires rage with 41.6 million now living in drought
Amidst a rash of southern wildfires that have raced through bone-dry terrain to consume tens of thousands of acres, a man has been arrested after he admitted to fanning the flames.
Andrew Scott Lewis is charged with three counts of setting fire to personal property or land and vandalism over $250,000 for his alleged role in setting wildfires that have plagued Smith Mountain in Sequatchie County, Tenn.
Lewis told detectives he set three fires Nov. 6 on Smith Mountain, Detective Jason Harvey with the Sequatchie County Sheriff's Office said at a news conference Friday in Soddy-Daisy below the Flipper Ridge fire. A citizen's tip led to the arrest and Lewis confessed, he said.
The blaze has burned for six days and torched more than 300 acres, threatening several homes and belching a thick haze of smoke.
Harvey did not comment on a possible motive for setting the fires, but experts say arsonists tend to start them for a thrill or because of personal squabbles with others.
The Associated Press reported Friday a 21-year-old Kentucky man was jailed for arson after admitting he started a wildfire to draw attention to his selfie videos on Facebook, and a Georgia sheriff appealed for help identifying the driver of a dark blue SUV last seen where other wildfires began. In North Carolina, authorities suspect arson in more than 20 wildfires burning in a national forest, and a teenager in Harlan County, Ky., also was arrested for arson this week, according to the AP.
Jai Templeton, Tennessee agriculture commissioner, said persistently dry conditions play into the hands of firebugs.
"For more than a month, wildland fires have raged across Tennessee," he said. "Arson is a crime, and that's something we are going to take seriously. We are not going to tolerate it."
While important, Friday's arrest does little to mitigate the danger presented by the 55 fires burning throughout Tennessee that have caused the U.S. Department of Agriculture to designate 43 counties as primary or contiguous disaster areas.
Of those 55 fires, arson is suspected in 41, according to the agriculture department's website.
"We are probably in this for the long haul," said Tim Phelps, spokesman for the agriculture department. "It's nothing to sneeze at."
Phelps wouldn't say how investigators determine which fires could be arson, but did say, "It's fairly obvious."
He said the state typically sees 20,000 acres burned in wildfires every year, but more than 33,000 already have burned in 2016.
"What is new is the sheer number of fires we are responding to on a daily basis," he said.
Other massive fires are raging across the state line in Georgia. To the southeast in Fannin County, the Rough Ridge fire, the largest fire in the South, has gorged on more than 10,600 acres of the Cohutta Wilderness since Oct. 15.
In Hamilton County alone, the Flipper Bend fire on Walden's Ridge and a fire on Mowbray Mountain have grown to 1,000 and 800 acres, respectively.
Responders are cautiously optimistic that the break lines surrounding the Flipper Bend fire will hold, but the Tennessee Department of Environment and Conservation already has been forced to upgrade the air quality index to a code orange because of smoke.
Within that range, sensitive groups such as children, the elderly or people with pre-existing respiratory or heart conditions may experience some health effects, but the general public should be fine.
But, according to Phelps, there's more than just burning vegetation in the haze that's descending over some communities. Trash and plastic refuse left in the woods also are getting caught up in the blaze.
Given the seriousness of the situation, several outside resources have been called in to assist with fighting the fires. A 10-person crew from Nevada has joined the fray, as well as three 20-person crews from Oregon.
Administrators with the Florida Forestry Service also are providing overhead guidance and have taken over leadership of the Flipper Bend and Mowbray Mountain fires.
In order to pump the brakes on new fires, Hamilton County joined a list of eight other counties on Friday that have begun to enforce a burn ban. Burn permits also have been halted statewide.
"We are a no-burn permit state at the current time," Templeton said.
Hamilton County Mayor Jim Coppinger joined Phelps and Templeton at the news conference in celebrating the work of firefighters who battled rough terrain and gusty winds for days on end.
"These are the types of fires we see on TV that don't come to our area in Hamilton County frequently," Coppinger said.
"In the time I've lived here, my entire life, I've never experienced something such as this."
Contact staff writer Emmett Gienapp at egienapp@timesfreepress.com or 423-757-6731. Follow on Twitter @emmettgienapp.
Photo Gallery
Arkansas Symphony Orchestra @ Robinson Center Music Hall — 09/22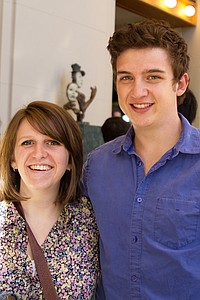 09/22 — The Arkansas Symphony Orchestra kicked off its 2013-14 season with Tchaikovsky & Rite of Spring, with Philip Mann conducting and Martina Filjak on piano.