UPDATE: Firefighters use hand tools to fight Chattanooga-area wildfires with no rain in sight
Photo Gallery
Wildfires continue with no rain imminent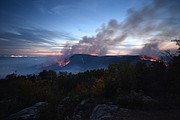 Crews battling stubborn local wildfires reported mixed results Saturday as responders inched toward containing fires at Flipper Bend and Mowbray Mountain even as another blaze began.
On Saturday afternoon Julie Allen, a spokeswoman for the Florida Forestry Service, which has taken over leadership on several fires in the area, said the Flipper Bend fire had reached 80 percent containment at 1,000 acres burned.
Residents who had been told to evacuate on Walden's Ridge as a precaution last week were able to return to their homes as firefighters worked to build further break lines that could entirely cut off the fire.
There were also signs of progress on Mowbray Mountain, where the 526-acre fire was 50 percent contained with dozens of men and women working on it.
But while an end might be in sight for those fires, Allen said attention now is on a new fire right between the two, near Poe Road.
Like many of the other blazes, steep terrain has made the Poe Road fire extraordinarily difficult to fight. As of Saturday evening it had engulfed 90 acres and was only 5 percent contained, although no structures are endangered.
"That one is our concern right now. We're going to get out there and put some heavy work on it," Allen said.
Another brush fire near White Oak Mountain has also harassed drivers in the southbound lanes of Interstate 75, at times slowing traffic at mile marker 16. The obstruction was expected to be cleared by the end of Saturday, according to information from the Tennessee Department of Transportation website.
As of Saturday more than 1,000 acres were ablaze all told in Marion, Sequatchie, Hamilton, Bradley and Polk counties. More than 800 acres were on fire in North Alabama and North Georgia, not including the 10,000-plus-acre Rough Ridge fire in the Cohutta National Wilderness.
Complicating responders' efforts across the region is an apparent string of arsons that have added to the already record number of blazes.
On Friday, a 21-year-old man was arrested on charges of setting three fires on Smith Mountain in Sequatchie County and in Clayton, Ga. Police are looking for a dark blue SUV seen in the area where a 2,000-acre fire started Wednesday.
A burn ban is in effect for nine Tennessee counties and a violation of that ban, punishable as a Class A misdemeanor, can carry a fine of $2,500 and/or up to 11 months and 29 days in jail.
The counties under a burn ban are Clairborne, Cumberland, Hamilton, Jefferson, Loudon, Marion, Monroe, Robertson and Sevier Counties.