Photo Gallery
Wildfires continue with no rain imminent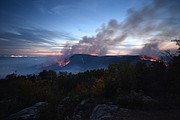 More than 200 patients have been treated in Chattanooga for shortness of breath and other breathing difficulties related to the circle of wildfires surrounding the city.
Since Friday, CHI Memorial has treated 96 patients in Chattanooga and Hixson for breathing difficulties related to the smoke, including 37 in the past 24 hours.
Erlanger has treated nearly 120 patients for shortness of breath since Nov. 1, an increase over the typical number of such patients the hospital sees, the hospital said in a news release. The worst day for breathing complaints at Erlanger was Nov. 10, when 15 patients complained about shortness of breath, about triple the usual number.
Erlanger pointed out that it treats symptoms, and it is unknown if all patients with breathing complaints came to the hospital because of the wildfires.
The region's wildfire epidemic shows no signs of slowing, with no rain in the forecast and additional fires popping up on a regular basis.
Firefighters are using hand tools, bulldozers and helicopters to contain existing wildfires, while warning that many of the additional fires seen in recent days are man made.
Medical officials advise patients with breathing difficult to avoid outdoor activity and stay inside as much as possible. Use the "recirculate" function when in a vehicle, and ensure that air filters in homes are operational.
The smoke has triggered a "Code Red" air quality alert.
The Times Free Press previously reported that area doctors warned the problem can be particularly severe for those already suffering from breathing troubles.
"Our more vulnerable people - the elderly, the very young, as well as people who already have heart and lung diseases, bad sinuses, bad allergies, lung disease - if they go outside and breathe in a lot of that smog it can trigger an asthma attack or bronchitis attack," said Dr. Carlos Baleeiro, a pulmonary and critical care physician with CHI Memorial's Buz Standefer Lung Center.
The only real solution is to avoid working or exercising outdoors, he said. Masks probably won't do much good, Baleeiro said.
"Most of the masks you can buy at a store, the little paper masks, don't work, because the particles are so small," he said. "You would need a true isolation mask like we would use in a hospital. They fit tighter on the face, but if you are already prone to lung problems, and put on a tight-fitting mask, it doesn't make it any easier to breathe."