NEWS UPDATE: Firefighters use hand tools to fight Chattanooga-area wildfires with no rain in sight
Photo Gallery
Wildfires continue with no rain imminent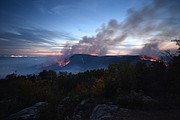 It is little wonder that the mountain slopes and grasslands around Chattanooga are burning.
Since Jan. 1, Chattanooga has had 25.05 inches of rain, according to the National Weather Service.
Normally by this date, we've usually had about 44 inches and are well on our way to our yearly average of 52.4 inches of rain. Last year by this date, we'd had 44 inches of rain.
Right now, we are roughly 19 inches down. Another way to look at it is that here we are at mid-November, and we've had only half a year's worth of rain.
Further: Since Sept. 1 - more than 10 weeks ago - we've had 1.7 inches of rain. For context, our normal rainfall average is 1 inch a week. So in the past 10 weeks we should have had about 10 inches of rain - not 1.7 inches. Compounding all this, as of Friday, we'd only had two days this autumn when the evening temperature fell as low as 40.
And, no, there is no rain in sight for at least 10 days. Meanwhile the lowest high temperature is forecast to be still in the 60s.
Climate change is best characterized by increased extremes in weather, and we - our planet, not just Chattanooga, are beginning to see more and more extremes.
Whether it be arsonists or tossed cigarette butts or careless campfires that put the spark to the nearly dozen wildfires now blazing in the region, the conditions in our woodlands and fields are dire. They are like an open matchbox doused in lighter fluid, and the damage doesn't stop with charred land, evacuated homes, injured firefighters and the expended tax money to douse the flames.
Chattanooga has had a number of Code Orange and Code Red air days - days when the smoke and haze from these fires hung so heavy over the area that local authorities warned of health problems, especially to children and people with weak respiratory systems.
The danger is the tiny particulates in the smoke that can lodge in breathing passageways. In pollution control lingo, it's called PM, for particulate matter. In the past week, the smoke and health warnings were stark reminders of the terrible smog that used to engulf Chattanooga on a daily basis. During the last half of the 20th century, the haze was brown and often so thick people drove downtown with their headlights on during broad daylight. That was when manufacturing was stronger here, and air pollution scrubbers hadn't been invented and Republican President Richard Nixon hadn't proposed and signed into law the establishment of the U.S. Environmental Protection Agency.
Now another Republican regime and President-elect Donald Trump are talking about scrapping the EPA and the environmental regulations it enforces - the ones that have made our air, on most days, crystal clear and much, much safer.
During the week of our election, 20 million residents of New Delhi, India, were choking through thick smog like we used to have here routinely. In New Delhi, the smog was the worst seen in 17 years, according to news reports. The air there was so bad that sustained breathing was the equivalent to smoking more than two packs of cigarettes a day, the New York Times quoted experts as saying.
Schools were closed for three days, although those experts warned that the air inside homes may not have been much better than the air outside. Levels of PM 2.5 (the 2.5 designation is a measure of the size of the tiny particulates) had soared, up to a thousand micrograms per cubic meter, or 16 times what the Indian government considers safe.
The average for the city, before the spike, had hovered at about 12 times what the government considers acceptable - which is actually 70 times worse than the levels considered safe by the World Health Organization.
But not to worry, we may again be giving India company, and we may yet see a regular return of haze and smog - sans forest fires - if President-elect Trump has his way.
Myron Ebell, a climate contrarian and director of environmental and energy policy at the Competitive Enterprise Institute, a libertarian advocacy group in Washington, will be Trump's lead agent in choosing personnel and setting the direction of the federal agencies that address climate change and environmental policy for the new administration.
Ebell's organization is financed in part by the coal industry, and he has been one of the most vocal opponents of the Clean Power Plan - a far-reaching set of regulations developed by the EPA for President Barack Obama to reduce carbon emissions from electricity generation. Read here: the closing of coal-burning power plants.
What Trump's reported pick Sarah "Drill, baby, drill" Palin would be to the Department of Energy or Department of Interior, Ebell would be to our climate plan and EPA.
Think about that, Chattanooga. Think about that as our drought worsens and the wildfire smoke socks us in.