Photo Gallery
Wildfires continue with no rain imminent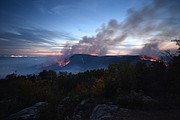 Finally!
After 28 days in a row without rainfall, there is a slight chance of precipitation in the weekend forecast. But WRCB-TV meteorologist Paul Barys says don't get your hopes up - while there is a 20 percent chance of water falling from the sky Saturday, the total amount will be less than one-tenth of an inch, nowhere near the solid inch fire officials say they need to quench the half-dozen wildfires in the area.
For more we will need to wait until at least next Wednesday, and even then, the maximum we can expect will be about a quarter of an inch, Barys said.
"It's gonna help a little bit - it will give hope to human beings that it can rain," Barys said. "A lot of people think it will never rain again."
Thursday was the 28th day in a row with no rainfall at Lovell Field, the official measuring place for record-keeping purposes. That is the seventh-longest drought in the city's history, Barys said. The record is 39 days, set in 1935.
But there's one bit of good news: The air pollution index for today will be in the moderate range, a Code Yellow - with fine particles in the air in the 100 range, still hazardous for people who are unusually sensitive to pollution - but below the Orange and Red levels of recent days.
In Georgia, Gov. Nathan Deal declared a Level 2 Drought Response on Thursday, which limits when residents can use water. For all counties in Northwest Georgia, outdoor landscape watering is allowed only two days a week determined by whether homeowners' addresses are odd or even. Even-numbered addresses and properties without numbered addresses may water on Wednesdays and Saturdays between 4 p.m. and 10 a.m. Odd-numbered addresses may water Thursdays and Sundays between 4 p.m. and 10 a.m.
Prohibited outdoor water uses include washing hard surfaces such as sidewalks, water for fountains, noncommercial washing of vehicles - including fundraising car washes - and noncommercial pressure washing.
This is the 24th continuous week of extreme drought in Northwest Georgia, according to the governor's office.
Tennessee has not announced any similar measures.
While rain next week will be welcome, it will be accompanied by gusty winds, which won't make the job of firefighters any easier, Barys said.
Dozens of firefighters continued to work to contain three fires that have been burning for several weeks on and near Signal Mountain. The Poe Road fire, which had spread to more than 700 acres, is now 70 percent contained. The wildfire at Flipper Bend is 95 percent contained, after burning 979 acres, while the fire at Mowbray Mountain is now listed as 70 percent contained, and has burned some 830 acres.
The Bench Bluff fire in Bledsoe County is the largest in Southeast Tennessee at 1,400 acres. It is 95 percent contained. Smaller fires are burning at Cave Cove in Marion County (120 acres, 30 percent contained), Sunshine in Sequatchie County (46 acres, 100 percent contained), and Hobbstown in Sequatchie (181 acres, 100 percent contained).
In Georgia, the largest wildfire close to Chattanooga was still less than half contained. The Tatum Gulf fire, on the west brow of Lookout Mountain several miles below Cloudland Canyon State Park, is only about 25 percent contained and has burned an estimated 2,235 acres, according to a statement from the Georgia Forestry Commission.
Firefighters continue to clear debris from around houses in the area, although so far none have been destroyed.
Another fire on Lookout Mountain closer to Chattanooga, at Creek Road, is 98 percent contained. That wildfire had burned approximately 100 acres.
A smaller but more visible fire in Rocky Face, just off Interstate 75 north of Dalton, is now 100 percent contained, according to the Forestry Commission.
The Fox Mountain fire in Dade County also has been 100 percent contained, but is still being monitored in case embers are still smoldering in the 2,000-acre site burned by the fire.
A new fire popped up in Gordon County, Ga., overnight, but it is still small, encompassing about 100 acres.
All of East Tennessee is under a burn ban, with all burning of leaves, brush, garbage or construction materials barred until Dec. 15.
The Tennessee governor's office clarified Thursday that the use of a propane or other gas grill, including deep-frying a turkey, is permitted.
"Generally, the burn ban does not apply to cooking grills and other similar lighted devices that are well established in a confined, protected area away from woodlands," said Corinne Gould, assistant secretary for public affairs for the state Department of Agriculture, in a news release. "Please keep in mind that the disposal of hot grill ashes can be a fire hazard. In all cases, grill ashes should be allowed to completely cool or be saturated with water before disposal," she added.
Contact staff writer Steve Johnson at 423-757-6673, sjohnson@timesfreepress.com, on Twitter @stevejohnsonTFP and on Facebook www.facebook.com/noogahealth.
Photo Gallery
Arkansas Symphony Orchestra @ Robinson Center Music Hall — 09/22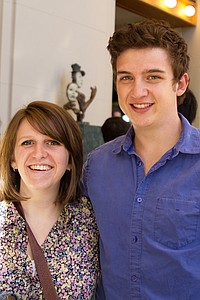 09/22 — The Arkansas Symphony Orchestra kicked off its 2013-14 season with Tchaikovsky & Rite of Spring, with Philip Mann conducting and Martina Filjak on piano.