Photo Gallery
Tinsel and Tutus @ Reynolds Performance Hall — 12/12/13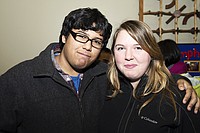 12/12 — The Conway Symphony Orchestra entertained with Christmas music, including highlights from The Nutcracker performed by the Arkansas Festival Ballet.
Erlanger says donations to bus wreck survivors came from around the world, pizza ordered from Ohio

— Steve JohnsonT-FP (@SteveJohnsonTFP) November 22, 2016
Erlanger docs say many kids arrived at hospital from bus wreck with no IDs, dazed, couldn't spell names, took hours to locate their parents.

— Steve JohnsonT-FP (@SteveJohnsonTFP) November 22, 2016
Seatbelts and safety
The University of Alabama in 2010 completed a three-year project for the Governor's Study Group on School Bus Seat Belts and the Alabama State Department of Education. Some of the findings:• Students are six to eight times safer riding to school in a school bus than riding to school in their parents' cars.• Nationally, up to three times more school bus-related pupil deaths take place outside the bus (loading/unloading) than inside the bus.• The addition of seat belts would make already-safe school buses even safer.• Based on 170,000 observations of pupils in pilot-project buses, the average seat belt- use rate was 61.5%.• Adding seat belts increases the thickness of seat-backs, leading to fewer rows of seats.Source: University of Alabama
My heart goes out to the families of the children that were killed & injured in the school bus crash in Chattanooga this evening. TT

— Colonel THP (@THP_Colonel) November 21, 2016
NTSB launching Go Team to investigate school bus crash in Chattanooga, TN. Team to deploy a.m. of Tuesday, 22 Nov.

— NTSB_Newsroom (@NTSB_Newsroom) November 22, 2016
Devastating news coming out of Chattanooga. Thoughts and prayers with students and families of Woodmore Elementary School.

— Butch Jones (@UTCoachJones) November 22, 2016
Thoughts, prayers to victims of tragic school bus crash in Chattanooga & their families. A very sad situation. Will do all we can to assist.

— Gov. Bill Haslam (@BillHaslam) November 22, 2016
There are no words to comfort the broken heart of a mother or father. As I pray for families affected by tragedy, I ask you to do the same

— Andy Berke (@AndyBerke) November 22, 2016
Editors note: The Times Free Press has previously reported six children killed based on numbers provided by the Hamilton County District Attorney's Office. We are working to confirm, but at this point school and police officials are only confirming five dead.
UPDATED (6:11 p.m.): Doctors said they had a major problem identifying the more than two dozen young children who were injured in a school bus accident Monday and rushed to the hospital.
"They were all young children and they had no IDs with them when they arrived, and none of their parents were present," Dr. Darvey Koller, medical director for the emergency room at T.C. Thompson Children's Hospital at Erlanger, said in a press conference Tuesday evening. "They were all wearing uniforms and many were scared or too dazed to talk to us. Many were unable to spell their names, they didn't know their birthdates, and they didn't know their parents' names. Several said 'Mama' when asked what their mother's name was."
Hospital staffers took photos of the children and then relayed them to school teachers at Woodmore Elementary School to establish their identity and contact their parents.
Erlanger officials praised the rapid response to the accident, both inside and outside the hospital. "People dropped what they were doing and immediately went into action to help," Erlanger Chief Operating Officer Rob Brooks said.
Children's Hospital surgeon Dr. Lisa Smith thanked EMS workers and other first responders on the scene who "encountered horrific scenes and did an incredible job keeping the kids warm and safe."
She noted that at one point, she looked up and saw dozens of her former professors at the UT College of Medicine in Chattanooga, as well as other staffers from throughout the hospital "all lined up wanting to help."
Koller noted that many of the 19 children who were treated and released suffered from cuts and bruises and sore wrists or ankles. But hospital staffers were able to treat and release all of them within about two hours after they arrived at the hospital, he said.
---
The company contracted to run Hamilton County Schools busing services says it's devastated by yesterday's bus crash that claimed the lives of at least five Woodmore Elementary students.
"We are working with the Chattanooga Police Department and Hamilton County School District to investigate," David Duke, CEO of Durham School Services said in a written statement. "We also have additional team members arriving in Chattanooga today to provide support."
Durham is offering to provide counseling to students and families of Hamilton County, along with its employees.
The Illinois-based company declined to answer any questions about the crash or the driver's history.
UPDATED (9:00 a.m.): 12 students have been hospitalized, six are in critical condition and six are stable. 19 children were treated and released.
Five students are confirmed dead in the Woodmore Elementary School bus crash and six remain in critical condition this morning.
Three of the students killed were in fourth grade, one was in first grade and another in kindergarten, according to Hamilton County Schools Interim Superintendent Kirk Kelly.
"This is something we will never forget as a community," Kelly said at a morning press conference at the school.
Hamilton County Schools are open today, and Woodmore Elementary is prepared with counselors for students and teachers.
"Those that want to come to school we are here to reach out and help," Kelly said.
A group of girls wearing Woodmore uniforms walked into the school's parking lot this morning, holding hands and tears running down their face. As they neared the school's door they began to run toward it, eager to get inside.
Bus driver Johnthony Walker, 24, has been arrested and charged with five counts of vehicular homicide, reckless endangerment and reckless driving, according to his arrest affidavit.
Witnesses said Walker was speeding, the affidavit states.
He remains in custody on $107,500 bond. He's scheduled to appear in court on Nov. 29.
Chattanooga Police Chief Fred Fletcher said at a press conference last night that additional charges may be brought against Walker in coming days.
No other vehicles were involved in the crash and the Chattanooga Fire Department was involved in extricating victims who were trapped on the bus.
The Hamilton County Department of Education confirmed there were 37 Woodmore Elementary students on board the bus. Their grades range from kindergarten to fifth.
Families of the students who died on the scene have been notified, Fletcher said last night, but not all families of the children on the bus had been reunited with their families at that point.
The National Transportation Safety Board has launched an investigation into the crash.
Chattanooga Mayor Andy Berke told reporters this morning that "five is a cursed number in our city right now." In July of 2015 five marines were killed in terrorist attack on a military site on Amnicola Highway.