Photo Gallery
Fatal school bus crash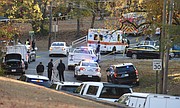 The Woodmore Elementary school bus driver, Johnthony Walker, 24, graduated from Brainerd High School, according to school officials.
Walker was arrested Monday night and faces five counts of vehicular homicide, reckless endangerment and reckless driving, according to his arrest affidavit.
He remains in custody on $107,500 bond, and is scheduled to appear in court on Nov. 29.
The route Walker was driving Monday was his regular route, according to officials.
"The defendant was traveling at a high speed on Talley Road, which is a narrow winding road," the affidavit states.
Walker lost control of the bus and swerved off of the roadway to the right, striking an elevated driveway and mailbox. He then swerved to the left and the bus began to overturn, hitting a telephone pole and a tree, the affidavit states.
Additional charges may be brought against Walker as the investigation continues, said Chattanooga Police Chief Fred Fletcher said at a press conference last night. Walker has no prior convictions in Hamilton County.
No other vehicles were involved in the crash and the Chattanooga Fire Department was involved in extricating victims who were trapped on the bus.
The Hamilton County Department of Education confirmed there were 37 Woodmore Elementary students on board the bus. Their grades range from kindergarten to fifth.
Of the students involved in the crash there were five confirmed fatalities, six critically injured, six admitted to hospitals but not critically injured and 20 treated and released by local hospitals, according to police.
Three of the students killed were in fourth grade, one was in first grade and another in kindergarten, according to Hamilton County Schools Interim Superintendent Kirk Kelly.
Hamilton County Schools contracts its busing services with Durham School Services, one of the nation's largest suppliers of school bus services. In Hamilton County, Durham operated about 240 of the district's 300-350 buses. The others are operated by independent contractors.
Walker worked for Durham.
Durham has not returned multiple requests for comment.