Photo Gallery
Belew Christmas @ Wildwood Park for the Arts — 12/13/13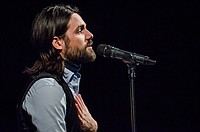 12/13 — Former The Voice contestant Cody Belew serenaded the audience with Christmas classics and tracks from his new album.
Johnthony Walker was driving well above Talley Road's 30 mph speed limit Monday afternoon when he went off the road and crashed, killing five students, according to records.
A safety feature that might have helped is electronic stability control (ESC), a technology that automatically brakes individual wheels and reduces engine power to help drivers maintain control during skids and keep their vehicles on the road.
It saved 1,362 lives in 2012, the year it became standard equipment on passenger vehicles sold in the United States, according to estimates from the National Highway Traffic Safety Administration (NHTSA).
For cars and SUVs, ESC has been found to reduce fatal single-vehicle crash risk by 49 percent and fatal multiple-vehicle crash risk by 20 percent, according to the Insurance Institute for Highway Safety.
Last year, federal regulators ordered ESC be installed on all large new trucks in 2017 and commercial intercity buses in 2018. NHTSA estimated that ESC on large trucks could prevent 40 to 56 percent of rollovers and 14 percent of loss-of-control crashes, the Insurance Institute said.
But school buses were excluded, since NHSTA cited federal data showing most school bus crashes are not rollover or loss-of-control crashes that ESC systems can prevent, according to a June 2015 article in School Bus Fleet Magazine by its Executive Editor Thomas McMahon.
School buses were excluded from stability control requirements, he wrote, despite requests to equip school buses with the technology from Consumers Union, the Insurance Institute for Highway Safety and the National Transportation Safety Board, which has a team investigating Monday's Chattanooga bus crash.
"I can say from experience driving a school bus that had electronic stability control on a test track, it really makes a difference when you're driving a little too fast and you're going around a turn, you feel that ESC system kick in and it will apply the brakes automatically as needed to keep the bus under control," McMahon said Tuesday in a telephone interview.
"I can't say for sure in that this would have helped in this crash," he said. "But that is a technology that can make a difference in some situations."
Some school bus manufacturers offer stability control. Bluebird, which offers Bendix brand's Electronic Stability Program, or ESP, was the first to introduce it as an option in 2014. Bluebird charges between $1,500 and $2,000 per bus for its stability control feature.
In 2015, Thomas Built Buses started offering electronic stability control on at least one of its models. The bus that crashed Monday was a D-series, or flat-nosed, Thomas Built Bus built in High Point, N.C., but it is not the model equipped with ESC.
Contact staff writer Tim Omarzu at tomarzu@timesfreepress.com or www.facebook.com/MeetsForBusiness or on Twitter @meetforbusiness or 423-757-6651.