Photo Gallery
Great Smoky Mountains wildfires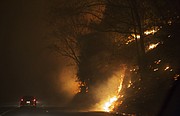 HELPING FIGHT THE FIRE
Fire agencies from Hamilton County have been deployed through Tri State Mutual Aid Association to respond to Gatlinburg to assist in the wildfire efforts.› Tri-Community Volunteer Fire Department› Signal Mountain Fire Department› Dallas Bay Volunteer Fire Department› East Ridge Fire Department› Sequoyah Volunteer Fire Department› Soddy-Daisy Fire Department› Walden's Ridge Emergency Services› Chattanooga Fire Department› Bradley County Fire Rescue› Englewood Fire Department› Meigs County Volunteer Fire Department› Athens Fire Department› Cleveland Fire Department› Decatur Fire Department› Dunlap Volunteer Fire DepartmentSource: Hamilton County Office of Emergency Management & Homeland Security
At least 75 firefighters from the Chattanooga region fought massive fires in Gatlinburg on Monday and Tuesday after firefighters there put out a widespread call for aid, authorities said.
Chattanooga firefighters drove the entire 150-mile trip to Gatlinburg with sirens blaring Monday night in order to get there as quickly as possible, said Bruce Garner, department spokesman.
"This is really rather extraordinary for fire departments this far from the actual location of the fire to be called out," he said.
Chattanooga sent engine and tanker crews to fight the fire, Garner said. A total of 12 firefighters from the city went out. One crew arrived Monday night, while a relief crew traveled out Tuesday.
The first crew to arrive did some firefighting Monday night, took a three-hour break, and went back to work Tuesday morning, Garner said.
About a dozen local agencies sent firefighters to the blaze. Fire departments for East Ridge, Cleveland, Soddy-Daisy, Dunlap, Sequoyah, Englewood and Waldens Ridge all sent personnel, as well as Bradley County, Meigs County and the Tri-Community Volunteer Fire Department.
East Ridge Fire Chief Mike Williams took a crew out to the fire Tuesday and said the team wasn't sure what they'd face.
"We're expecting a worst-case scenario," he said.
The Cleveland Fire Department sent a ladder truck and crew of four out to the fire Monday night, Chief Ron Harrison said. He sent a relief crew and supervisor Tuesday morning.
"We delivered a fresh crew to that truck [Tuesday] morning and will bring the guys who worked the previous 16 hours back," he said. "And we'll continue that rotation every 24 hours."
About 14,000 people were evacuated from Gatlinburg as the fires spread rapidly amid high winds Monday night. Authorities say more than 100 buildings have burned, including a number of commercial buildings.
The Tennessee Emergency Management Agency said hundreds of firefighters, local and state personnel, and National Guard troops have been sent in to help fight the blaze and check on people.
The Chattanooga district sent 13 Tennessee Highway Patrol troopers to the fires, Lt. John Harmon said. He added that the deployment is not affecting coverage of the Chattanooga region.
The fire spread very quickly because of high winds, Garner said.
"It started as a single brush or woods fire and then the high winds picked up and carried embers far and wide, and the fire spread exponentially," he said. "All over the place, all at once."
The Associated Press contributed to this report. Contact staff writer Shelly Bradbury at 423-757-6525 or sbradbury@timesfreepress.com with tips or story ideas. Follow @ShellyBradbury.
DONATIONS NEEDED
Wilderness at the Smokies, 1424 Old Knoxville Highway, Sevierville, Tenn., needs immediate donations and will be serving as a drop-off/pick-up location to assist victims affected by the wildfires in Pigeon Forge and Gatlinburg. Gently used and new clothes, blankets, towels, diapers and wipes, baby formula, personal toiletries, bottled water, and nonperishable snack items can be dropped off at the Cades Cove meeting room, located at Stone Hill Lodge, through Friday, from 8 a.m.-11 p.m. Distribution of donated items will be available Wednesday-Friday, from 8 a.m.-11 p.m. Both collections and donation dates may be extended based on need. Those wishing to make a monetary donation are encouraged to contact the Red Cross.
FIRST TENNESSEE OFFERS AID
The First Tennessee Foundation will match donations from the public to the East Tennessee Red Cross, up to a total of $50,000, made through any First Tennessee financial center across the state. "First Tennessee is proud to be Tennessee's bank, and we support our fellow Tennesseans in times of crisis," said Pam Fansler, First Tennessee president in East Tennessee. "Our thoughts and prayers are with our customers, friends and neighbors who have been affected by this tragedy." More information is available at www.FirstTennessee.com and www.FirstTennesseeFoundation.com.