Photo Gallery
212 Market Restaurant closes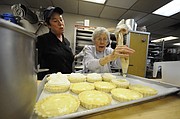 The 212 Market Restaurant, a pioneering upscale eatery that opened downtown 25 years ago before downtown was cool - shortly before the Tennessee Aquarium helped spark Chattanooga's renaissance - announced Monday morning it has closed.
The decision was due mostly to family reasons, said Sally Moses, who ran 212 Market Restaurant with her sister Susan Moses, the chef, and their mother Marquerite "Maggie" Moses, who passed away in 2015.
"We've had a brother that was hurt badly, and we want to have a little more time to help him heal," Sally Moses said.
Moses family statement
The Moses family is very proud of 212 Market, our wonderful customers, employees & memories.