Photo Gallery
212 Market Restaurant closes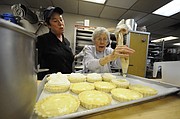 The 212 Market Restaurant, a pioneering upscale eatery that opened downtown 25 years ago before downtown was cool - shortly before the Tennessee Aquarium helped spark Chattanooga's renaissance - announced Monday morning it has closed.
The decision was due mostly to family reasons, said Sally Moses, who ran 212 Market Restaurant with her sister Susan Moses, the chef, and their mother Marquerite "Maggie" Moses, who passed away in 2015.
"We've had a brother that was hurt badly, and we want to have a little more time to help him heal," Sally Moses said.
Moses family statement
The Moses family is very proud of 212 Market, our wonderful customers, employees & memories. 212 Market dared to enter the downtown area when there was nothing and as Tennessee's 1st certified green restaurant & Chattanooga's first foray into the farm to table concept, it has continued to do so for over a quarter of a century. Our family's lives have changed over the past 5 years, leading to the very hard decision to close. The Moses family thanks you for your years of friendship, laughter & community involvement. With sadness we end our 25 years of a great run. We all made a difference.

The Moseses hope another eatery will move into their two-story building, which they own. Built in 1992 and designed by Chattanooga architect Frank McDonald, the Moses' building features solar-electric panels on the roof, in the parking lot and over the upstairs balcony where people ate.
"Someone might come in and have a nice, fresh take on the business," Sally Moses said. "It's [got] a beautiful, fully-equipped kitchen."
The eatery was Chattanooga's first restaurant to take part in the "farm to table" social movement that traces its roots to Chez Panisse, a trend-setting restaurant in Berkeley, Calif.
The seasonal and daily menus at 212 Market included local food from such area suppliers as Pickett Trout Ranch in the Sequatchie Valley, Crabtree Farms off Rossville Boulevard in Chattanooga and Benton's Bacon in Madisonville, Tenn.
The restaurant recycled and composted, it has an electric car charging station in its parking lot, and the eatery used recycled and biodegradable products including plastic bags, cold cups and to-go ware, according to its website.
Those and other environmentally-friendly practices helped 212 Market earn bragging rights as the first Certified Green Restaurant in Tennessee.
Saw downtown's potential
Head chef Susan Moses spent a number of years in Humboldt County, a redwood- forested region on Northern California's coast, where she attended Humboldt State University in Arcata, Calif., and prepared food for artist openings and commercial anglers.
"I was cooking on fishing boats," she said. "I went up there in the redwoods and just fell in love with the area."
Paintings of Northern California redwood forests adorned the walls of the Chattanooga restaurant.
"We decorated the restaurant with art from my friend Peter Holbrook," she said.
The family launched the restaurant here partly because Chattanooga was home for Maggie Moses, a dietitian who went to high school in Tyner and later served as first lieutenant in the U.S. Army in a forward unit hospital in France.
Maggie Moses was 70 when she and other family members pooled their money to open the restaurant, which was the only business, except for a tire shop, in an area of abandoned warehouses that was deserted at night and had little parking. But the Moses family saw downtown's potential.
"It's just a gorgeous city with the mountains and the water and the open space around," Sally Moses said.
A spokeswoman for the River City Co., a nonprofit development company created to help revive Chattanooga's downtown, was sad to see 212 Market go.
"212 Market absolutely was a pioneering restaurant. They believe in and took a chance on downtown Chattanooga before any other restaurant did. They've had an incredible run," said Amy Donahue, River City Co.'s director of marketing and communication. "We hate to see them leave and just wish them the best of luck."
The restaurant got many calls from well-wishers Monday as the news of its closure spread.
"The phone's just been ringing off the hook," Susan Moses said. "We feel just very honored to be part of the riverfront - the town itself."
Contact staff writer Tim Omarzu at [email protected] or www.face book.com/MeetsForBusiness or on Twitter @meetfor business or 423-757-6651.