Photo Gallery
Petting Farm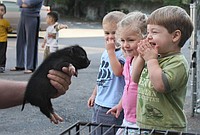 Pickers, junkers and antique hunters will scour roadside stops along Highway 127 today through Sunday, Aug. 3-6, looking for bargains during the World's Longest Yard Sale.
That title's not bragging when it's fact - the Highway 127 sale is the longest sale at 690 miles through six states: Michigan, Ohio, Kentucky, Tennessee, Georgia and Alabama. The majority of the route follows Highway 127 from Addison, Mich., to Chattanooga before picking up the Lookout Mountain Parkway to Gadsden, Ala.
The Highway 127 Yard Sale began in 1987 when Mike Walker, former Fentress County executive in Jamestown, Tenn., planned the event to encourage travelers to bypass interstates in favor of scenic routes that would take them through rural communities and allow them to experience what the small towns had to offer.
The Lookout Mountain Parkway, named by Reader's Digest as one of America's most scenic drives, was added to the route a few years after the sale began.
Some of the sale's main stops locally include the Mountain Top Farm, Picker's Field and Lone Oak Community Center on Signal Mountain, Hendrick Farm in Dunlap, and "Great Stop" next to Ewtonville Baptist Church in Dunlap.
For more information on the 127 Yard Sale: www.127yardsale.com.
THE ROUTE THROUGH CHATTANOOGA
Chattanooga is a point of departure for the World's Longest Yard Sale. Here's how to navigate the change from Highway 127 to the Lookout Mountain Parkway.
* Traveling from the north: In Chattanooga, follow Broad Street onto Lookout Mountain Parkway (Ochs Highway) to Georgia Highway 157 South. Turn right onto Georgia 157, drive 23.2 miles and follow Georgia 48 to Alabama where it becomes Highway 117.
Drive 7.6 miles and turn left onto DeKalb County 89, staying on it through DeSoto State Park, Fort Payne and Five Points, to Alabama Highway 176 South. After 10 miles, Highway 176 will become Tabor Road. Drive 19 miles and turn left onto Noccalula Road to reach intersection of Noccalula and Body Street, which is the southern end of the 127 Yard Sale.
* Traveling from the south: The route begins in Gadsden, Ala., at Noccalula Falls Park on Tabor Road. Tabor becomes Alabama Highway 176, which becomes County 89.
Follow 89 through Five Points, Fort Payne and DeSoto State Park to Alabama Highway 117 in Mentone. Turn right on Highway 117 and cross into Georgia, where the road becomes Georgia 48.
Follow 48 to Georgia 157, turning left onto Georgia 136 and then right onto Georgia 189, which will turn into Tennessee 148. Drive about 15.8 miles, turn left to continue on 148. This leads to Highway 27, which can be followed to 127.