Photo Gallery
Miears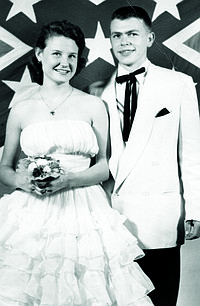 NASHVILLE - President Donald Trump lashed out Wednesday night at a federal judge in Hawaii, who earlier in the day put the administration's travel ban on hold.
The Republican president's charge came a short while after U.S. District Court Judge Derrick Warren in Hawaii temporarily blocked Trump's second executive order aimed at six primarily Muslim-majority countries that Trump said export terrorists.
Fuming that his own attorneys wanted the second order "watered down" after the first ran into trouble in federal courts over constitutional concerns, Trump said during a rally in Nashville that "this ruling makes us look weak."
He vowed he would "fight this terrible ruling as far as it needs to go, including all the way up to the Supreme Court." And, the president predicted, "we're going to win."
That drew cheers from audience members, many of whom endured hours-long lines to get into Nashville's Municipal Auditorium a few blocks from the state Capitol.
Earlier, Trump praised Tennessee's congressional Republicans, including U.S. Sen. Bob Corker of Chattanooga, telling the crowd, "We're going to be working closely to deliver for you, the citizens of Tennessee, like you've never been delivered for before.
"We're going to reduce your taxes - big league," the president pledged, as well as carry through with efforts to "repeal and replace" the Affordable Care Act, or Obamacare.
With Republicans in Congress divided over House Speaker Paul Ryan's and top leaders' health care plan, Trump said he wants to "get everybody into a room and get it done."
Outside the rally, demonstrators gathered.
Meanwhile, the line for Trump supporters to get into the auditorium extended for blocks and blocks.
One Tennessee legislative aide said he stood in line for three hours before having to give up when further entry was cut off just as he finally had the auditorium in view.
Earlier in the day, Air Force One touched down in Nashville with the president and U.S. Sens. Lamar Alexander and Corker on board, along with White House chief strategist Steve Bannon, Trump's son-in-law Jared Kushner, presidential counselor Kellyanne Conway, and spokeswoman Hope Hicks.
Trump later went to The Hermitage, home of Andrew Jackson, the founder of the Democratic Party and the country's seventh president.
There the president toured the antebellum mansion, laying a wreath commemorating the 250th anniversary of Jackson's birth. He also spoke to Tennessee legislators, most of them Republicans who comprise a super majority in the state Legislature.
Trump hailed Jackson as "one of our great presidents" and described some of their similarities. Trump's team has long seized on parallels between the current president and the Tennessee war hero, comparing Jackson's triumph in 1828 over President John Quincy Adams to Trump's victory over Hillary Clinton last year.
Historians had been souring on the slave-owning president, whose Indian Removal Act of 1830 commissioned the forced removal of American Indians from their ancestral homelands. More than 4,000 died during their journeys west in what was known as the "Trail of Tears."
Thanking Republican Gov. Bill Haslam, hardly a staunch supporter of Trump during last year's GOP presidential primary, the president called both Alexander and Corker "good friends."

He praised "the very great Andrew Jackson," noting "he loved Tennessee, and so do I."
"It was during the revolution that Jackson first confronted and defied an arrogant elite. Does that sound familiar to you?" Trump asked as Republicans laughed. "Wonder why they keep talking about Trump and Jackson, Jackson and Trump. Oh, I know the feeling Andrew."
Trump handily won Tennessee's 11 electoral votes in the 2016 election, beating Democrat Hillary Clinton by 61.1 percent to 34.9 percent.
At the downtown site, supporters and opponents of Trump argued, waved signs and more.
On many demonstrators' minds was the U.S. House leadership repeal-and-replace plan, which a new report from the Congressional Budget Office estimates could drive up the number of uninsured Americans by 14 million people in 2018 and 24 million by 2026. The White House and GOP leaders dispute the estimates.
Citing the CBO report, Avi Korine, a Nashville-based writer who noted he along with his wife and daughter obtain their coverage with some subsidies through the federal health care exchanges, said it is "going to be a devastating piece of legislation. It's important that we try to stop that. For me personally I believe my premiums will go way up."
He said he now pays a "couple of hundred dollars [a month] and then the ACA mitigates some of that."
Nearby stood Trump fan Matthew Usher of Madison, Tenn., sporting red, white and blue clothing with a painted version of the American flag on his face. He brushed aside various Trump controversies, including alleged interference by Russia in the presidential election.
"Trump is going to be president," Usher said. "He tells the truth. He speaks his mind. That's what we need. We need somebody who does what he says he's going to do - and I knew he was going to do it."
He also said he liked Trump's steps on immigration and refugees, praising the president's intention to build a wall on the U.S.'s southern border with Mexico, a pledge Trump renewed later in his speech.
The Associated Press contributed to this story.
Contact staff writer Andy Sher at asher@timesfreepress.com or 615-255-0550. Follow him on Twitter @AndySher1.