Photo Gallery
Woodmore families march against bus company contract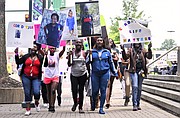 In a pair of lawsuits filed Friday, Woodmore Elementary School employees say they suffered acute emotional trauma from last November's deadly crash and want the bus company to pay for its negligence.
When bus 366 overturned on Talley Road with 37 children onboard, Stephanie Muhammed and other Woodmore employees rushed to Erlanger hospital to help first responders identify the students.
Muhammed, a computer-science teacher and one of the employees who filed a lawsuit, learned which of her students were dead or in intensive care. She led a prayer circle with some of the parents on their knees at the hospital. They pleaded for information about their children, but Muhammed could not share medical information, her suit says.
Neither could the second plaintiff, Alisha Bibbs, a secretary back at the school.
Both are now asking driver Johnthony Walker and his employer, Durham School Services, for millions of dollars in damages for their emotional trauma, guilt and suffering. Durham is the private company that provides most of Hamilton County's school transportation needs.
"Ms. Muhammed suffered such stress and emotional distress that, while at the hospital, she collapsed and had to be taken to the emergency room," their attorney, Ronald Berke, wrote in the suit. "She had welts on her neck and had to be treated."
Durham and the school district had received complaints about Walker's driving but let the 37 students ride his bus anyway on Nov. 21, 2016, Berke wrote in the suit. Like many of the 20 or so lawsuits filed since the crash, Friday's complaints allege negligence on Durham's behalf for hiring and continuing to employ Walker.
The day after the crash, Bibbs and Muhammed returned to school and had to "act normal," the suit says. But they were not prepared for this kind of trauma. They knew the children on a deep, personal level. Bibbs took a leave of absence while Muhammed struggled to maintain her marriage, the lawsuits say.
"To make matters worse," Bibbs' suit claims Durham reneged on a promise to foot the bill for her counseling. Durham later said it would pay for counseling but tried to shorten the time it would cover, the suit says.
A Durham spokesperson could not be reached for comment Friday. But other former teachers said Durham had not paid fees for the Woodmore employees who were going to grief counseling. News accounts show Durham promised to compensate them Tuesday.
Carol Free, a former Woodmore teacher who lost three students to the crash, said the company kept its word this week and paid about $2,000 in counseling bills she'd racked up since May. Still, it was embarrassing when her counselor mentioned she owed the money after a recent session, especially with the crash anniversary approaching.
Free is not involved with these lawsuits.
"The check was delivered Wednesday," she said. "They just apologized for making an already stressful situation more stressful."
Contact staff writer Zack Peterson at zpeterson@timesfreepress.com or 423-757-6347. Follow him on Twitter @zackpeterson918.