Photo Gallery
Whitwell wins first state title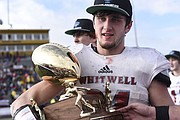 COOKEVILLE, Tenn. - Following the same nerve-wracking script that helped them reach a state championship game for the first time in program history, the Whitwell Tigers rallied for a fourth-quarter score, then held off a desperation drive by Cornersville in a dramatic 7-6 victory in the TSSAA Class 1A BlueCross Bowl on Saturday afternoon at Tennessee Tech University.
"This is just huge, not only for our team but our school and community," said second-year coach Randall Boldin, whose Tigers finished 15-0. "I don't get nervous on the sideline during games, but I was a little worried when they drove on us late. But our guys did what they had all game and found a way to get the stop we needed.
"I'm so happy for this group of kids."
Having struggled for much of the day against the conditions - rain and a blustering wind that affected every pass - and a Bulldogs defense that had shut out nine of its 13 previous opponents, Whitwell put together a gutsy 11-play drive late in the third quarter. When that possession began, the Tigers had managed just 36 yards of offense in the game, but they covered 71 more yards before Hudson Petty's fourth-down pass to Thundur Roberts came up just inches short of the goal line.
But Whitwell's defense set up another scoring opportunity, allowing just 1 yard on the ensuing possession for Cornersville (14-1) before a short punt gave the Tigers the ball back on the Bulldogs' 22. When Whitwell was again faced with a fourth down, needing 4 yards to keep the drive alive, Petty connected with Tanner Stewart, who fought through a defender and dived into the end zone for a 15-yard touchdown with 7:31 remaining.
"Me and Hudson have played together since we were 6 years old," said Stewart, who admitted the play call - 18 follow revert - would forever live on in his memory. "When they called that play in the huddle it was going to the other side, but I told Hudson to throw it to my side and I would make a play."
Added Petty, a senior and Mr. Football semifinalist who had 16 tackles, an interception, 50 rushing yards and threw the game-winning touchdown pass to earn BlueCross Bowl MVP honors: "I have so much confidence in him that I knew if I got the ball near him, he would make the catch. It was just a great play."
Evan Nunley kicked the go-ahead extra point, and once Whitwell held off Cornersville's final scoring threat, the Tigers had completed a three-week streak in which they knocked off a Bulldogs team that had finished runner-up last season, beat 2017 champion Greenback with a last-second field goal in the semifinals and rallied from two scores down in the fourth quarter of a double-overtime win over intracounty rival South Pittsburg in the quarterfinals. Whitwell also won in the regular season against Trousdale County, which wound up reaching the Class 2A final.
Whitwell's win means that all three high school football programs in Marion County now own a state title, making it the only county in the state with three or more programs to have a championship for each of its teams. The Tigers also snapped a skid of eight straight losses by Chattanooga-area teams in title games.
Cornersville, which outgained Whitwell 308-122 in total yards, scored on the game's opening drive, covering 57 yards in seven plays - all runs - with fullback Trenton Warren scoring on a 3-yard dive. But from that point on, Whitwell's defense refused to allow another score, turning the Bulldogs away five times after they had driven into Tigers territory.
The last stop came on the final play of the game after Cornersville had reached the Whitwell 21. When the desperation pass fell incomplete, it set off a wild celebration.
"I really didn't even know how to react when it was over," Petty said. "It's just such an overwhelming feeling.
"I don't know why we seem to start off so slow in big games, but because we had come back and won some close ones already this season, we knew we had time and could get it done. It feels great to know that our senior class can always say we got it done and won the state championship for our school."
Contact Stephen Hargis at [email protected] or 423-757-6293. Follow him on Twitter @StephenHargis.