Photo Gallery
Traffic tickets fall for fifth consecutive year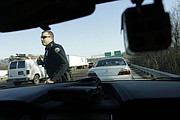 Chattanooga drivers are getting fewer speeding tickets than they have in years, but it's probably not because they're getting better at following the rules of the road.
The number of moving violations ticketed on city streets has dropped over the last five years - police are now citing drivers for speeding, unfastened seat belts and a half dozen other infractions at a third or even a quarter of the old rates.
In 2012, Chattanooga police officers wrote 6,776 speeding tickets, according to court records, but in 2017, they wrote only 2,119. Similarly, seat belt violations fell from 1,653 to 378, and red light citations dropped from 668 to 280.
That trend is consistent across the board for traffic tickets of all kinds, but Lt. Austin Garrett, supervisor of the Chattanooga Police Department's traffic division, said it can't be chalked up to a single cause.
"There's no one specific answer to why citation numbers have dropped. There are a couple different factors that might play into it," Garrett said. "For one, there's no way to track warning citations as far as officer discretion is concerned. I may give [drivers] a verbal warning, so I haven't given them a ticket. A lot of officers might be using more discretion than they have in the past."
Garrett said one of the primary focuses of the traffic division is education: it's not always necessary to write a ticket for every offense officers see on the road. Officers may be valuing conversations over citations and working to extend some of the tenets of community policing, a stated pillar of the department, into traffic enforcement, he said.
"We're focused on changing behavior, and if the officers feel like giving a verbal warning to someone and explaining to them rather than writing them a ticket, they might do that. It just depends on the seriousness of the violation. We're not giving someone a verbal warning for going 100 miles an hour. They're going to court," Garrett said.
Speeders are a perennial complaint for many residents, especially in East Chattanooga between Highway 58 and Interstate 75. According to the results of an annual community survey conducted by the city, a little more than half of the respondents from that district reported speeding in their area was "bad" or "very bad" in 2017.
On Dec. 21, the Chattanooga Police Department partnered with the Tennessee Highway Patrol and the Hamilton County Sheriff's Office to conduct a holiday DUI enforcement initiative that netted 68 speeding violations, three in excess of 100 mph. The effort also resulted in 17 DUI arrests, as well as a dozen citations for people driving on a revoked or suspended driver's license.
Garrett also said a factor in the decrease in traffic tickets could be due to officer attrition in the department. The traffic division has been replacing people it loses as quickly as it can, but when officers walk out the door, they take all of their experience with them.
"We have officers retiring, and it takes over a year to train someone to replace them. When you lose those people, they may have been some of your performers that might have been producing some of these numbers," he said. "Out of the traffic unit we lost a 28-year officer, who was one of the best we've had."
Following the downward plummet of traffic tickets, the number of fatal crashes also has declined in recent years - in 2015, 2016 and 2017, Chattanooga saw 34, 28, and 17 people killed in car crashes, respectively. Included in those totals are two unusually deadly tragedies - the I-75 tractor-trailer crash of 2015 and the Woodmore bus crash of 2016 - each claiming six lives.
The number of total crashes has hovered just above 14,200 over that same time period, but crashes with injuries jumped from 1,953 in 2015 to 2,229 in 2017 as of Dec. 14, according to police.
Garrett said he and his officers are pleased to see the number of fatal crashes dropping, but he said they're still partially reliant on members of the public to point out problem areas.
"If we get a complaint from the sector commanders that they have an issue that's been brought to their attention, then we'll bring officers into that area to change driver behavior," he said. "We want people to complain. Our job depends on people telling us where these issues are."
Certain problem spots are easily identifiable, such as the tight and ever-changing lanes through construction on U.S. Highway 27. Garrett said the department is working more than ever with city officials to redesign areas like that in the best way possible.
"When they did the lane shift up there we had just a huge complaint issue with people crashing because they installed yield signs for the on-ramps. We sat down and looked at what we could do. And I made the suggestion that we change the yield signs to stop signs. We reduced crashes over 50 percent the first month we did that," Garrett said.
"We want to come in and not just live by numbers. We want to actually solve problems and save lives," he said. "Find the solution, create solutions together with other parts of city government, county government, state, whatever. I think that is a little bit of an answer, and I think that's something [former police] Chief [Fred] Fletcher brought here. You can fix things in a variety of ways."
Also factoring into the overall safety of American roadways are the habits and decisions made by millions of drivers every day, and national data suggests more and more people are actually buckling up. A study by the National Highway Traffic Safety Administration noted that 90 percent of of the motorists they observed in 2017 were using their seat belts, an increase of about 19 percent from 2000.
Drivers also have more to distract their eyes from the road now than ever before with smartphones always at their fingertips. The U.S. Centers for Disease Control and Prevention reported that distracted driving deaths have climbed nationwide from 3,092 in 2010 to 3,477 in 2015, the most recent year included in the organization's published data.
Lt. John Harmon, spokesman for the Tennessee Highway Patrol, said a number of driver behaviors contribute to traffic crashes, and the troopers he works with will continue working aggressively to change how people handle themselves on the road.
"THP will continue to concentrate on drivers driving under the influence, drivers that are not wearing seat belts, drivers that are driving aggressively and drivers that are driving distracted. These four things continue to be factors involving traffic crashes," he said in an emailed statement.
"[Our agency] strives for self-compliance of traffic laws first. For the unsafe drivers that do not strive to be self-compliant, the THP will continue to use enforcement to keep our highways safe."
Five agencies - the Chattanooga Police Department, Red Bank Police Department, Soddy-Daisy Police Department, Hamilton County Sheriff's Office and the Tennessee Highway Patrol - are combining their manpower this month to focus on driving infractions on Highway 27, a shot across the bow for the hordes of drivers letting their eyes drift off the road.
The enforcement campaign began Jan. 4 and will continue through the end of the month - 27 days to focus on 27 miles of Highway 27.
"The message is, we're asking a driver to do what a driver should do. Drive safe, use your seat belt and obey the speed limit. No cellphones. No distracted driving," said Capt. Jeff Gann with the Soddy-Daisy Police Department. "There is a speeding issue on Highway 27. We've also got one section on a rainy day right at Soddy Lake that is causing a lot of accidents with some runoff of water. It all points back to speed."
"It's also obvious that anywhere you go now, you can look to the car to the right or left of you and there's a good chance that driver of that car is distracted with a cell phone or someone else in the car," Gann said.
"This is a way for us to get the word out to the driver to do what you're supposed to do on the road and that's not break the law. When we see those violations, we're going to be making some traffic stops. We want the driver's attention to be focused on driving."
Contact staff writer Emmett Gienapp at egienapp@timesfreepress.com or 423-757-6731. Follow him on Twitter @emmettgienapp.