Photo Gallery
Chattanooga snow day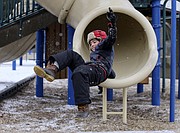 With the coldest temperatures so far this winter across the Tennessee Valley, TVA set an all-time record for energy demand in a 24-hour period Wednesday and reached a new power peak for the year on Thursday.
Milder winter temperatures today and this weekend should moderate electricity use in coming days, but most homeowners and businesses likely will still feel a bit of a chill in their pocketbooks when their January heating bills arrive in coming weeks.
The Tennessee Valley Authority said Thursday that its peak demand rose to 32,513 megawatts at 9 a.m. when temperatures across its seven-state region averaged just 14 degrees Fahrenheit and fell to only 13 degrees in Chattanooga. That was the sixth highest winter peak ever for TVA and topped the 10th highest which TVA reached just two weeks ago on Jan. 2 at 31,740 megawatts, when temperatures in the Tennessee Valley averaged only 9 degrees.
On Wednesday, when temperatures fell into single digits in parts of the Tennessee Valley, TVA customers consumed more power than on any single day in the 85-year history of TVA. In Chattanooga, Wednesday's low of 8 degrees Fahrenheit was the coldest so far this year.
Warming trend?
› Today: High 50, Low 28› Saturday: High 53, Low 38› Sunday: High 59, Low 44› Monday: High 61, Low 39› Tuesday: High 55, Low 33
Most homes and businesses in the Tennessee Valley are heated with electricity and the cold weather pushes up power usage by electric furnaces, heaters and fans.
TVA spokesman Jim Hopson said the federal utility has been able to meet the heavy demand for electricity by operating all of its available generation, buying power from independent power producers and other utilities and implementing some of its interruptible power contracts for customers who agree to curtail consumption during peak demand periods.
"It takes a collective effort of all of the power distributors and everyone at TVA to meet this unusually high demand, but we were able to do so and are looking forward now to some warmer weather coming this weekend to give some of our crews a break from this prolonged, high-demand period," Hopson said.
The National Weather Service predicts temperatures will rise into the 40s today and reach the 50s on Saturday and Sunday.
"It's definitely been a cold start to the year with Arctic air masses moving in at the start of the month, and then after warming up, we had another Arctic blast move south this week," said David Hotz, meteorologist for the National Weather Service office in Morristown, Tenn. "This kind of roller coaster rides in temperatures is fairly normal for this time of the year in Tennessee."
The heavy consumption of electricity and gas will mean higher winter heating bills for most homeowners and businesses, even though TVA's power rates are actually slightly lower than a year ago.
"Some of our local power companies are reporting spikes in customers' bills for December because of increased usage compared to October and November, so people should be prepared for another spike in January's bills," TVA spokesman Scott Brooks said.
Although higher consumption is boosting January power bills compared with December, TVA said the price of electricity this month is actually 1.8 percent less in Chattanooga than a year ago due to a decline in TVA's fuel cost adjustment, which reflects TVA's greater reliance upon nuclear and hydro generation, which uses less fuel.
But the increase in usage will more than offset those savings for most homeowners.
Rebecca Whelchel, executive director of the Metropolitan Ministries in Chattanooga, said cold weather is especially difficult for many low-income residents who often live in poorly insulated homes and turn to ovens, space heaters and other inefficient and dangerous means of heating their houses in the frigid weather.
"Every day, our folks are choosing between rent and electricity and when it gets colder those choices get harder," she said. "It's like in a carnival house when the floor tilts and you don't have any choice but to slide down. Those are the fires we're having to put out now and in coming months we know that the colder weather tends to create more power bill problems."
With temperatures below freezing all day Wednesday, consumption for the entire day hit a new high of 706 gigawatt hours for TVA.
But TVA's all-time power demand record was set during the summer of 2007 when temperatures across the Valley averaged 102 degrees Fahrenheit and the peak demand jumped to 33,482 megawatts from heavy electricity consumption for air conditioners.
Contact Dave Flessner at dflessner@timesfreepress.com or at 757-6340.
Photo Gallery
Deep freeze brings snow to Chattanooga area