Photo Gallery
Heavy rainfall causes flooding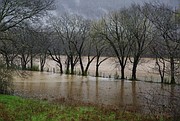 After record rainfall of nearly 3.5 inches Wednesday, Chattanooga ended February with more than twice the normal rainfall for the month and localized flooding that delayed or shut down a number of area schools.
The National Weather Service expected nearly another inch of rain to fall in the Chattanooga area Thursday before the weather dries out through the weekend.
Five-day forecast
FRIDAYSunny, breezyHigh: 59 | Low: 34SATURDAYSunny, breezyHigh: 60 | Low: 33SUNDAYSunny, mildHigh: 63 | Low: 39MONDAYClouds increaseHigh: 61 | Low: 42TUESDAYShowers, coolHigh: 58 | Low: 37
With even more rain in Alabama, Mississippi and West Tennessee, the Tennessee Valley Authority is implementing flood control measures on its network of 49 dams to help limit flooding.
James Everett, manager of TVA's river forecasting center in Knoxville, said TVA is temporarily limiting the amount of water flowing through its mainstream dams, including Fort Loudoun and Watts Bar upstream of Chattanooga on the Tennessee River, "to provide some relief downstream where we've seen the greatest rainfall."
"In the western and southern parts of the Tennessee Valley, we have already seen 5 to 6 inches of rainfall since Tuesday and it is still raining," Everett said. "The rainfall has been lighter in Chattanooga and the eastern part of the Valley, but in most of the Valley there has been two to three times normal rainfall in February."
The National Weather Service issued a flood warning in northern Alabama and Mississippi as heavy rainfall continued to cause widespread flooding of rivers and tributaries.
Forecasters said the Tennessee River could crest almost 5 feet above flood level in Florence, Ala., inundating some low-lying areas by early Friday.
The National Weather Service said the 11.7 inches of rain last month in Memphis was a record high for the month. Half of that rainfall occurred in just the past week.
In Chattanooga, rainfall in February totaled 9.7 inches, more than double the usual 4.84 inches of rain for the month.
"The good news is that we should have a dry and clear weekend and not see more rain until late Monday," said Tod Hyslop, a meteorologist at the National Weather Service in Morristown, Tenn.
All of the rain also is helping the area get out of moderate drought conditions, "which is a key thing, because you do not want to be dry in the winter," said Paul Barys, chief meteorologist for WRCB-TV.
"The winter months are the wettest time of the year," Barys said. "If we don't get our rain now, we're in trouble usually in the spring and summer."
TVA expects the Tennessee River in Chattanooga to remain above normal and the Chickamauga Reservoir could rise above summer pool levels. But the river and major TVA reservoirs in East Tennessee remain below flood stage.
"With the ground so saturated, we're seeing almost 100 percent runoff from these rains," TVA spokesman Travis Brickey said.
TVA's Kentucky Lake in the western part of its service territory is expected to rise 8 to 10 feet above normal next week because TVA is trying to hold back water from the rain-swollen Ohio River.
"We are using our dams to store water to provide some relief for areas downstream so people should expect to see lake levels rise at all locations," Everett said.
TVA likely will continue spilling through its dams well into next week as it tries to prepare for springtime rains, Everett said.
Staff writer Rosana Hughes contributed to this story.
Contact staff writer Dave Flessner at dflessner@timesfreepress.com or at 423-757-6340.